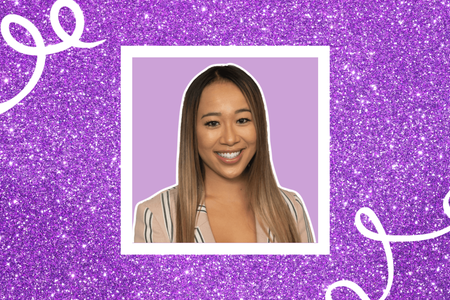 How Geneve Lau is Making Dorm Design Attainable (and Affordable!) for College Students
This is a sponsored feature. All opinions are 100% our own.
Geneve Lau is one of the inspiring winners of Aussie's Business Plan Competition. Out of her own passion for interior design, she is building a business that makes your dream dorm attainable at any budget. Whether you have $100 or $1000 to spend, Geneve will curate a design board and shopping list to achieve your goal aesthetic. Read on to learn more about Do Up Dorm Designs. 
Her Campus: What inspired you to create Do Up Dorm Designs?
Geneve Lau: I've lived in the same house and had the same bedroom since I'm an only child and my parents' profession never required us to move. When I moved to Boston for college, I was so stoked about finally getting to start from scratch when decorating my dorm room. Each time I made any decorative changes in my bedroom at home, it reflected who I was at the time and my goals and aspirations. I had a lot of friends in college ask me to help them decorate, and I loved going over to simply help with just hanging up wall decorations to help with choosing things while shopping. No one in college is looking at big-name interior designers to get inspiration for their dorm or first apartment. We take inspiration from each other, and I wanted a way for people to be able to take inspiration from those who were like them. 
HC: What magazines or websites do you look to for design inspiration?
GL: I absolutely love Apartment Therapy. My guilty pleasure during the day to take a break from Zoom classes and meetings is to scroll through the "House Tours" section and look at specifically the apartments or studio apartments. I love seeing how people are able to make a small space look cozy, and I take mental notes for my first apartment when I graduate from college. I also love watching YouTube series such as Refinery29's "Sweet Digs". I love seeing people's places and their explanation of which of their belongings has sentimental value to them. Alexandra Gater also does an amazing series on YouTube, she started out working for Chatelaine - a Canadian lifestyle magazine -  doing makeovers and now she has built a big enough following that her full-time job is making over people's apartments, and offices in lieu of COVID. 
HC: Where are your favorite places to shop for home decor?
GL: Easy: Home Goods, TJ Maxx and Marshalls. I could seriously spend hours in there alone just vibing to music and strolling through my favorite aisles (usually candles, wall art, or furnishings). This year, I've especially admired their lamp collection. An unexpected place that people wouldn't expect to find good pieces is Five Below… I've gotten a lot of my macrame wall hangings from there. You have to really pick and choose to find the gems but there are definitely some! I also love Amazon for the convenience, my throw pillow covers are always from there. Lastly, this year I have really hopped on the Facebook marketplace trend and have found some amazing deals. I recommend everyone checking it out, and of course, be patient. It takes time, but you will strike gold. 
HC: What is your favorite dorm design project you've worked on to date?
GL: This is such a tricky question! I feel like it changes every year for me. I used to always say using marble contact paper, because it feels like the one thing I'm known most for. But this year, I would say it's my little nook in the corner of my room with my accent chair and a little side table. It's been the coziest retreat, especially when I am doing most of my classes on Zoom. I do enjoy sitting at my desk, but sometimes I want to be a little bit comfier, especially if it's a less active class and I don't need to be taking notes and more so just participating, listening, and discussing. Sitting at a desk for 3+ hours a day can be exhausting, so having this corner has really saved me! 
HC: What do you hope to accomplish for your brand this year?
GL: I hope to grow my business, launch the site, and be able to take on some new customers to build up my portfolio. I know that a lot of people from my personal account have demonstrated interest in Do Up, and I hope that I am able to establish the brand even more. 
HC: Do you work with all budgets? What can your clients expect to spend?
GL: Yes, we work with all budgets! Clients will spend a flat rate of around $55 - $75 for Do Up's services, but the type of decorations and the amount that people will expect to spend is entirely up to their own budgeting! One of the misconceptions that people have is that you have to spend a lot to decorate your dorm or apartment, and the truth is that there are ways around everything. Utilizing sites like Facebook Marketplace will help bring the amount you expect to spend down drastically. 
Interested in working with Geneve and Do Up Dorm Designs?  DM her on Instagram here to set up a consultation.