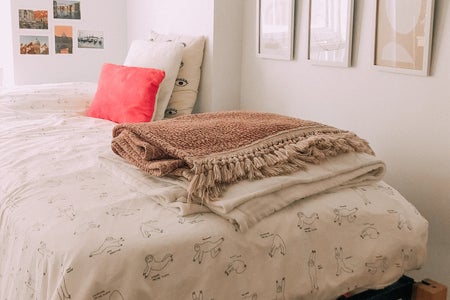 Original photo by Ariane Vigna
8 of the Coziest, Most Comforting Accessories You Need to Bring Some Softness to Your Dorm
Taking online classes isn't for the weak; if you've moved back to campus, it can be disheartening to be stuck in your dorm, especially when you're so close to your classrooms. Staying home all day is, of course, not ideal, but it's the safest way to keep your campus open throughout the whole semester — which means that you have to make your personal space the most comfortable and inspiring it's ever been. 
No more empty coffee cups sitting on your desk, and no more blank walls. You need to invest in your little nest, both financially and emotionally. Besides, the world is a scary place right now, so you may as well make your small shelter a comforting one in which to take refuge from the news. With that in mind, here are some simple cozy decor pieces that are guaranteed to bring some much-needed softness to your dorm.
Together, these pieces create the ultimate comfortable and soothing space. But don't forget about soft string lights, rugs, and curtains for the finishing touches! The less plain and modern your furniture and walls look, the better.
Making your dorm a soft and safe haven for you to relax in will help you make the most of the last four months of 2020. Remember to take care of yourself through meditation sessions, walks in the city, or virtual hangouts with friends. Room decor is exciting, but it's not a replacement for self-care. Happy Fall semester!
Just a heads up — this article may contain affiliate links. While a purchase through affiliate links doesn't impact the price you pay, Her Campus Media may receive a small commission. All products' prices and availability are accurate as of publication.