If you're anything like me, Netflix's XO, Kitty hasn't left your mind since its debut in May 2023. With its never-ending romance issues and dramatic cliffhanger in Season 1, the show kept me on the edge of my seat. While binge watching the show again (I'm desperately awaiting season 2 to drop), I noticed the students of KISS, or the Korean Independent School of Seoul, have such a unique wardrobe that it would be criminal if these looks weren't recreated for Halloween costumes. Kitty and Yuri are excellent examples to follow. 
As a little refresher, Kitty flies to South Korea to not only learn more about her mother, who was also a student at KISS, but also be with her long-distance boyfriend, Dae, who she hasn't seen physically since the third To All The Boys I've Loved Before film, Always and Forever. While in Seoul, Kitty discovers and embraces her fashion style through a range of outfits, opting for preppy and sophisticated looks. Yuri Han, Kitty's rival and self-proclaimed queen bee, dresses almost entirely in pink, emphasizing her expressive personality. While the two appear to have opposing tastes in clothes, these XO, Kitty style options are a great starting point for any last-minute Halloween costume ideas. You can also create a duo costume with your bestie! But hurry, because you don't have much time left. 
1. Kitty's Turtleneck Two-Piece
Kitty can be seen wearing a light blue cropped turtleneck sweater underneath a black, thin strapped cami top in episode 2 as she takes a selfie near the cherry blossom trees, paying homage to the exact spot  her mother took a photo when she attended KISS. She completes the look with leather pants. Kitty is known for having a preppy aesthetic throughout Season 1, so incorporating this simple look into your Halloween costume roaster can help  create a minimalist tone. 
2. Kitty's Party Black Dress
Trying to turn heads at your next Halloween party? Try Kitty's little black dress outfit from Minho's Madness Party in episode 6. The dress has a symmetrical design with distinct circular cutouts around the top. She pairs the dress with black thigh high boots. If you want to stand out even more, match the dress with accessories such as gloves, bold earrings, or necklaces. 
3. Kitty's Sequined Welcome Party Dress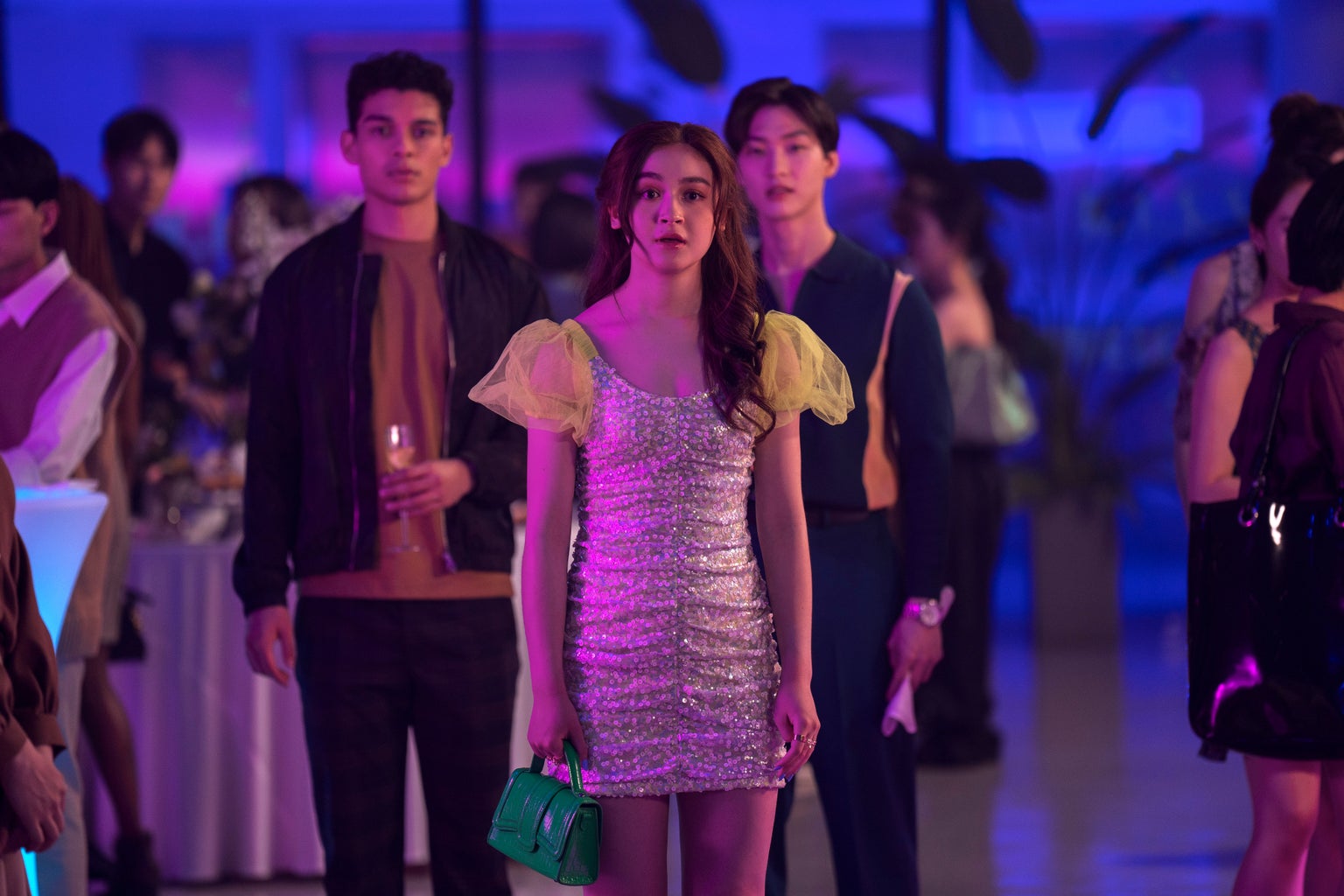 Following the theme of party outfits, Kitty's welcome party dress in episode 1 is another unique and creative design. The ensemble is a silver sequined mini dress with puffed yellow mesh short sleeves. She compliments her dress with a small green handbag. Kitty finishes her outfit with matching silver high heel shoes. If you want to recreate this style, incorporate a silver minidress with a yellow mesh shawl or light sweater to mimic the puffed sleeve look. 
4. KISS' School Uniform
You can never go wrong with a school uniform for Halloween, and KISS' school uniforms are not only the most specific approach to highlighting XO, Kitty's outfits, but also a trendy piece that you can easily customize to your liking. In general, I recommend wearing a white collared button down top with either a bow or a neck tie to mimic the uniform. Wear a navy blue blazer with white accents around the hem of the jacket! I also recommend wearing a plaid high waist pleated mini skirt to complete the ensemble. You could also pair the outfit with navy blue pants instead of a miniskirt. 
5. Yuri's Pink Denim Two-Piece
If you're searching for a Halloween costume that radiates queen bee energy, look no further than KISS' very own, Yuri Han. Yuri's looks throughout the first season play around a lot with pink colors and extravagant designs. When we first see Yuri in the first episode, she's  wearing an oversized denim jacket with pink accents around the pattern. She pairs the jacket with a captivating two-piece set consisting of a bright pink mini skirt and matching crop top. Yuri completes this look with hot pink sneakers, long pink earrings, and a pink handbag. If you want to accurately recreate the look, I also recommend grabbing a few shopping bags, particularly pink ones like Victoria Secret bags. 
6. Yuri's Camping Trip Bus Look
Staying loyal to her pink aesthetic, Yuri can be seen sporting a full-on pink outfit in episode 8 while the students of KISS go on a camping trip. Before going on the bus, Yuri is dressed in a cropped pink collared button down shirt with white stripes and a matching knitted pink and white miniskirt. She accessorizes with thick, pink rectangular sunglasses and a triangle pink braided bag. She also wears long gold earrings. 
7. Yuri's layered pants outfit
In episode 7, when Yuri and Dae end their fake contract relationship, she's wearing a puffy light pink crop top and matching layered jeans. The jeans are unique as there are three different types of fabric sewn into the top of the pants, with pink being the starting color. Then there's checkered blue fabric, followed by black that covers the rest of the pants' pattern. If you have any leftover fabric, you can sew these pink and checkered pieces on an old pair of black pants to recreate Yuri's unique pant style as a DIY project. She completes the look with a white mini purse and pink sneakers.
8. Yuri's Pink Metallic Party Dress
In episode 6, Yuri wears a pink metallic mini dress with puffed long sleeves to Minho's Madness party. She accessorizes her look with a silver circular handbag, black thigh high boots, and silver inverted triangle earrings. The outfit is a standout look that would be perfect for an elegant Halloween celebration.