In recent years, representation in film and media has become a more nuanced topic of discussion, though diverse and complex characters in shows and movies remain limited. That's why it's encouraging for Gen Z to see a show like Freeridge rank No. 4 on Netflix's top 10 shows in the U.S. just one day after its Feb. 2 debut. On the surface, the show's concept is typical of a teen dramedy, with a ragtag group of friends dealing with supernatural entities, curses, love, and real-life struggles all while attending high school. But for Freeridge, what stands out is the cast's diversity and the fact that all of the main character roles are performed by people of color. 
The show depicts contemporary friendships and allows Gen Z to see aspects of themselves in the characters. Characters such as Cameron, played by actor Tenzing Norgay Trainor, are at the forefront of television representation by depicting the intersections of race and sexuality for a teen in modern-day America. "Setting an example for young kids out there who were like me, not seeing much of them on the screen, is important to me," Trainor tells Her Campus.
Cameron is insecure and overthinks situations to the point that his best decisions happen when he has no solution. "Cameron can go from super calm to super crazy in a matter of seconds just because of how frazzled he [can] get," Trainor explains. He says he relates to his character's personality "from time to time," adding, "It's hard for him to convey how he's feeling. … A lot of people hope that [others] can know that they're upset just by looking at them."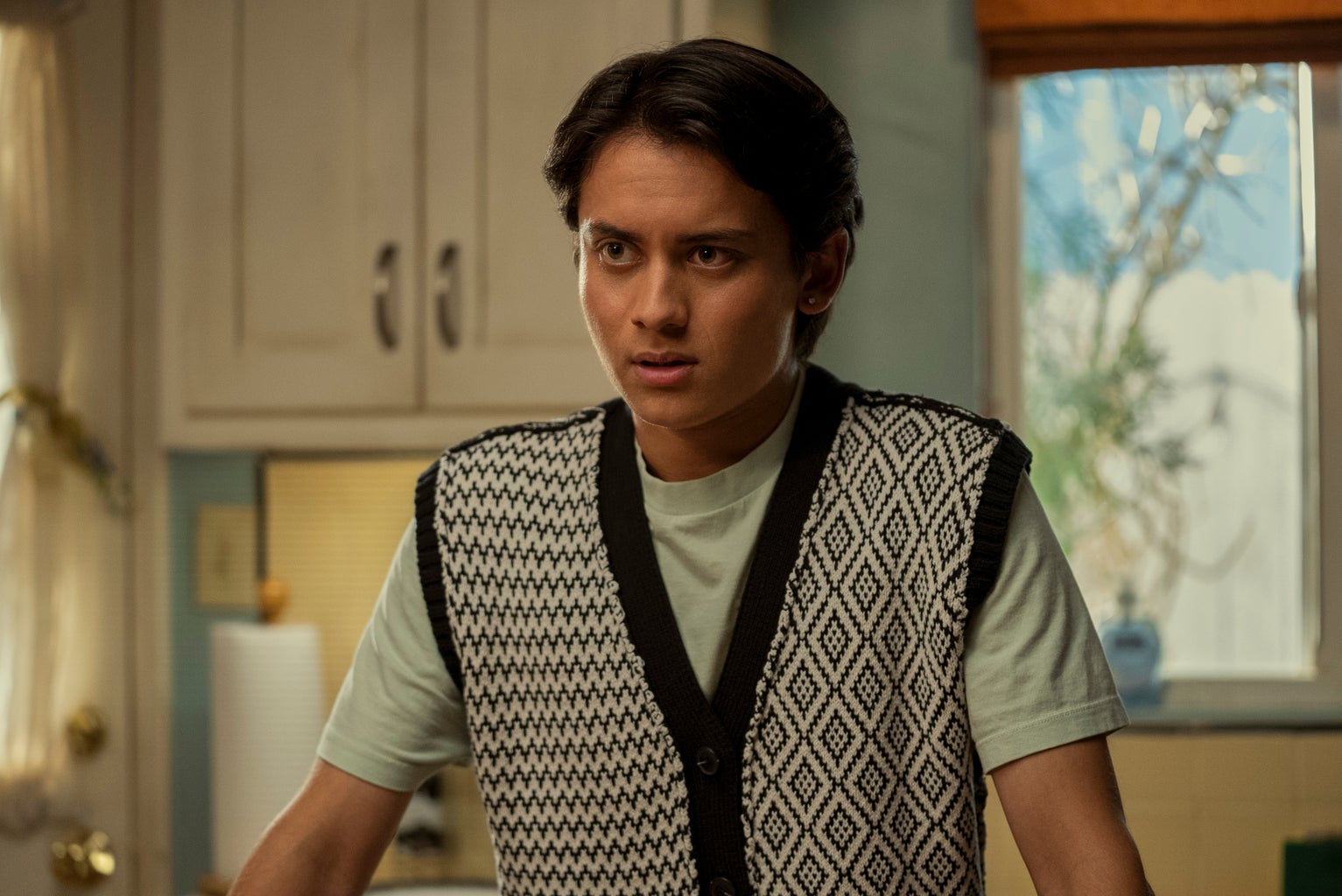 Cameron's closest friend in the group (and eventual love interest) is Demi; both trust each other with secrets and confide in one another. But Cameron is still haunted by a comment Demi made about his bisexuality when he came out to her when they were younger. Throughout the show, Cameron questions his identity and self-esteem as a result of the biphobic remark, culminating in an intense and emotional conversation after he is vulnerable enough to express his disappointment about her words. "Cameron was probably the most fulfilling character I've gotten to play so far in my career and I'm so honored that I got to do it," Trainor says. "His willingness to open up and share is really admirable."
Trainor getting to the role of Cameron was everything but ordinary, and he was actually surprised at being cast in the Freeridge series because the news came from an unlikely source — his future co-star Keyla Monterroso Mejia. He says the audition process for the role included a chemistry read with Zaire, who plays Cameron's ex-boyfriend Andre on the show. In the past, Trainor was working on Boo, Bitch, the same production team for Freeridge. "After the chemistry read … I ended up getting a text from someone on Boo Bitch that was like, 'Hey, can I give your number to Keyla who plays Gloria?' And I was like, 'Yeah, sure.' I thought [Keyla] was just gonna say, 'You did great in the chemistry read' or whatever." 
Instead, he shares, "I get a phone call from a random number and I answer it and they're like, 'Oh my God, Tenzing. Hi, congratulations. I just wanna say, you were so great. I'm so happy to work with you. Congratulations on getting the part.' And I'm like 'Who is this?' … So Keyla was actually the one that broke the news to me before anybody else."
After Mejia apologized for spilling the beans that Trainor was cast as Cameron, Trainor was placed in a group chat with the other cast members and hit it off with them right away. "She's gonna hate that I told that story," he jokingly adds. 
Cameron is one of the many characters Trainor has played over the course of his extensive career. A former child actor, he got his big break in 2013 as Parker Rooney, the scheming little brother, in Disney Channel's original series Liv and Maddie. The show aired for four seasons with its conclusion in 2017 and is regarded as one of the defining children's shows for Gen Z youth. Trainor is grateful for his growth as an actor from his time with Liv and Maddie to his current work with Freeridge. "It's only been going up in the stories that I've gotten to be a part of, especially with Freeridge," he says. "I believe I've always been the type of actor who doesn't have a plan in mind. I just kind of go with the flow and if I see something I like, then I'm gonna do it."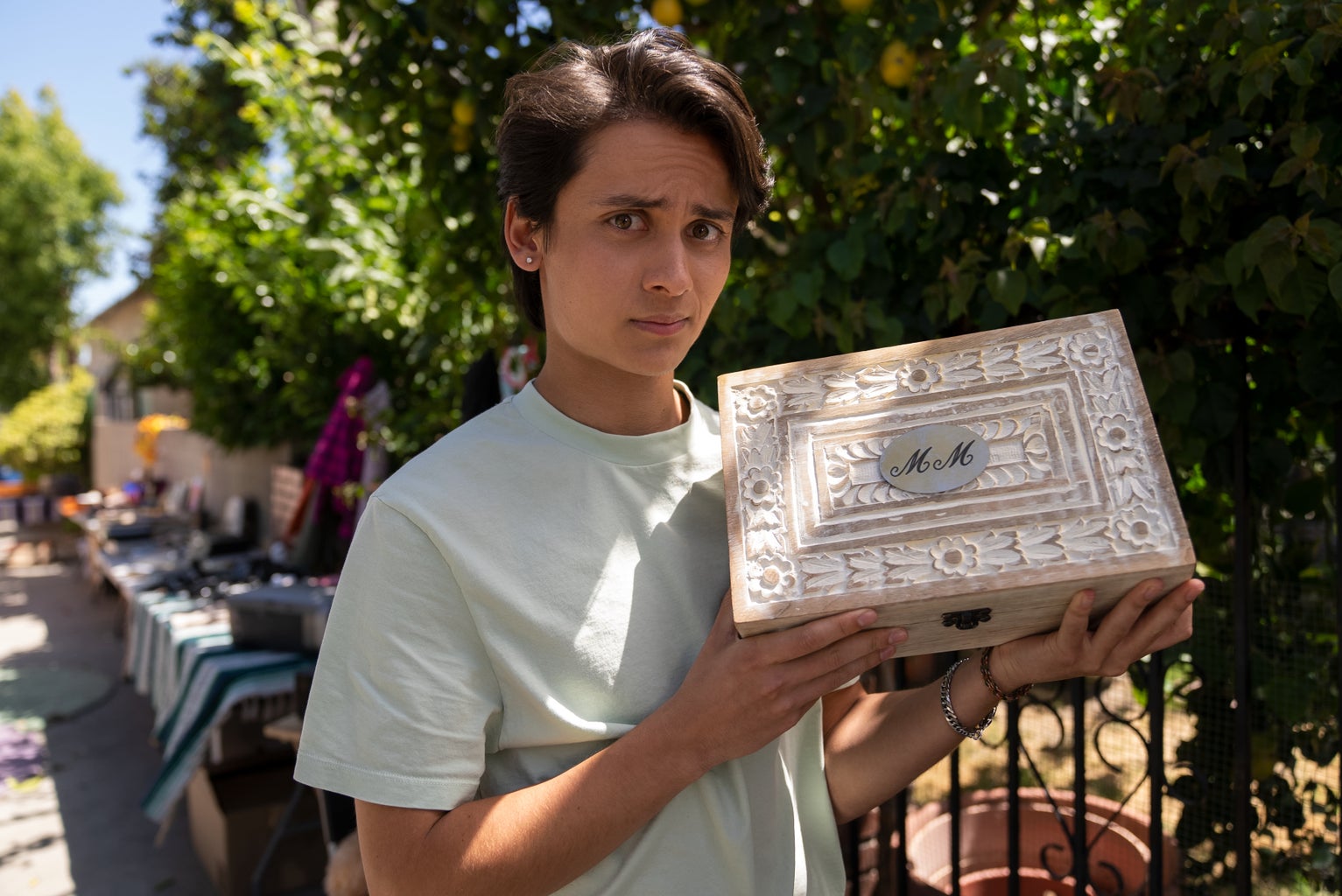 One of Trainor's biggest inspirations since his time at Liv and Maddie has been his grandfather's story and legacy. His grandfather, Tenzing Norgay, along with Sir Edmund Hillary, were the first people to stand atop Mount Everest in 1953. "[His determination is] the main thing that I keep in my head. Like, yes, he made it to the top, but it's important to know that it wasn't his first try. It took seven attempts. He planted a bunch of oxygen tanks [because] he knew that he was gonna be back. I think that that's also important, to know that you're not gonna give up." Trainor adds, "I take that [knowledge] because being an Asian-American myself, there's not a lot of us [represented] out there [in the media]."
You'd think that being a full-time actor and a college student would be nearly impossible, but with his grandfather's determination in mind, Trainor is able to do both. He's currently a third-year student at California State University, Long Beach, and juggles busy schedules for both fields. "It's hard to prioritize one over the other," he admits. "It's a lot of time management, obviously." But, he says, "I've actually gotten lucky enough since I've started college that I have not worked during the school year. I have only worked during summer vacation and during winter vacation, so I really have not had any sort of conflict."
Trainor is also taking a more unconventional route than most up-and-coming actors by pursuing a degree in business marketing. "A lot of people think what I do is just being an actor. It is also an entertainment industry. It's a business," he says. "So I already know the acting part. I do the acting part. I didn't want to go to school to learn acting because I figured I could learn more about that by just being on set, doing it, and meeting other people that are also doing it. I wanted to kind of grasp the other side of what I do and how I can market myself."