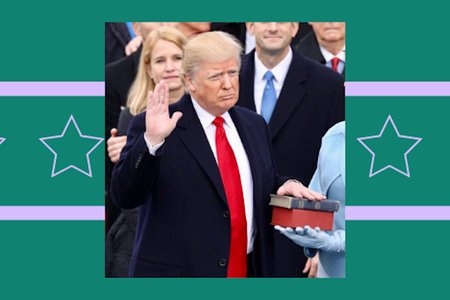 Everything You Need to Know About Trump's Impeachment Trial, & What's Coming Next
In September 2019, House Speaker Nancy Pelosi officially announced that the House of Representatives would be launching an impeachment inquiry into President Donald Trump. The news followed a whistleblower complaint that Trump pressured Ukraine to investigate political rival Joe Biden. "The president must be held accountable," Pelosi told reporters. "No one is above the law."
Since then, more witnesses have come forward, missiles have been launched, and many, many tweets have been tweeted. It can be hard to keep track of all the information we're receiving — so I made you a guide of everything you need to know about Trump's impeachment and what's coming next. Read now, thank me later.
Why is the impeachment trial happening?
An anonymous whistleblower detailed concerns that in a July 25 call with Ukrainian president Volodymyr Zelensky, Trump used his political power to solicit information about the 2020 presidential campaign. Specifically, he withheld a $400 million military aid package from Ukraine until Zelensky publicly announced he was investigating Burisma Holdings, a Ukrainian oil and gas company. Multiple White House notes, White House officials, and diplomats testifying under oath have all confirmed the whistleblower's account to be true.  
Why would Trump want to investigate a Ukranian oil and gas company?
Joe Biden's son, Hunter, served on Burisma's board from 2014 to 2019. Trump and his allies have accused former vice president Biden of using his power to urge Ukraine to fire a prosecutor investigating Burisma in order to protect Hunter. Asking a foreign government for campaign aid is not only unheard of from U.S. presidents, but could also violate campaign finance laws against consulting foreign nationals. Trump's withholding of a large military aid package could also bring lasting consequences between the U.S. and Ukraine. 
So is Trump done for?
Not quite. This investigation, while revealing, might not end in conviction. The impeachment process started in the House, which, on December 18, voted to impeach President Trump on one count of abuse of power and one count of obstruction of Congress. Now, the Senate will hold a trial where both sides present their cases and senators act as jurors. If two-thirds of the senators (67 members) vote to convict the president on the charges presented by the House, only then will he be removed from office. If Trump is not impeached, or impeached by the House and not convicted by the Senate, he stays in office, and it'll be up to the U.S. to reelect him or vote him out of office in 2020.
There's a huge cast of characters and even more evidence being discovered, so it's important to know the basics of what's going on. To keep you updated, here's a timeline of the key points so far: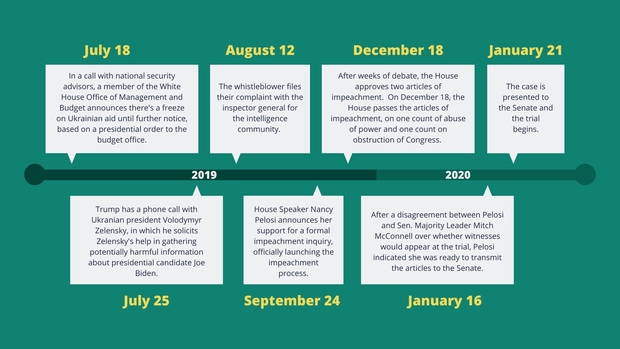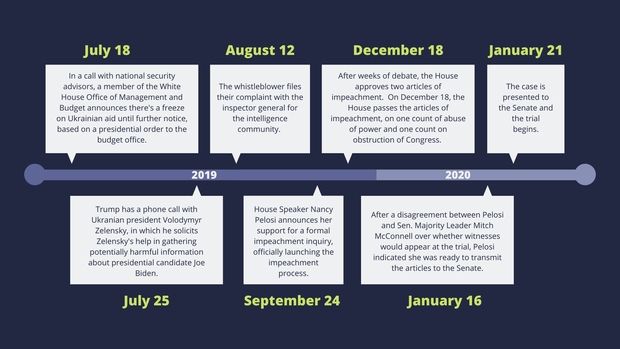 What's the remaining timeline?
That's a good question. While Democrats have pledged an "expeditious" trial, there have been lots of obstacles to overcome so far. The 2020 election, however, looms heavily in the background — if the trial continues into November, politics could get even messier than they already are. 
In the next few weeks though, members of the House Intelligence Committee hope to interview the whistleblower that alarmed them in the first place. Both Congress and the press are pushing for the whistleblower complaint to be released to the public, giving the people more perspective on the impeachment. If Trump is convicted by the Senate and impeached, Vice President Mike Pence would become president, and elect someone to succeed him.