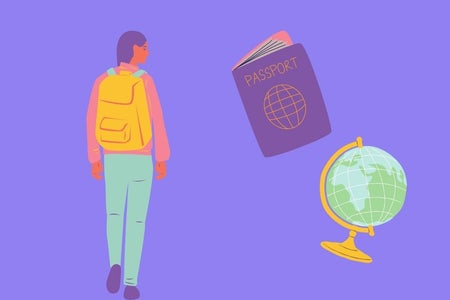 Original Illustration in Canva for Her Campus Media
How to Help International Students & Push Back on ICE's New Policy
On Monday a new order put forward by U.S. Immigration and Customs Enforcement (ICE) made a requirement that at least some education has to take place in person for visas to be granted to international students. In a statement, ICE said: "Students attending schools operating entirely online may not take a full online course load and remain in the United States." One exception is for schools that are on a hybrid model, with some classes online but others in person — these students will be allowed to stay in the country.
However, to protect the health of students, faculty, and staff, many universities have made the decision to host the majority of their fall 2020 semester online because of the threat of coronavirus. If students want to remain in the country, ICE suggests "transferring to a school with in-person instruction to remain in lawful status" — meaning to avoid legal consequences, including deportation.
Her Campus stands with international students. We know that taking online classes from home countries just isn't the same with unreliable internet and time differences. We know that you need access to healthcare, libraries, labs and support facilities. We know that you are worried, confused, and frustrated. We know that you have worked extremely hard to get where you are. Below, we'll be updating a list of ways you can take action and help push back on this federal order. 
Petitions to sign
Petitions have quickly spread online after news of the ICE policy. Consider signing the ones listed below, which are addressed to President Trump and ICE urging them to reconsider and allow international students to stay. 
Call on your university
In 2019 more than 360,000 students were enrolled in universities on visas that will be affected by the change. Harvard and MIT have already filed a lawsuit against the rule, arguing that for international students, "returning to their home countries to participate in online instruction is impossible, impracticable, prohibitively expensive, and/or dangerous." Harvard (which plans to hold its courses entirely online) also said close to 5,000 of its students study on F-1 visas, and MIT said it has nearly 4,000. 
Other schools are thinking creatively to find ways to require international students to be on campus (and be safe during the pandemic). NYU, Brown, and Columbia have announced plans to create hybrid classes with both in-person and online opportunities.
Wondering how to work with your school? Email your university president, deans, and appropriate offices asking them to create special in-person classes with absence excuses. You can also start a petition asking your college to protect international students. 
Call on congress
Call or email your senators/representatives asking them to demand that ICE repeal the policy. @basdonamuca on Twitter has shared an example template of what you can write or say: 
find your reps: https://t.co/PNaiJLkTni

call script: https://t.co/Qyg3zwc7YY

email script: https://t.co/f0vGAaQQi7 pic.twitter.com/768CrRGRas

— aoife (@basdonamuca) July 9, 2020
You can also send a letter of your own to your representatives using @resistbot by texting "resist" to 504-09. 
Other resources
@community_equity_ on Instagram is actively posting Google Sheets with lists of available in-person classes that international students can enroll in.
This story will be updated as information develops.