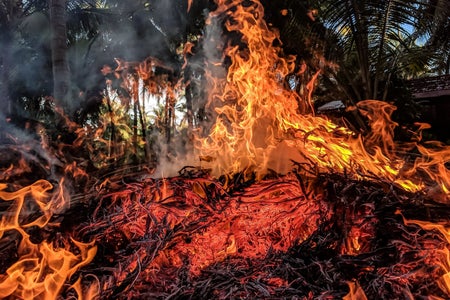 Climate Change Is Happening Now—& You've Already Seen These 4 Long-Term Effects
Our planet has been showing the repercussions of mankind's actions for quite some time now. According to NASA researchers, 19 of the warmest years in history have occurred since 2001. The cause for this increase in temperature? You guessed it, an increased amount of greenhouse gasses and other emissions that continue to be released into the atmosphere. Greenhouse gasses are classified as carbon dioxide, water vapor, nitrous oxide, and other fluorinated gasses. These emissions can be natural (like when we exhale oxygen) or they can be unnatural (like burning fossil fuels). One is far worse for the environment than the other, and it's urgent that everyone try to monitor their personal footprint as best as possible. As scientists can tell, the effects of climate change are overwhelming as the global temperature rises, the oceans get warmer, ice sheets continue to shrink and sea levels rise.
So many of these processes are already being displayed throughout the world at alarming rates, and people are responding to them with a number of climate strikes. The Global Peace Index reported that countries with the highest risk of climate hazards in 2018 were in the Asian-Pacific regions. The most at-risk country was the Philippines followed by Japan, Bangladesh, Myanmar, China, Indonesia, India, Vietnam, and Pakistan. The tenth most at-risk country was tied between the United States and several other countries. Here are four countries that have been affected by climate change recently.
While I only highlighted four instances of climate change in action, the reality is clear: every single place has already been, or is about to be, impacted by climate change. This idea can be daunting, especially as an individual who might want to make a difference. But one person can't save the world. If you're looking to become more eco-conscious to help the planet, consider finding ways to reduce your individual carbon footprint. Some easy ways are by taking public transportation, using reusable bags for all shopping trips, reducing your use of single-use plastics, adding more plant-based foods to your diet, and being diligent about your laundry cycles.
If you're more concerned on a macro-scale, start writing to your elected officials at the local, state, and national level to create legislation that will help reduce the effects of climate change. Donating to specific causes like hurricane and earthquake relief in Puerto Rico or the bushfires in Australia are other great ways to help where you can. Last, but certainly not least, silence does not remedy a problem like this. Register to vote if you haven't already and find out where local climate strikes are taking place in your town or city and let your voice be heard.