Spoiler warning: Spoilers for Never Have I Ever Season 4 follow. Bevi fans: This one's for you. With Never Have I Ever's final season out on June 8, everyone is preparing for senior year at Sherman Oaks High. Whether it's planning for prom, applying to colleges or graduating, it's clear the one question on everyone's mind is: What is going to happen to Devi and Ben?
You have to admit, we all love Bevi. When it comes down to their iconic rivalry moments or the first glimpses into their relationship throughout the first few seasons, Ben and Devi surprise even themselves with the amount of things they have in common. If you've forgotten how Devi and Ben have gotten to this point, let me catch you up.
Devi and Ben go way back.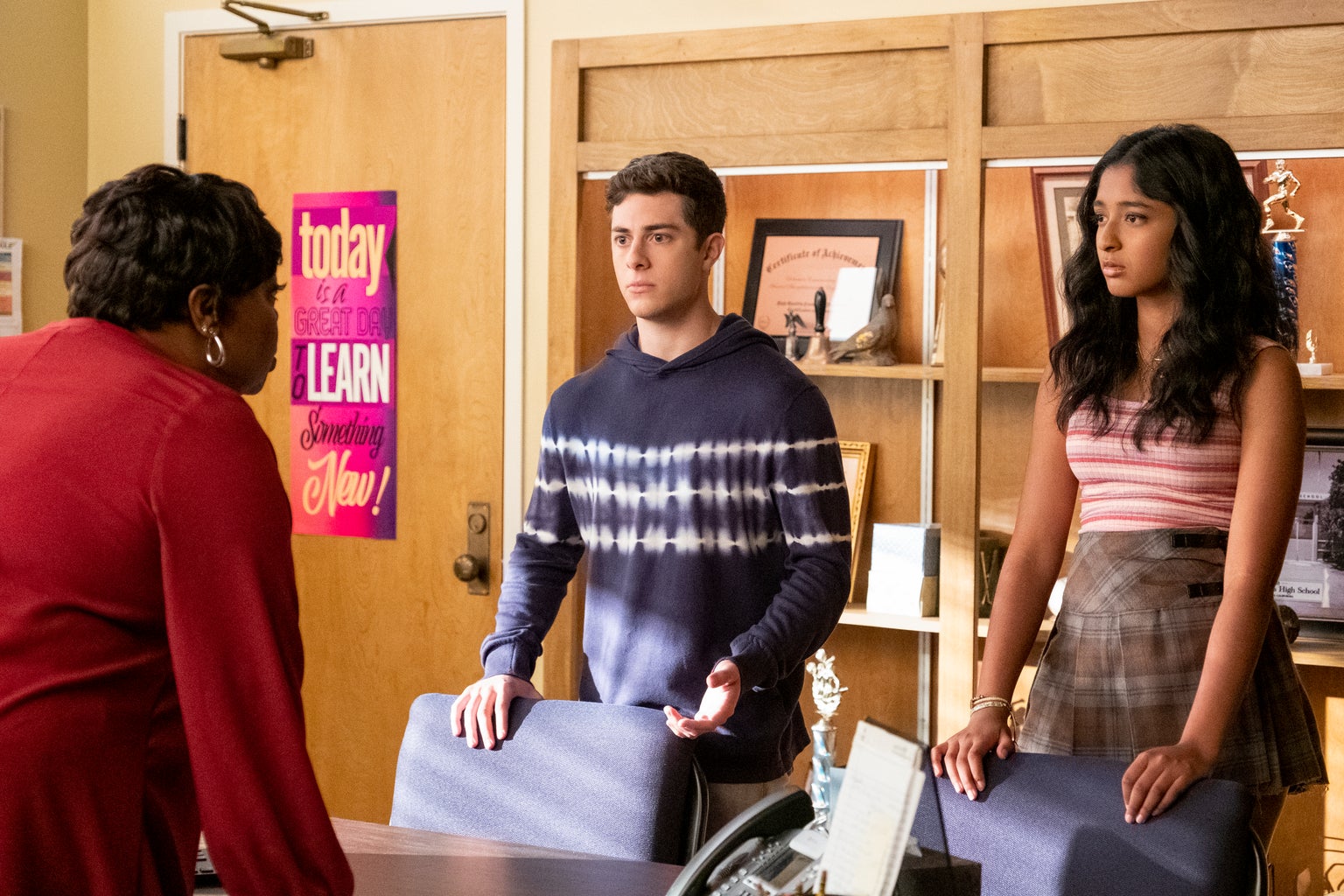 When we first meet Devi and Ben, one thing is definitely clear: They are each other's biggest critic. Ever since the two were kids, they have always competed at Sherman Oaks to be the top students. Whether it's getting straight As or leading student clubs, Devi and Ben originally do not see eye to eye in the beginning of Season 1. After their UN field trip, the two end up patching up their rivalry in the middle of the season. 
Let's talk about the first kiss at the beach.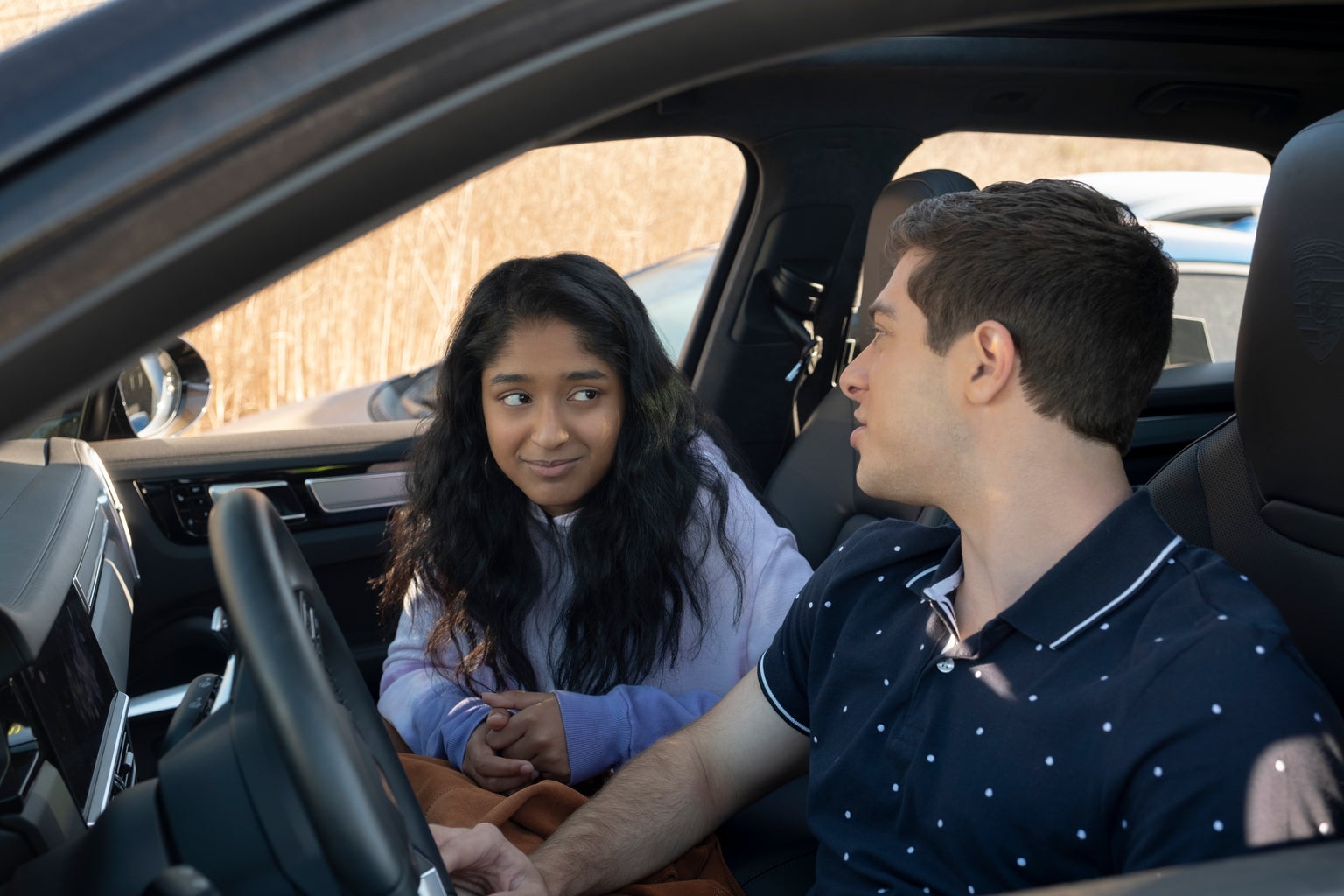 After an argument with her mother, Devi decides that she no longer wants to attend the spreading of her father's ashes on the beach. It's Ben that ultimately makes her change her mind, and he drives her frantically to Malibu on the Los Angeles highway to make it there on time. At this moment, Devi realizes that Ben willingly went out of his way for her and even stays behind to make sure she comes back safely. When Devi returns to Ben's car, the two end up having their first kiss, closing out Season 1 on a high note. 
The double relationship causes some trouble. 
Early on in Season 2, we find Devi trying to balance two relationships with Ben and Paxton at the same time. It's at a house party that everything comes crashing down, when it's revealed that Devi has been with both of the boys the entire time. Throughout Season 2, Devi tries to mend her relationships with both Paxton and Ben. It's much easier for Devi to make it up to Paxton, but it takes a while for Devi and Ben to get back to being friends. 
Enter Aneesa.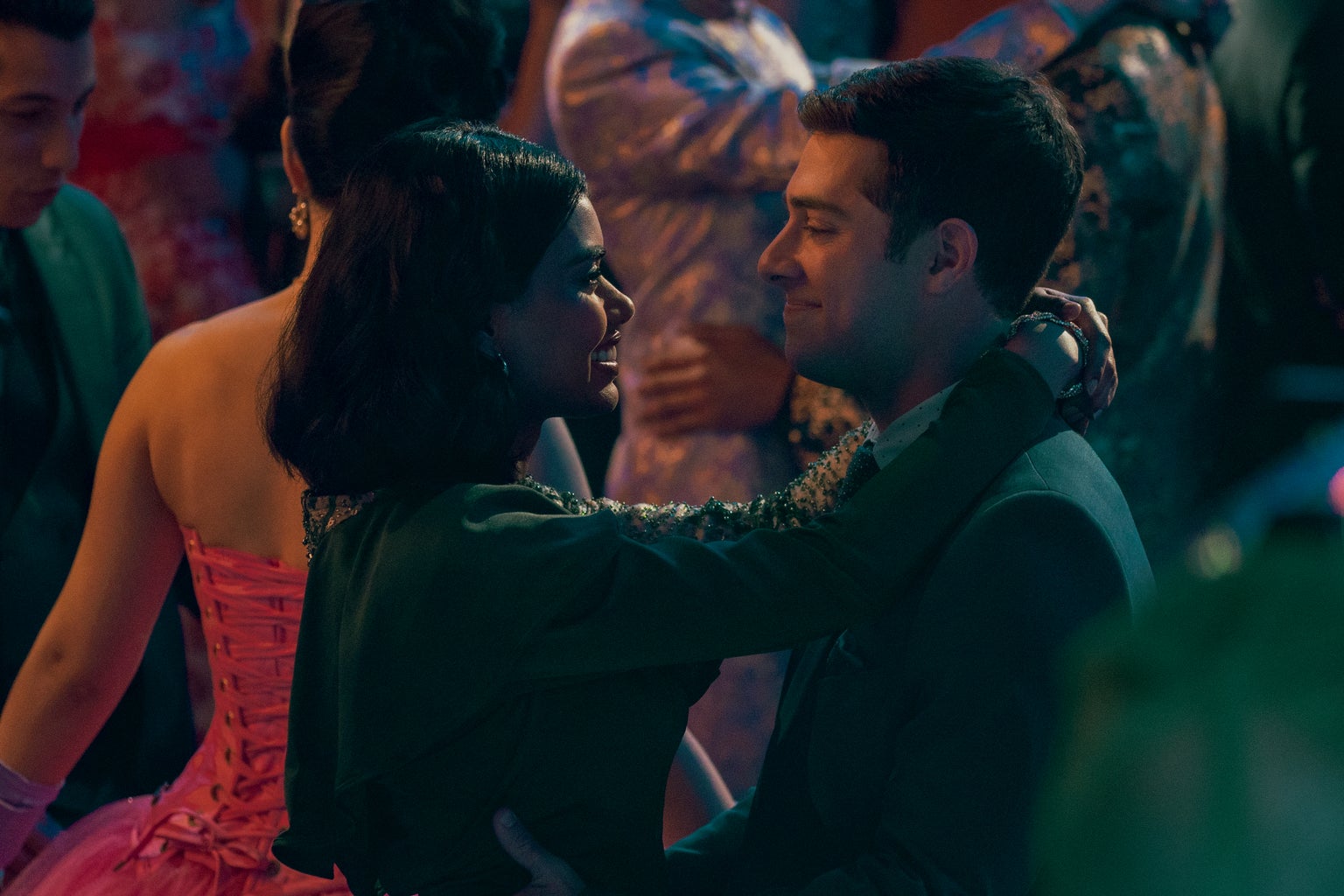 Season 2 also introduces Aneesa, a new student at Sherman Oaks who becomes friends with Devi's core friend group. Aneesa and Devi end up becoming close until Ben takes an interest in Aneesa. At the 24-hour race in Season 2, Devi tries to sabotage Ben and Aneesa's potential relationship by spreading an accidentally true rumor about Aneesa having an eating disorder. Even after the rumor is true, and Aneesa and Devi make up, Ben and Aneesa begin going out together before the winter formal. 
The winter formal gives clarity to Ben. 
In Season 2's finale, we finally get the opportunity to see the group at the winter formal. Devi and Paxton end up going together to the winter formal after Devi confides in Paxton about their hidden relationship. As Paxton and Devi dance together during the final moments of Season 2, Ben states that everything will always be about Paxton until Eleanor tells him that Devi did miss Ben at one point. It's just that Paxton was the first to make a move, leaving Ben stuck watching Devi and Paxton dance together. 
Let's get to Season 3.
Season 3 starts off with Paxton and Devi being the hottest new couple at Sherman Oaks High, while Ben and Aneesa begin to experience a rocky relationship. It becomes clear that Aneesa doesn't really care too much about school as much as Ben, and Ben finds himself relating more to Devi. When Ben texts Devi during Aneesa's soccer game as she scores the final goal, Aneesa finds herself heartbroken that Ben is choosing Devi over her. As the season progresses, Ben and Aneesa end up breaking up, leaving Ben single at the end of Season 3. Devi and Paxton break up in Season 3 early on as well, as Paxton tells Devi that he wants her to find someone who doesn't make her feel insecure. 
The first time finally happens in the finale.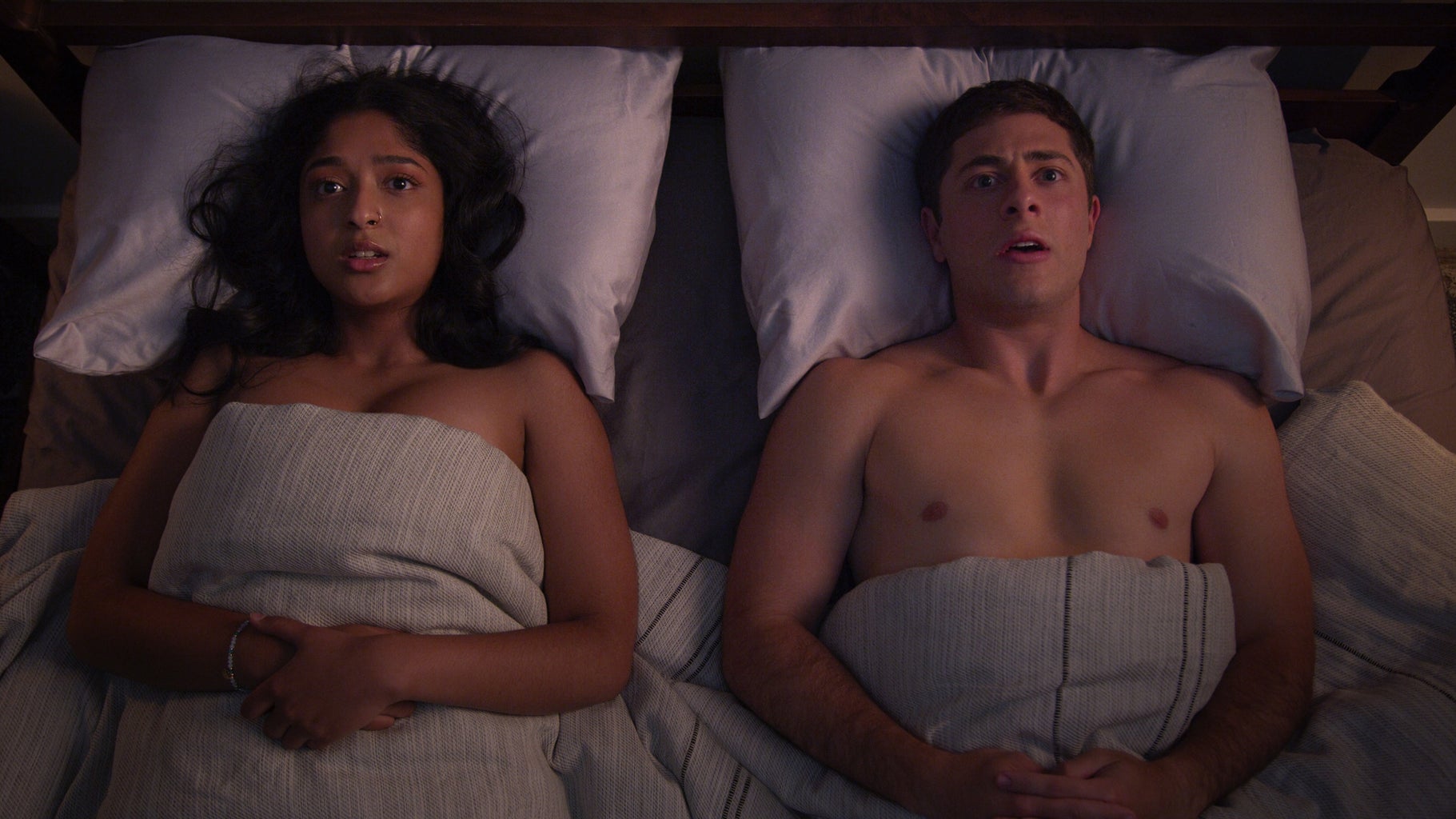 The Season 3 finale ends on a cliffhanger as Devi and Ben finally have a moment to themselves. Devi goes against her decision to spend her senior year at The Shrubland School, and shows up at Ben's door. Devi approaches Ben with the card he gave her earlier in the episode, saying that if Devi is still a virgin when she's older, he'll sleep with her. As Devi hands him the "one free boink" coupon, the two of them finally have their moment. 
It's been a long time coming.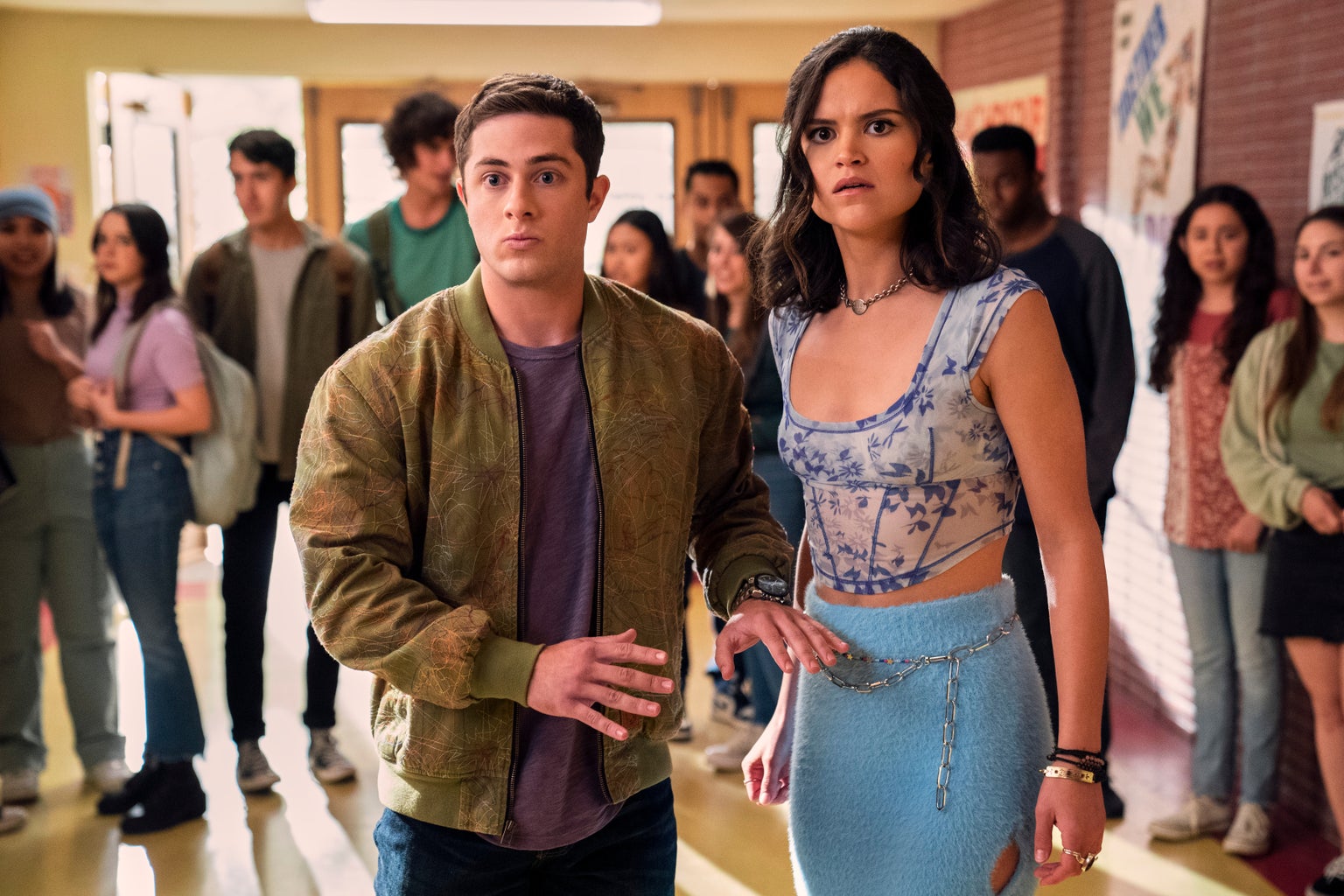 Season 4 begins immediately after Devi and Ben finally hook up together. The moment after is awkward, leaving tension between both Devi and Ben throughout the summer. Ben ends up ghosting Devi after having sex, and begins a relationship with a student named Margot. Devi confronts Ben about ghosting her throughout the summer and begins to have a conflict with Margot, leaving tension between all three characters in the beginning of Season 4. 
Devi saves the day. 
At the college fair, Ben ends up having a paint accident before approaching the Columbia table, leaving him with a shirt covered in yellow paint. Devi notices at her locker that Ben is panicking, and gives him her shirt to help save the day. Ben ends up getting accepted into Columbia University. When Devi finds Ben and congratulates him on getting into Columbia, he confides with her that he's no longer with Margot — he ended things because she wasn't as committed to the relationship. 
Ben also saves the day for Devi.
After Devi gets waitlisted for Princeton, she's heartbroken in her prom dress towards the end of the season. It's stated in the show that for Devi to get off of the Princeton waitlist, she has to write a personal essay to let her in. It's Ben who goes to her bedroom at night and convinces her to write the essay, giving her the confidence that she needs to finally write about her father after his death. This plan ends up working, and Devi is able to get accepted to Princeton thanks to Ben's words of advice. 
Devi and Ben become valedictorian and salutatorian.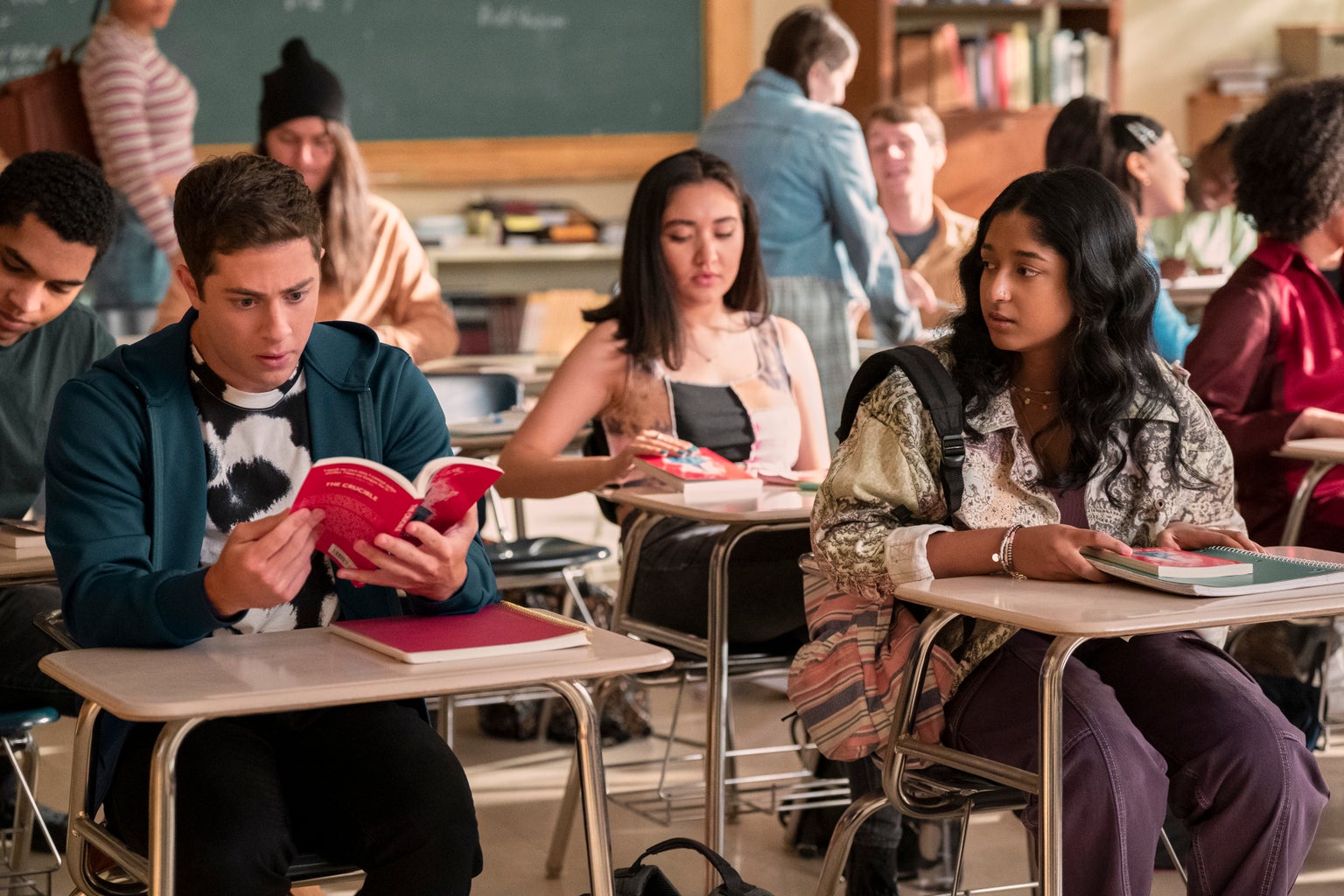 In the final two episodes of Season 4, Devi ends up becoming valedictorian and Ben becomes salutatorian. Their excitement is cut short due to Ben taking an internship over the summer at a prestigious law firm in New York, leaving Devi thinking about Ben as she's cleaning out her room. It's clear that even on the opposite side of the coast, Ben misses Devi and wishes that he was with her. 
Ben and Devi are official!
Everyone, it finally happened. After four seasons, we finally have an answer to who Devi ends up with and yes… it is Ben! In the series finale, Ben ends up flying back to the Valley to see Devi, where the two finally reunite at Nirmala's wedding. The two finally get the opportunity to say that they want to be together and that they are in love with one another. After a romantic ride on a scooter to Ben's house, the two spend the night together where they finally decide to be in a relationship. As the series ends, we see Ben and Devi together in her Princeton dorm room, happy and content as a couple.