One thing about Taylor Swift's Eras Tour is that the concert knows how to bring people together, especially in the case of Ned and Ariel Fulmer. Please bear with me as I explain. An image of the two posing in a photo during a stop on the Eras Tour has been circulating the internet, providing an unexpected Ned Fulmer update in 2023, and the two appeared to be quite happy together. With all of the turmoil surrounding Ned's cheating scandal last year, this picture seems to suggest that the two are still together. 
So, if you need a refresher, Ned was a member of The Try Guys (along with Keith Habersberger, Zach Kornfeld, and Eugene Lee Yang), a series produced through BuzzFeed's YouTube channel. The Try Guys separated from the company into their own standalone channel and brand in 2018, where they would try different things for the viewer's entertainment. 
However, on Sept. 27, 2022, Ned and Ariel were the subject of an internet firestorm after it was reported — and eventually confirmed by Ned himself via an Instagram post — that he had cheated on Ariel with a former Try Guys producer, Alex Herring. This was shocking since not only were both Ned and Herring in committed relationships at the time, but it was also out of character, particularly for Ned, who based his entire Try Guy persona on loving his wife. 
Fulmer apologized in writing on Instagram, saying, "Family should have always been my priority, but I lost my focus and had a consensual workplace relationship." The apology continues, "I'm sorry for any pain that my actions have caused to the guys and the fans but most of all to Ariel. The only thing that matters right now is my marriage and my children, and that's where I am going to focus my attention."
Ariel also stated in a now-deleted Instagram post that she appreciates followers' encouragement and support for her, writing, "Thanks to everyone who has reached out to me — it means a lot. Nothing is more important to me and Ned than our family, and all we request right now is that you respect our privacy for the sake of our kids."
In light of the news, the Try Guys also addressed the situation, eventually firing Ned from the group. They announced that Ned was no longer working with the team after an "internal review" in an Instagram post on the group account. 
Following the confirmation posts, the Fulmers became virtually silent, with no posts on their social media accounts since the beginning of the controversy. The two were last seen walking side by side with their wedding bands still on in L.A. on Sept. 28, 2022.
Everything remained very quiet about the two until a TikTok user, @amandachristine_1, uploaded news of the Fulmers in a selfie with his sister, Grace Fulmer, and a friend in the photo as they do a silly pose during the Eras Tour. They can also be seen sporting themed concert outfits. The photo appears to be from after the show, as it is simply captioned with the word "After" on Grace's Instagram story.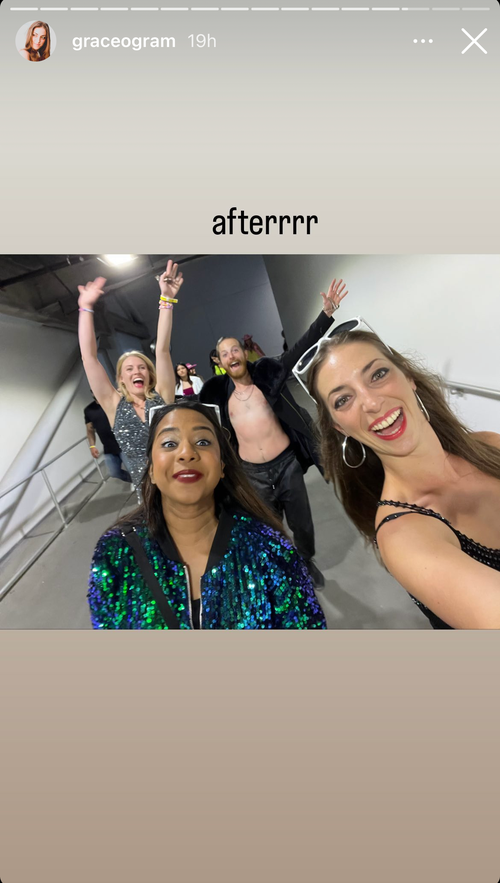 All fans can hope for is that Ariel remains happy, whether that's together with Ned or apart.