Morning! While you were sleeping (or staying up to binge-watch Friends for the tenth time, or pulling an all-nighter in the library), a few things went down that you'll probably want to know about. So grab a cup of coffee, settle in, and get scrolling. 
Rumor Has It
Despite the fact the more and more countries are legalizing same-sex marriage, there are still several countries that punish LGBTQ individuals for their identities. These laws can make traveling dangerous for members of the LGBTQ community, and to combat that, Tinder has introduced a new feature to help LGBTQ individuals travel more safely. 
The app announced in a blog post on July 24 that it had launched a new traveler alert to warn LGBTQ users when they set foot in a country with discriminatory laws. 
The feature will roll out in the coming days. 
Tinder, which is available in over 190 countries, worked with the International Lesbian, Gay, Bisexual, Trans and Intersex Association (ILGA) to determine which countries still deem same-sex relationships or acts illegal, CNN reports. When LGBTQ users open the app in one of these countries, they will receive a notification. The alert will provide a link to the ILGA website for more information on local sexual orientation laws. 
"We hope that this development will raise awareness amongst all Tinder users, and help protect people of diverse sexual orientations in the 69 countries around the world that currently still criminalize same-sex love," ILGA World Executive Director André du Plessis told CBS News.
Users will have the option to make their hidden or to keep it public while traveling, Hello Giggles reports. If the user does, however, decide to keep their profile public, their sexual orientation won't appear on their profile until they have left the country.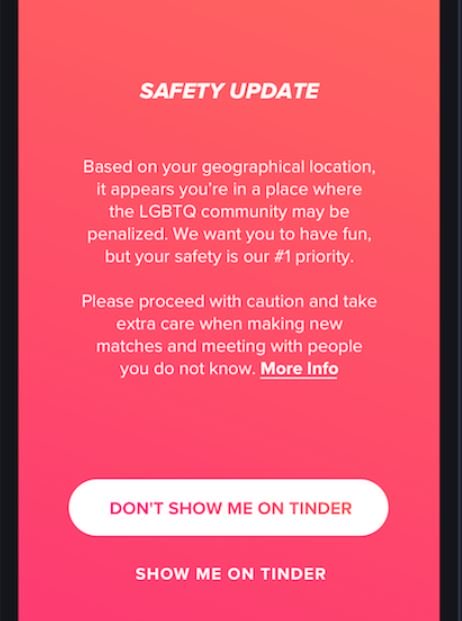 "Based on your geographical area, it appears you're in a place where the LGBTQ community may be penalized," Tinder's traveler alert reads. "We want you to have fun, but your safety is our #1 priority. Please proceed with caution and take extra care when making new matches and meeting with people you do not know."
According to CNN, individuals using Tinder Passport — its feature to connect with users in other countries — will also see if they have changed their locations to one of these countries before any matches are shown. 
"It's no secret that we believe everyone has the right to live how they want to live and love who they want to love," the company wrote in its blog post. "And while there are still efforts to protect our freedoms from LGBTQ discrimination here in U.S., it's important to remember that there are still nearly 70 countries around the world that have laws effectively criminalizing LGBTQ status."
News You Can Eat
Dunkin' is officially joining the plant-based meat movement. The company announced Wednesday that it began selling a meatless Beyond Sausage Breakfast Sandwich — featuring a plant-based patty from the booming brand, Beyond Meat — at 163 locations in Manhattan and plan to rollout the new breakfast option nationwide soon. 
According to Delish, the breakfast sandwich features a Beyond Meat patty, egg and a slice of American cheese all on an English muffin. Per Dunkin', the Beyond Meat patty is made with "a mix of spices crafted specifically for Dunkin'." The breakfast sandwich will also start your day off right with 10 grams of plant-based protein, Food & Wine reports.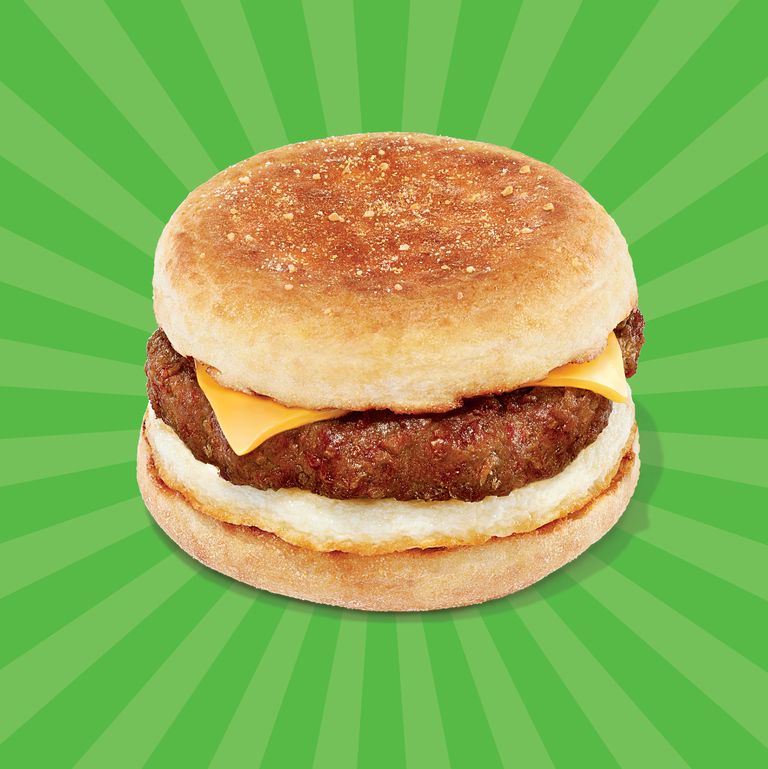 "Beyond Meat has earned the national spotlight for its innovative products and for creating incredible awareness and excitement for the benefits of plant-based meat," David Hoffmann, Dunkin' Brands CEO and president, said in the announcement. "Dunkin' has always stood apart for offering new and exciting choices to meet the needs of our on-the-go guests, and we are proud to collaborate with this industry leader to become the first U.S. restaurant chain to serve a Beyond Breakfast Sausage option."
Meanwhile, Beyond Meat Founder and CEO Ethan Brown remarked on the company's new partnership with Dunkin' and Beyond Meat's continued expansion.
"Dunkin' is truly an iconic brand and part of the fabric of so many communities. Partnering with them as the first U.S. restaurant chain to serve Beyond Breakfast Sausage represents not only an exciting moment for both of our companies, but a big step forward in making plant-based meat accessible and easy to enjoy, even while on-the-go," Brown said in a statement. "I look forward to seeing consumer reactions to the product offering and partnership."
The Beyond Sausage Breakfast Sandwich retails for $4.29.
We honestly can't wait to try it. 
Then This Happened
A doctored version of the presidential seal was projected on a screen behind President Donald Trump when he took the stage to address a conference of young conservatives in Washington D.C. on Tuesday. The doctored seal resembled an official Russian coat of arms and had other subtle digs at the president. 
As Trump was introduced at a teen summit hosted by conservative group Turning Point USA on Tuesday, the altered symbol was projected. In the fake seal, an eagle with two heads can be seen, which is on the coat of arms of the Russian Federation. A closer look also reveals that the eagle is clutching a set of golf clubs in its left talon, where there would normally be a set of arrows. The swap clearly pokes fun at the president's affinity for golf. In its right talon, the eagle clutches a stack of money instead of an olive branch.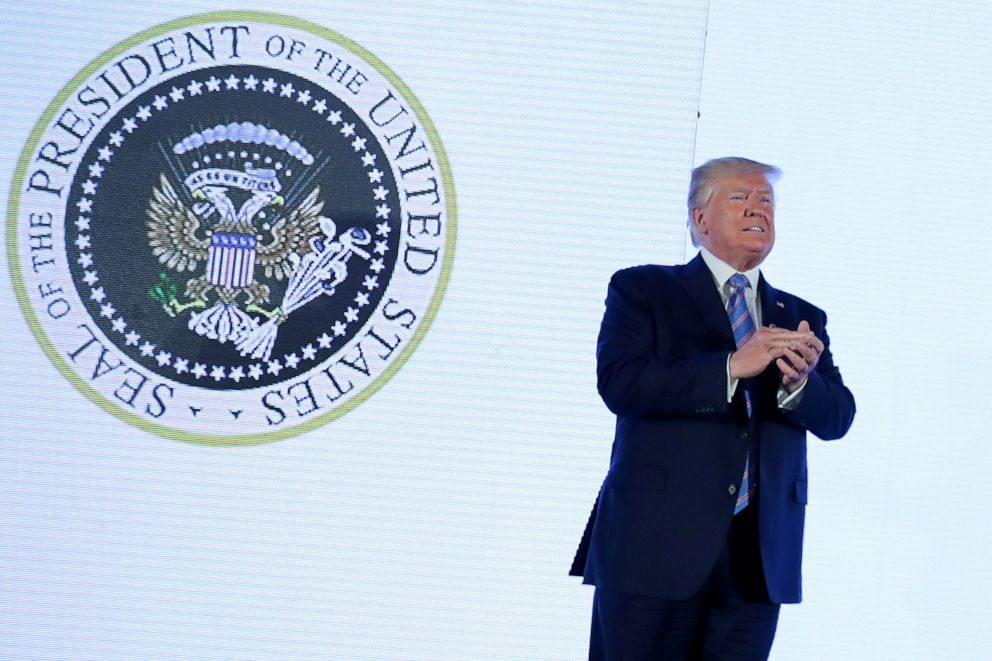 Image via Jonathan Ernst/Reuters
The words above the presidential seal traditionally read "e pluribus unum," but in the altered seal, they phrase says "45 es un titere," which, when translated, means "45 is a puppet."
According to a spokesperson, the White House had no role in creating the doctored graphic and had not seen the symbol prior to the event, CBS News reports. The White House referred all questions to Turning Point USA, saying "it was their event."
The error was the result of a last-minute mistake by an audio/video person, who has now been fired, a source told ABC News. A spokesperson for Turning Point USA told The Washington Post that the staff member who accidentally flashed the image meant nothing malicious by it. 
The graphic artist who had created the seal as part of a website called "One Term Donnie" recognized his creation when he read news coverage Thursday about the doctored seal. 
"It's hilarious, I can't stop smiling at the absurdity," the artist said. "I hadn't even thought about it for over a year. And all of a sudden, I started getting notices of sales."
According to CBS News, a congressional statute prevents anyone from using the presidential seal and its likeness to convey a "false impression of sponsorship or approval" from the U.S. government. As a result, offenders could face up to six months in prison and/or a fine. 
Happy Thoughts
There is an online petition to move Halloween to the last Saturday of October, and we're not mad about it.