Morning! While you were sleeping (or staying up to binge-watch Friends for the tenth time, or pulling an all nighter in the library), a few things went down that you'll probably want to know about. So grab a cup of coffee, settle in, and get scrolling.
Rumor Has It
Prince Harry is in full-on daddy mode!
Prince Harry participated in a children's ballet class during his visit to YMCA South Ealing in London on Wednesday, with the dad-to-be showing off his dance moves to the children, E! News reports. He also took part in a roundtable discussion on mental health and learned more about the YMCA's work to help the youth in the area.
And with only weeks to go, Harry was clearly VERY broody! pic.twitter.com/tRv4l7q1GH

— Rebecca English (@RE_DailyMail) April 3, 2019
The royal, who is expecting his first child with wife Meghan Markle in the coming weeks, bonded with 3-month-old baby Naz and her mom Maria Ahmad.
A video posted to social media shows the royal kneeling down to greet the baby, making silly faces to entertain her and tickling her belly. It wasn't long before the baby flashed a big smile, to which Harry commented, "I love that face."
He asked Maria if baby Naz is sleeping. "Sometimes," Maria replied.
"He was so excited and happy about the baby. He was asking about her sleeping. I think he's worried about that, if the baby sleeps at night time," Maria later told reporters.
The royal also surprised the ballet class by showing off his own ballet skills.
When Harry asked 5-year-old Emanuel Lester what his favorite part of ballet class was, Emanuel said the "ballet challenge."
Ballet teacher Jade Groves informed Harry that the challenge consisted of the children practicing their balance by standing on one leg and balancing a plastic disc on their head, PEOPLE reports.
Harry attempted the "ballet challenge," standing on one leg and stretching out his arms.
"You wobbled!" teased one of the children.
"Well done, you were fantastic," Harry told the children at the end of the class.
Meghan and Harry are expecting their first child later this month.
News You Can Eat
It's no secret that Heinz has been rolling out some interesting condiment concoctions. Just last April, Heinz Ketchup took to Twitter to tease a mix of ketchup mayonnaise, dubbed Mayochup. And by September, it had officially been rolled out in stores across the United States. After Mayochup sales did rather well, Heinz announced two more products: Mayocue, a mix of mayonnaise and barbecue sauce, and Mayomust, a mix mayonnaise and yellow mustard. According to Hello Giggles, Heinz is at it again with its latest concoction: Kranch sauce — a mix of ketchup and ranch.
According to Heinz, Kranch is "a mouthwatering mix of ketchup, ranch and a special blend of spices."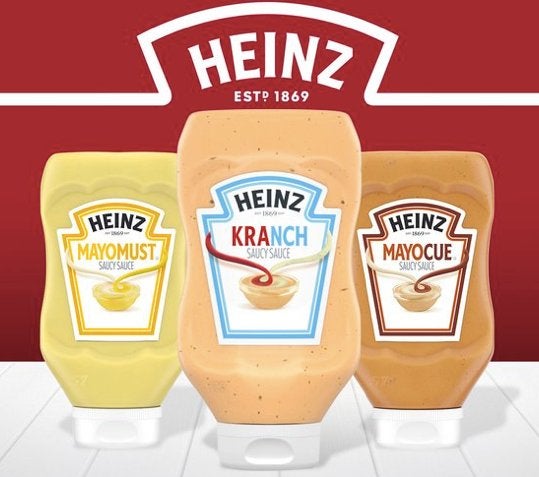 "When we launched Mayochup, Mayomust and Mayocue, our fans speculated on social media what they thought the next condiment mashup should be — the tweets were pouring in!" Dalia Adler, Associate Director of Marketing for Heinz, said. "Inspired by our fans' ideas, our new Kranch sauce is a blend of ketchup and ranch that will completely change your condiment game this summer."
Kranch will be available in stores nationwide beginning this month, and will retail for $3.49. Also, according to Food & Wine Magazine, Heinz says that Kranch has only 100 calories per serving, so feel free to go crazy with the Kranch.
So what are your thoughts on Kranch? Is it worth the try?
Then This Happened
House Democrats have formally asked the Internal Revenue Service (IRS) for six years of President Donald Trump's tax returns.
In a letter to IRS Commissioner Charles Rettig, House Ways and Means Committee Chairman Richard Neal (D-MA) requested six years of Trump's personal tax returns and returns from eight businesses linked to Trump, from 2013-2018. Neal also asked if any of them have been or are under audit, ABC News reports.
The request also demands that the information be delivered to Capitol Hill within a week.
JUST IN: Democratic Rep. Richard Neal, chairman of the House Ways and Means Committee, has formally asked the IRS to turn over six years of President Trump's personal tax returns. https://t.co/L9teG3QSgZ

— NPR Politics (@nprpolitics) April 3, 2019
"It is critical to ensure the accountability of our government and elected officials. To maintain trust in our democracy, the American people must be assured that their government is operating properly, as laws intend," Neal said in a statement.
"The IRS has a policy of auditing the tax returns of all sitting presidents and vice-presidents, yet little is known about the effectiveness of this program. On behalf of the American people, the Ways and Means Committee must determine if that policy is being followed, and, if so, whether these audits are conducted fully and appropriately," he added. "In order to fairly make that determination, we must obtain President Trump's tax returns and review whether the IRS is carrying out its responsibilities. The Committee has a duty to examine whether Congressional action may be needed to require such audits, and to oversee that they are conducted properly."
"This request is about policy, not politics; my preparations were made on my own track and timeline, entirely independent of other activities in Congress and the Administration," the statement concluded.
The request marks a new front in the Democrats' effort to investigate Trump and his administration. Democrats have long been interested in getting a look at Trump's tax returns to see if there are any conflicts of interest with involving foreign governments and to see how he has personally be affected by the tax-cut law he signed into effect in 2017, The Hill reports.
Democrats requested Trump's tax returns under a 1924 provision of the tax code requiring the Treasury secretary to "furnish" any individual's tax return information to the chairmen of Congress' tax committees "upon written request." The committees are then allowed to examine them in a closed session, and after reviewing the documents, could vote to send a report to the full House or Senate, which could potentially make some or all of the tax returns public.
Trump is the first president in decades to not release his tax returns. He has cited an audit dating back to prior to his administration as the reason for why he cannot make them public.
"We're under audit, despite what people said, and we're working that out," Trump told reporters in the Cabinet Room of the White House on Wednesday. "I'm always under audit, it seems. But I've been under audit for many years because the numbers are big, and I guess when you have a name you're audited."
"But until such time as I'm not under audit I would not be inclined to do that," Trump added.
House Democrats have unsuccessfully tried to pass a measure that would require presidential and vice presidential candidates to release ten years of tax returns as part of a government reform package, ABC News reports.
Happy Thoughts