Morning! While you were sleeping (or staying up to binge-watch Friends for the tenth time, or pulling an all-nighter in the library), a few things went down that you'll probably want to know about. So grab a cup of coffee, settle in, and get scrolling. 
Rumor Has It
In a new article published in British Vogue as part of the September issue guest edited by Meghan Markle, Prince Harry, new dad to baby Archie, and conservationist Jane Goodall discussed the environment, slowing down climate change and not having too many children. 
"What we need to remind everybody is: These are things that are happening now," the Duke of Sussex said of climate change and the earth's finite resources. "We are already living in it. We are the frog in the water and it's already been brought to the boil. Which is terrifying." 
"Two, maximum!" Prince Harry discusses having children amid an ecological crisis with Dr Jane Goodall. https://t.co/Mh1kuFDbvO

— British Vogue (@BritishVogue) July 30, 2019
Prince Harry and Goodall agreed that climate change was "terrifying," perhaps even more so now that he and Meghan Markle, the Duchess of Sussex, had their first child, Archie, in May, HuffPost reports. 
"It does make it different," the Duke replied. "I think, weirdly, because of the people that I've met and the places that I've been fortunate enough to go to, I've always had a connection and a love for nature. I view it differently now, without question. But I've always wanted to try and ensure that, even before having a child and hoping to have children…"
"Not too many!" Goodall joked.
"Two, maximum!" Prince Harry pledged. "But I've always thought: this place is borrowed. And, surely, being as intelligent as we all are, or as evolved as we all are supposed to be, we should be able to leave something better behind for the next generation."
According to Good Morning America, Prince Harry and his brother, Prince William, teamed up with Goodall earlier this month to empower young kids to help save the planet. 
In June, Goodall visited Frogmore Cottage, the Duke and Duchess of Sussex's official residence, where she got to cuddle with Archie and speak with the Duchess. 
According to The Sun's royals reporter, Emily Andrews, Markle told Goodall, "You've been my idol since I was a child. I've hero worshipped you all my life." 
The royal couple will be taking their love of nature overseas this fall when they embark on a trip to South Africa, along with baby Archie. 
News You Can Eat
Kellogg's has announced that it is launching a brand new cereal based on one of the most popular YouTube videos of a generation: "Baby Shark" (doo doo doo doo doo) cereal.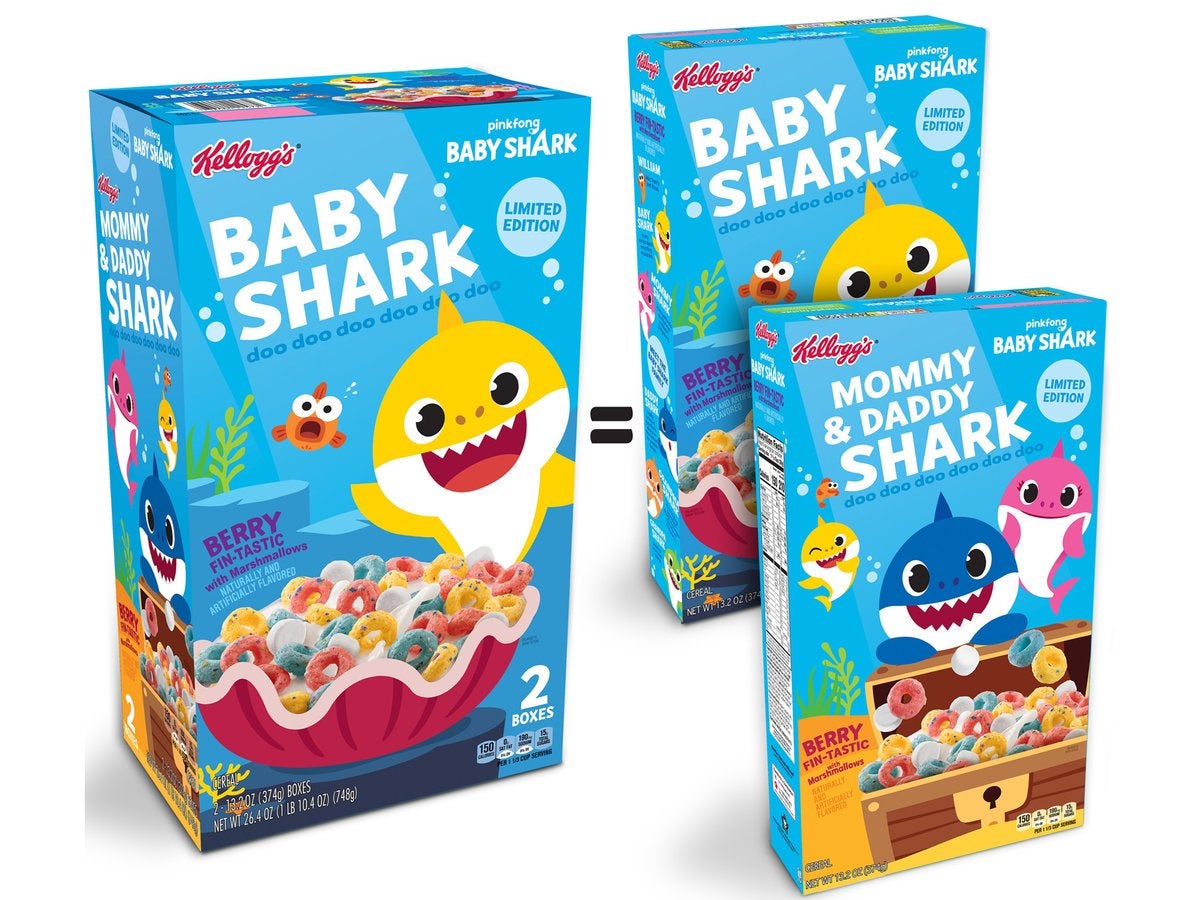 If you're not familiar with the song, then you must live under a rock, because the song will easily get stuck in your head. The singalong nursery rhyme about a family of sharks reach global popularity in 2016 thanks to the YouTube channel Pinkfong. 
According to NY Daily News, the brain-sticking "Baby Shark" music video amassed more than 3.1 billion views on YouTube since its release, becoming the ninth most watched video on YouTube. 
Kellogg's described its new cereal, saying, "The 'berry fin-tastic' flavored rings are floating with marshmallows and deliver a delicious splash of flavor that doesn't miss the boat."
OK, so maybe we're a little disappointed that the cereal or marshmallows are shark-shaped. 
In a news release, Kellogg's said the "limited-edition" cereal will arrive exclusively at Sam's Club on August 17, Food & Wine Magazine reports. The "Baby Shark" cereal will come in a two-pack that features one "Baby Shark" box and one "Mommy & Daddy Shark" box, and will retail for $5.98. Single boxes of the "Baby Shark" cereal will be available at Walmart starting in September. 
Then This Happened
California Gov. Gavin Newsome (D) signed a bill into law Tuesday that would require all presidential candidates to release their tax returns if they want to appear on the state's primary election ballot, essentially force President Donald Trump to give in to demands to fork over his tax returns. 
"As one of the largest economies in the world and home to one in nine Americans eligible to vote, California has a special responsibility to require this information of presidential and gubernatorial candidates," Newsom said in a statement. "These are extraordinary times and states have a legal and moral duty to do everything in their power to ensure leaders seeking the highest offices meet minimal standards, and to restore public confidence. The disclosure required by this bill will shed light on conflicts of interest, self-dealing, or influence from domestic and foreign business interest."
California to Trump: Release your taxes or you're barred from the primary ballot. Gov. Gavin Newsom signed SB27, requiring presidential and gubernatorial candidates to share their last five years of income tax returns to be eligible for primary elections. https://t.co/E3ykAlfHtZ pic.twitter.com/8Wg5XG02MP

— San Francisco Chronicle (@sfchronicle) July 30, 2019
Newsom's decision to sign the Presidential Tax Transparency & Accountability Act into law comes just weeks after the California legislature approved the measure by a 57-17 vote in the state Assembly and a 29-10 vote in the state Senate. The law will require presidential candidates appearing on the state's primary ballot to release five years of income tax filings, ABC News reports. 
While Newsom has repeatedly called on Trump to release his tax returns, it was unclear if the California governor would sign the legislation or follow in the footsteps of his predecessor. According to HuffPost, when California lawmakers passed a similar bill in 2017, then-governor Jerry Brown (D) opted to veto the bill, saying he was reluctant to "start down a road that well might lead to an ever-escalating set of differing state requirements for presidential candidates."
Trump's personal attorney, Jay Sekulow, responded to the passing of the California law, saying the president expects to challenge it in court.
"The State of California's attempt to circumvent the Constitution will be answered in court," Sekulow said in a statement.
The president broke with modern precedent as a White House candidate in 2016 when he refused to release his tax returns and continued to do so while in office, as he says he is still under audit from the Internal Revenue Service (IRS).
In May, Democrats on the House Ways and Means Committee subpoenaed the IRS commissioner and the Treasury secretary for six years of Trump's tax returns, but the request was denied, ABC News reports.
Earlier this month, House Democrats ratcheted up the standoff with the White House by filing a lawsuit against the administration, seeking six years of Trump's tax returns.  
Happy Thoughts
Chipotle is celebrating National Avocado Day (which is today, Wednesday, July 31!) with free guacamole!