Morning! While you were sleeping (or staying up to binge-watch Friends for the tenth time, or pulling an all-nighter in the library), a few things went down that you'll probably want to know about. So grab a cup of coffee, settle in, and get scrolling.
What in the World
Prince Harry and Meghan Markle introduced their newborn son to the world Wednesday and announced the name of their son: Archie Harrison Mountbatten-Windsor.
The Duke and Duchess of Sussex revealed Archie's name in an Instagram post alongside a photo of the royal couple introducing him to his great-grandparents, Queen Elizabeth and Prince Philip.
Meghan's mother, Doria Ragland, who had flown from Los Angeles to be with her daughter at Frogmore Cottage for Archie's birth, was also in the picture.
The royal couple also gave the public its first look at the newest member of the royal family Wednesday, as the new family of three gathered in St. George's Hall at Windsor Castle, near their residence, and posed for the baby's first pictures, TODAY reports.
"It's magic. It's pretty amazing," Meghan said as Harry cradled their baby son. "I have the two best guys in the world so I'm really happy."
The joyful parents gushed over their baby boy as they spoke to the press.
"He's really calm," Meghan said of Archie, prompting Harry to joke, "I wonder who he gets that from?"
The Duchess added that she couldn't have asked for a better baby, saying, "He's just been the dream, so it's been a special couple of days."
When asked who the royal baby looks like, Harry said it was too early to tell.
"Everyone says babies change so much over two weeks," he told reporters. "We're basically monitoring how the changing process happens over this next month really, but his looks are changing every single day, so who knows?"
Harry did admit, though, that the couple is adjusting to their new life as parents.
"We're still trying to figure it out," he admitted. "Parenting is amazing. It's only been — what, two and a half days, three days? We're just so thrilled to have our own little bundle of joy."
The couple later released photos on their Instagram account, expressing delight in sharing "their first public moment as a family" and thanked everyone for "the warm wishes and support they've received from everyone around the world" since Archie's birth.
According to Buckingham Palace, the baby will not carry a title "at this time."
Archie would have been given the title The Earl of Dumbarton, or Lord Dumbarton, as Harry's eldest son, had Harry and Meghan agreed, ABC News reports. Queen Elizabeth does, however, have the discretion to grant the newborn the title of prince.
For now, Harry, Meghan and their son are bonding as a family at Frogmore Cottage.
Harry told reporters in St. George's Hall, "We're just so thrilled to have our own little bundle of joy here to spend some precious times with him as he slowly starts to grow up."
News You Can Eat
Listen up, Disney fans! You can call us "Buzzed" Lightyear because Disney World is adding a new alcohol-infused treat to their menu: Cocktail popsicles!
According to Disney Food Blog, this latest treat is available at the Via Napoli food cart in Epcot's Italy Pavilion. The cocktail popsicles by Pop Fusions come in three flavors: Sparkling Strawberry, Berry Sangria, and Limoncello. There is also a non-alcoholic Strawberry option and honestly, they all sound equally delicious.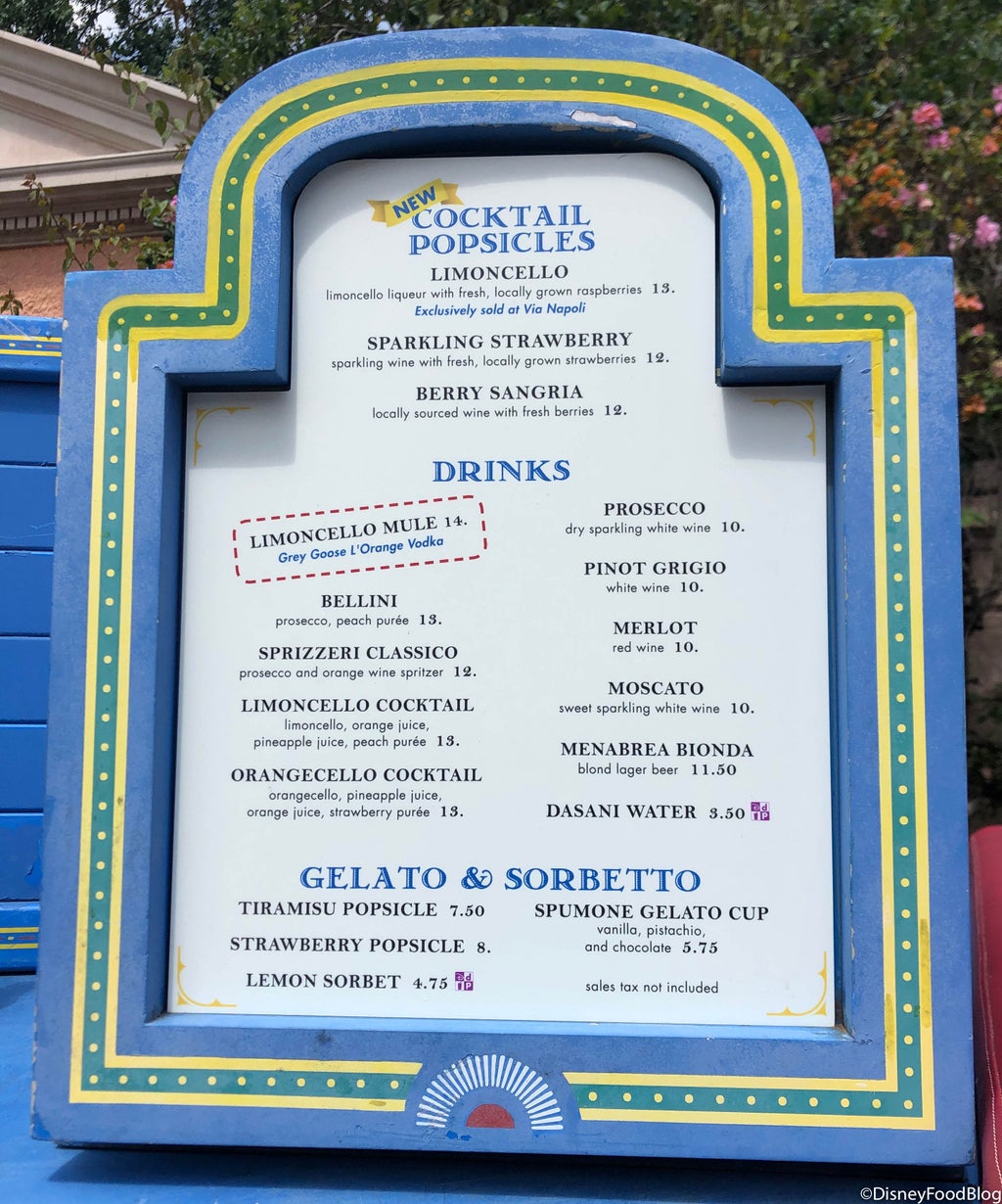 The Sparkling Strawberry flavor includes locally grown fresh strawberries and sparkling wine. The Berry Sangria popsicle is made with locally sourced wine and fresh berries, and the Limoncello made of limoncello liqueur and locally grown raspberries. Yum!
The non-alcoholic Strawberry popsicle is made with strawberries, sugar cane, water, and freshly squeezed lemon juice.
Disney Food Blog did add that cast members at the cart will only allow 21 and over customers to purchase one popsicle per valid ID.
According to Popsugar, these popsicles (with the exception of the non-alcoholic Strawberry option) do cost $12 to $13 per popsicle, so they are a bit pricey. But it'll sure be worth it in that Florida summer heat.
Then This Happened
The House Intelligence Committee issued a subpoena on Wednesday to Attorney General William Barr to furnish documents and materials related to special counsel Robert Mueller's investigation into Russian interference in the 2016 presidential election, the latest effort from congressional lawmakers to get Barr to turn over Mueller's full, unredacted report.
House Intelligence Committee Chairman Adam Schiff (D-CA) issued the subpoena Wednesday evening, accusing the Justice Department in a letter of failing to negotiate with the committee or complying with the committee's bipartisan request for Mueller's materials, which Schiff said was effectively blocking "our legitimate and duly authorized oversight."
BREAKING: House Intel just subpoenaed DOJ for all counterintelligence and foreign intelligence materials in the probe, the full report, and underlying evidence.

DOJ has responded to our requests with silence and defiance.

Congress needs the material. We will not be obstructed.

— Adam Schiff (@RepAdamSchiff) May 8, 2019
"Congress has a vital constitutional role in evaluating misconduct by the Executive Branch, including the President, and to assess and refine laws that address the 'sweeping and systematic' invasion of our democracy by Russia," Schiff said in a statement. "We, therefore, need these materials in order to do our job. The Department's stonewalling is simply unacceptable."
The committee has now set a May 15th deadline for the Justice Department to hand over the documents.
The subpoena follows bipartisan letters from Schiff and ranking member Devin Nunes (R-CA) to the Justice Department in March and April requesting the full Mueller report and all related classified and unclassified materials, The Hill reports. The two congressmen also asked for Mueller to testify before the committee.
The development marks the latest fight between lawmakers and Barr, who has thus far has remained steadfast in not supplying anything other than the redacted Mueller report.
The House Judiciary Committee also issued its own demands for the full Mueller report and told Barr to testify before the committee on the special counsel's findings. Barr, however, refused to testify after disagreeing with the committee's proposed format of allowing each party's counsel to question Barr for 30 minutes following a period of traditional questioning by panel members.  
The conflict escalated Wednesday when President Donald Trump asserted executive privilege over the subpoenaed materials on the recommendation of the Justice Department. Later Wednesday, the Judiciary Committee voted to move ahead with holding Barr in contempt for his actions, HuffPost reports.
"We are now in a constitutional crisis," House Judiciary Committee Chairman Jerry Nadler (D-NY) said after the vote.
Happy Thoughts
Drink up! It's National Moscato Day!