Morning! While you were sleeping (or staying up to binge-watch Friends for the tenth time, or pulling an all nighter in the library), a few things went down that you'll probably want to know about. So grab a cup of coffee, settle in, and get scrolling.
Rumor Has It
Season 8, Episode 4 of Game of Thrones not only brought Daenarys Targaryen out of Winterfell and into Kings Landing staring into the eyes of Cersei Lannister, but brought us back to the modern day when fans noticed that a disposable coffee cup was left in a shot. Literally.
While the disposable coffee cup was only on screen for a mere two seconds, it was clearly visible to fans as it was sitting there in plain view.
In case you missed it, the coffee cup can be seen in the during the celebratory feast following the victory in the Battle of Winterfell. Tormund Giantsbane is giving a toast to Jon Snow when the camera pans to Daenarys, who jealously watched the Northerners praise Jon, and the cup is sitting right in front of her. It was the only time the coffee cup was left in the shot, according to PEOPLE. In every other shot scene at the table, Daenarys is using a goblet more in line with what we might typically see for that time period.
Twitter users captured the moment on social media and the tweets are hilarious.
You're telling me they had TWO YEARS to put together a decent show and they couldn't even spot the goddamn Starbucks cup in Winterfell??!?! #GameOfThrones pic.twitter.com/8opg7nyydv

— Jenna Guillaume (@JennaGuillaume) May 6, 2019
For those of you who didn't think the Starbucks cup gaffe was real, I went back to watch it and—#GameOfThrones pic.twitter.com/xNz2iBHySH

— Clarkisha Kent: Benioff and Weiss Hate Account (@IWriteAllDay_) May 6, 2019
I found where she got the Starbucks cup from #GameofThrones pic.twitter.com/46XztK2QjV

— John Beck (@johnbeck_) May 6, 2019
That Winterfell starbucks cashier ain't ready to write Dany's name on her coffee cup #GameofThrones pic.twitter.com/N4ktWH1NlJ

— Joseph (@TheGeneralSYD) May 6, 2019
HBO did respond to the controversy with a tongue-in-cheek statement:  "The latte that appeared in the episode was a mistake. Daenerys had ordered an herbal tea."
News from Winterfell.

The latte that appeared in the episode was a mistake. #Daenerys had ordered an herbal tea. pic.twitter.com/ypowxGgQRl

— Game of Thrones (@GameOfThrones) May 6, 2019
We can't blame a girl for wanting her Starbucks.
News You Can Eat
Do you ever have a hard time deciding which Blizzard to get at Dairy Queen? Well, now you don't have to, because DQ is rolling out a "Mini Blizzard Treat Flight" so you can indulge in three flavors at once. Yum!
The "Mini Blizzard Treat Flight" is available through May, and in addition to getting to all of the classics, DQ is introducing a bunch of new summer Blizzard flavors that will be available until the end of August, PEOPLE reports. Basically, you'll have a TON of options for your Blizzard flight.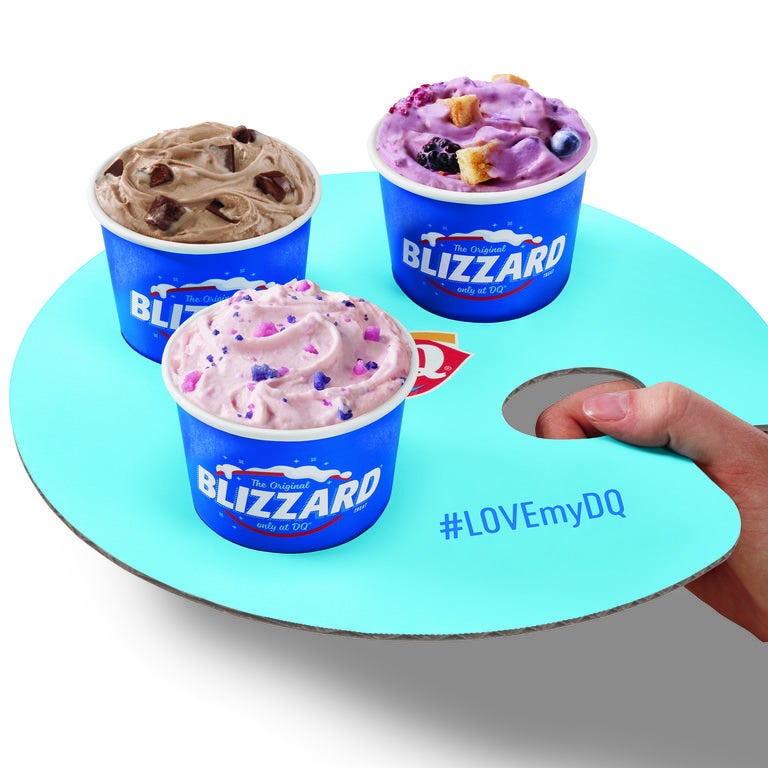 You can choose several choices, like the Caramel Cannonball, which has sweet caramel-coated truffles, crunchy toffee pieces and a caramel topping. There's also the Cotton Candy Blizzard, which features pink and blue cotton candy sprinkles blended into soft-serve, and the Summer Berry Cheesecake Blizzard, which mixes raspberries, blackberries, blueberries and cheesecake pieces. We're already drooling.
And don't forget the classic OREO Cookie Jar, along with the Brownie Dough and S'mores.
If you're not into Blizzards (we don't judge), DQ has some other items on the menu you might want to give a try.
The DQ Summer Treat Menu will have the new "Cupfections," which is essentially a bigger version of an ice cream sundae with baked goods and sweet toppings, as well as "Cake Shakes," hand-blended milkshakes topped with pieces of decadent cake, Delish reports.
And if you're feeling nostalgic, try the Dreamsicle Dip Cone, which tastes like an orange creamsicle.
If you need us, we'll be at DQ trying all of the new summer treats!
Then This Happened
Democrats on the House Judiciary Committee took their first steps on Monday to hold Attorney General William Barr in contempt of Congress, furthering tensions over special counsel Robert Mueller's report.
House Judiciary Committee Chairman Jerry Nadler (D-NY) scheduled a vote on Wednesday to markup a contempt resolution over Barr's refusal to turn over a complete, unredacted version of Mueller's full report into Russian interference and President Donald Trump's potential obstruction efforts, The Hill reports.
The markup, which is scheduled for Wednesday at 10 a.m., comes after Democrats gave the Justice Department until 9 a.m. on Monday to provide the report and its underlying evidence.
Nadler issued a subpoena for the full report in April, one day after Barr released a redacted version. However, the Justice Department notified the committee last week that it would not comply with the committee's demands.
The Justice Department has said that the committee "lacks any legislative purpose for seeking the complete investigative files" and that it was inappropriate to "open up the entirety of the investigative file to congressional review," HuffPost reports.
Nadler said the Mueller report "offers disturbing evidence and analysis that President Trump engaged in obstruction of justice at the highest levels."
"Congress must see the full report and underlying evidence to determine how to best move forward with oversight, legislation, and other constitutional responsibilities," he added. "The Attorney General's failure to comply with our subpoena, after extensive accommodation efforts, leaves us no choice but to initiate contempt proceedings in order to enforce the subpoena and access the full, unredacted report."
Nadler did leave the possibility of that Wednesday's proceedings could be postponed if the Justice Department presents the committee with "a good faith offer for access to the full report and the underlying evidence."
Asst Attorney General Stephen Boyd has written a letter to House Judiciary Chair Jerry Nadler requesting a meeting on Wednesday to "negotiate an accommodation" to Democrats' demands for release of special counsel Robert Mueller's full, unredacted report. https://t.co/Vqihtcfry6

— Jon Cooper (@joncoopertweets) May 6, 2019
In a letter to Nadler on Monday, the Justice Department said the committee "has not articulated any legitimate basis for requesting the law enforcement documents that bear upon more than two dozen criminal cases and investigations, including ongoing matters," seemingly referring to the dozens of ongoing investigations that sprouted from Mueller's investigation.
Assistant Attorney General Stephen Boyd, who wrote the letter, said the Justice Department welcomes the committee's offer to "negotiate an accommodation that meets the legitimate interests of each of our co-equal branches of government."
Happy Thoughts
Us watching Lady Gaga change outfits four times on the red carpet at the Met Gala: