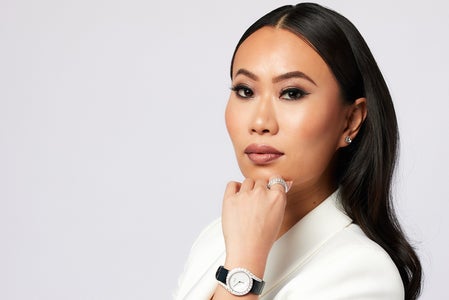 'Bling Empire's' Kelly Mi Li on Increasing AAPI Representation in Hollywood, Cultivating Your Own Success, & What's Up Next
Though racism and stereotypes against Asian Americans and Pacific Islanders (AAPI) have been prevalent for many years, from the start of the 2020 pandemic to now, there's been an increasing amount of Asian-targeted hate crimes. Many members of the AAPI community, advocates, and celebrities have raised alarms in recent months about the horrendous crimes being committed against this group of people. Among these advocates is executive producer and actress Kelly Mi Li. Kelly is the definition of self-made, but recently this Netflix star has stepped into a greater role as an advocate against AAPI hate. Kelly has partnered up with Hate Is A Virus through The Community Action Fund to raise a million dollars for local and national organizations that strive to build solidarity, protect the elderly, and stop Asian American and Pacific Islander hate crimes in America. 
"This is an issue very close to my heart, not just because I am an Asian American, but as well as... just being a human being," Kelly says. "Because as a human being, any form of hate and discrimination is just not acceptable. And for us, our duty as the human race is to support one another in times of crisis." And to kick off the fundraiser, Kelly generously matched the first $25,000. Money doesn't just solve all of these problems, though. 
Creating a more diverse Hollywood
In the '80s and '90s, many AAPI roles in the media involved stereotypes and tropes, from ninjas, martial arts, the old wise man who had all the answers, masseuses, and more. As a Chinese-American producer who grew up looking at this limited representation of the AAPI community in Hollywood, Kelly is passionate about helping diversify the stories told by AAPI members. 
In recent years, there's been a wave of AAPI diversity in Hollywood, with films and shows like To All The Boys I've Loved Before and Fresh Off the Boat, and Bling Empire of course, featuring Asian American protagonists, but this assumption of increased diversity is all from a consumer perspective – an outsider's perspective. Moreover, this push for diversity is greater in front of the camera which poses questions for diversity behind the camera as well.
"We are definitely on the right path," Kelly says, "[but] we still have a really long way to go." There's a visible difference in representation today compared to a few years ago. "Previously, a lot of the Asian roles available for Asian women were sex symbols," she says. "The massage parlor, like in Rush Hour, became very stereotypical for Asian female roles. While for Asian male roles, it was Kung Fu." However, projects like To All the Boys I Loved Before depict a female Asian lead as a normal teenager, with a loving family dynamic. To All the Boys, as well as shows like Fresh Off the Boat and Kim's Convenience have all paved the way for Bling Empire.  
Even so, Bling Empire is breaking down barriers of its own. "[It shows a] rare and vulnerable perspective within a culture that's generally very stereotyped [for] avoid[ing] emotions, focus[ing] on excellence and hard work, and stay[ing] quiet," Kelly says. During its first season, Bling Empire also delved into real-life problems like fertility issues, parental death, and Kelly's own relationship and mental health hardships. 
But even with these recent projects – ones that offer positive representation while addressing such sensitive topics – more can be done by actively creating more roles not just in front of cameras, but on the production front. In upcoming projects, Kelly aims to give voice to women, especially minorities with diverse backgrounds. 
In the works
As Bling Empire's been given the greenlight for season two, Kelly hopes to expand the storyline and dive deeper into the cast's varying cultural backgrounds. Asian culture is extremely diverse, and Bling Empire features cast members that are Chinese, Singaporean, Japanese, and Korean immigrants, as well as American born. Kelly hopes she'll get the opportunity to open up about her own upbringing in a struggling immigrant family, and her own journey to success.
As the executive producer for a new show called Cypher, which recently launched on Roku as its first ever exclusive feature, Kelly has taken her love for true crime and implemented it into an FBI-set crime drama. Kelly also recently worked on the new animated film Panda vs. Aliens, based on characters by Stan Lee, which premiered earlier in April. 
Though Kelly is very excited, booked, and busy with upcoming projects, she knows the importance of learning how to say "no" and communicating clearly. "No's are as important as yes's," she says, and this is hard for a "yes person" to realize. "I feel guilty even saying 'no' to a friend," she says. "Sometimes I'll go to two or three dinners a night, just to pop over, because I feel bad and I'll drive myself crazy... [but] running on empty trying to please everyone at the end of the day is not good for anyone."
The unconventional journey
Kelly's unconventional and entrepreneurial approach to the film industry is what makes her so valuable to the projects she's been a part of. Having gotten her insurance sales license at 18, Kelly moved to Los Angeles to break into the food and beverage industry. While she had a seemingly dissociated jump in careers, the varying industries she's been a part of – from food to ecommerce to film – have all helped her learn structure. That structure includes being knowledgeable about the specific industry, identifying major people in that industry, and being able to collaborate with others. These components span across all businesses. When it comes to films, Kelly looks at every project as its own business. Like when starting any business, there's a lot of silent grinding. Many only post their successes, but behind each success is months, or even years, worth of dedication to that craft. During her first year and a half of producing, Kelly didn't "pull any triggers." Education and patience are the foundation of her film career. She read books, took acting classes, sat in on film sets and meetings, and actively sought to understand the many aspects that comprise film. Bling Empire took many years to develop before filming even started.
With that in mind, Kelly advises young business professionals and entrepreneurs to not compare their journeys to others in their industry. "You can't compare your step A to someone else's step D, because they already worked on ABC. You just didn't see it," she says.
And when the big successes do come, Kelly stresses the importance of staying grounded in what made you the person you became in the first place. "Success comes with a lot of distractions because opportunity is going to come and everybody's going to want a piece of it," she says. "Stay grounded, with your morals, your values, your family, your religion."
One way to stay grounded in these values is by following Kelly's great example of using one's platform and power to raise awareness for social issues and help make meaningful change in the world. Follow Kelly on Instagram for more information on causes she is passionate about, inspirational quotes, and BTS looks of her latest projects!