Unless you've been living under a rock the past few days, then you know Keke Palmer announced her pregnancy on Dec. 3 during her Saturday Night Live monologue. 
"There's some rumors going around, people have been in my comments saying, 'Keke's having a baby, Keke's pregnant,' and I wanna set the record straight — I am!" Palmer said right before exposing her round bump under her coat, an homage to her fellow Virgo sister, Beyoncé.  
Palmer continued, "I gotta say, though, it is bad when people on the internet spread rumors about you ya'll, but it's even worse when they're correct." Just days before her announcement, rumors were swirling around the internet that Palmer was pregnant. She has always been private about her personal life, so the announcement has left many wondering who the baby's father is.
His name is Darius Daulton Jackson, a writer and fitness professional. He is the younger brother to Sarunas Jackson, who acted in the HBO hit show Insecure, which Palmer also cameod in.  
I've compiled a complete timeline of the relationship between Palmer and Jackson to get you caught up on this beautiful romance.
May 2021: Palmer & Jackson meet at a Memorial Day party hosted by Issa Rae & Diddy.
According to Page Six, the two reportedly met in the summer of 2021, but they have yet to confirm.
August 2021: They make it Instagram official.
In an Instagram post that's since been deleted, Jackson penned a sweet message to Palmer for her birthday.  
According to Page Six, Jackson said, "You've been a blessing from above. Never would have expected summer 2021 to turn out the way it did, but here we are. I'm glad we were able to help each other out throughout our lowest times & show one another that what we are bringing to the table is everything we got."
 October 2021: Palmer's tribute to Jackson melts hearts.
According to Elle, in her now-deleted post, Palmer wrote, "Without being too mushy because I HATEEEE THAT, it feels really nice to not be afraid to show this kind of care for someone that I don't share the same blood with. I thought it could never happen, I can be quite guarded, but I appreciate you for being a safe space. I will always cherish what you have given me."
November 2021: The couple makes their TikTok debut.
Jackson appeared in a funny Tik Tok video with the caption "Lady Miss takes what she WANTS" on Palmer's account in November.
March 2022: Palmer openly tells Bustle about her relationship.
In a wide-ranging Bustle interview, Palmer swooned when talking about Jackson, stating she didn't want to "hide" Jackson because he made her the "happiest" she's ever been. Palmer added that keeping their relationship a secret is "a lot more work than just living in my life and being in my life."
Jackson and Palmer deleted their photos together in March 2022, but Palmer shut down all breakup rumors after she was on the Tamron Hall Show in November.
December 2022: Palmer & Jackson reveal her pregnancy.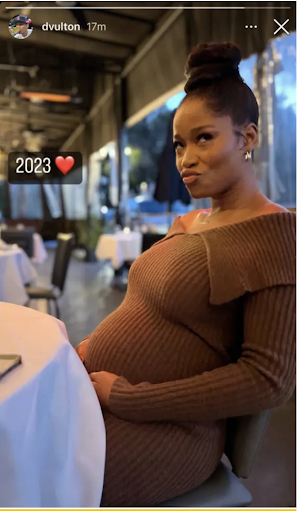 Only hours after the SNL premiere, Jackson took to his Instagram to post a pregnant Palmer, confirming their bundle of joy will arrive in 2023. Palmer's own post on the reveal included a caption where she referred to him as her "other half."