When I found out that Starbucks was giving out free reusable cups, I set my alarm early as fuck and was honestly buzzing with the thought of getting my hands on my favorite Starbucks holiday cups. I yell all day about how unique and special I am but at the end of the day, I love a Peppermint Mocha with the festive sprinkly things on top as much as the next basic. I'm not ashamed. So today I woke up at 7am (which is EARLY for me) and, without brushing my teeth or washing my face or even putting on my eyebrows, I headed for my beloved home of $5 coffee.
But I ended up feeling tricked, you guys, and not just because I was so sleepy I got a Toasted White Chocolate Mocha instead of my go-to Peppermint Mocha (because the coffee was still good, no worries there.)
Here's what you need to know about the reusable cups Starbucks is giving out.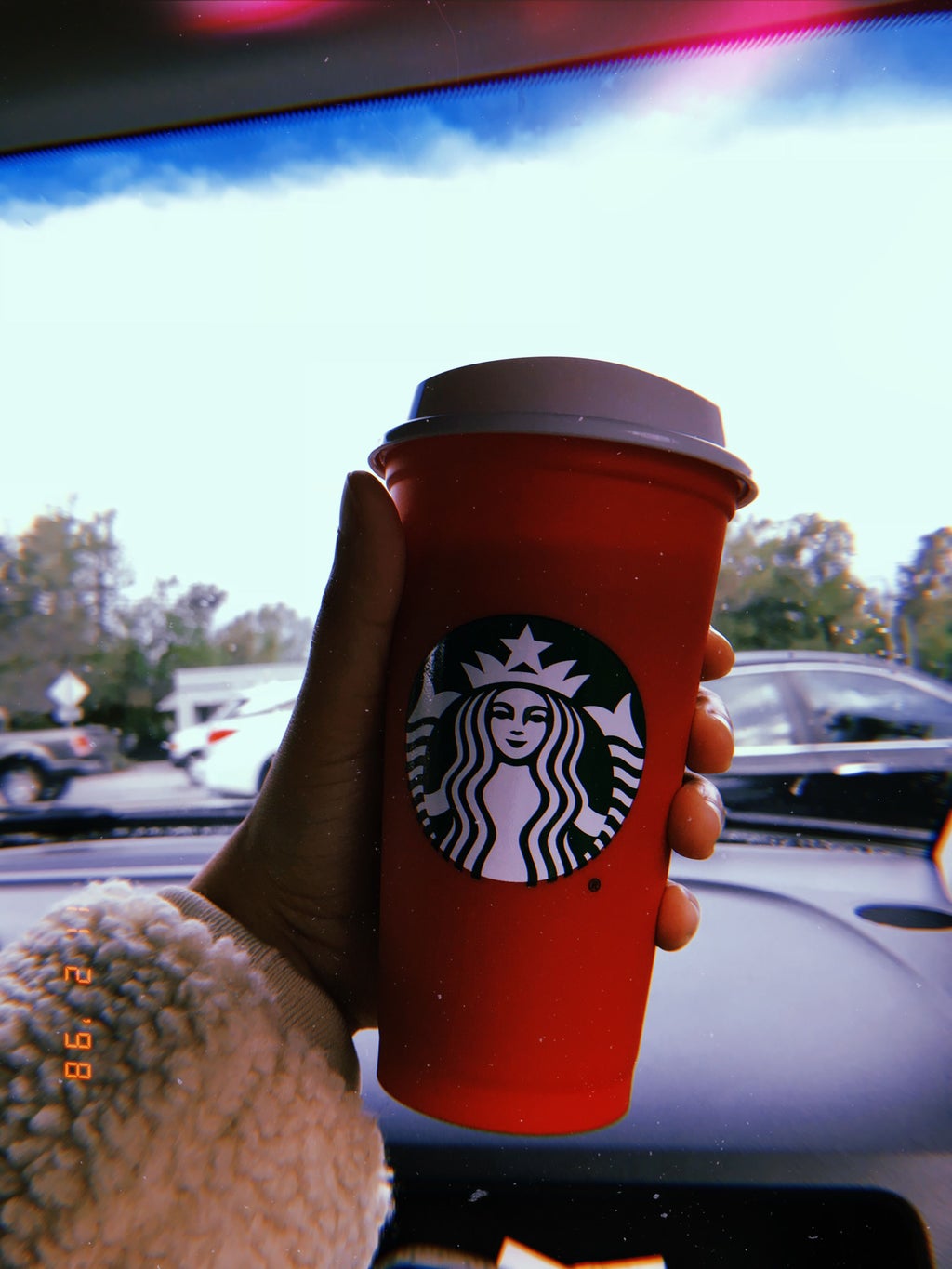 The pros: they are CUTE. They are red and festive and they feel good in your hand. 
The cons: you still need to use a little cardboard sleeve not to burn the fuck out of your hand. Like, idk about you guys, but I wanted to use less crap to get my coffee, so having to add a little sleeve seems counterproductive. But they're cardboard, so hopefully not so bad for the planet? But the major con here is that they say you get 50 cents off of your purchase, which, like, yay. But the more you read, the more details there are.
1. The discount ends after the holiday season.
This is fine, and seems fair. It would be kind of shocking if you got 50 cents off of every single Starbucks drink for the rest of your life. I mean, nice. But shocking. 
2. The discount only counts for holiday drinks.
Hm. Okay. I can drink nothing but holiday coffees for 3 months. Plus, they have so many holiday drinks – Peppermint Mocha, Toasted White Chocolate Mocha, Caramel Brulee Latte, Chestnut Praline Latte, Gingerbread Latte, and Egg Nog Latte – that this feels doable. I'll just rotate them. They'll still get all my money and I'll live my best, most festive life.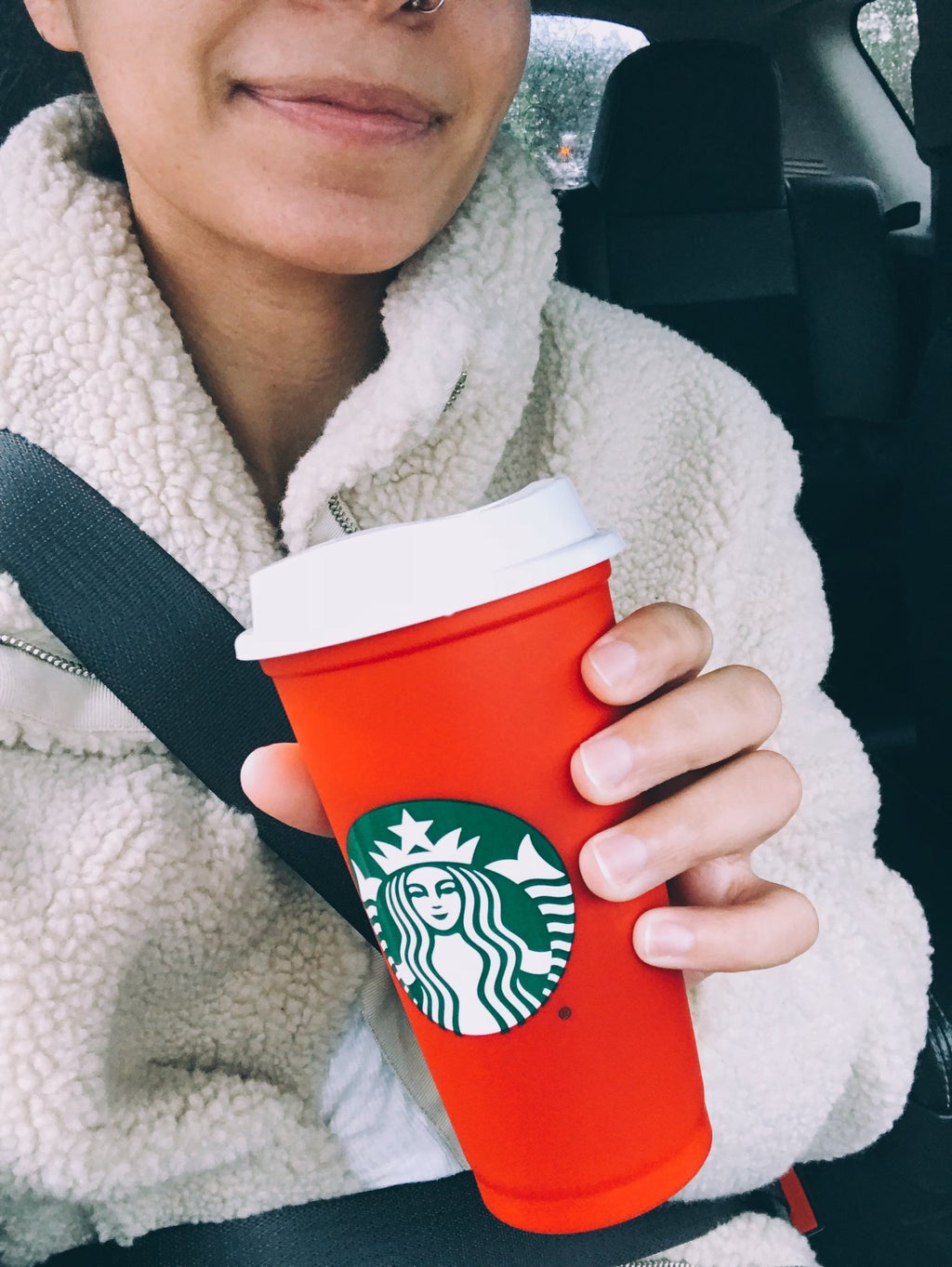 3. The discount only counts after 2pm.
I'm sorry, what?
Maybe this is a Me Problem, but I don't usually get coffee after 2pm. My 2pm coffee is the old, unfinished, cold coffee that I didn't finish from the morning. It's my MORNING coffee that I want to be hot, sparkling, 100% from Starbucks, and discounted. What good is this to me, a morning coffee-reliant human?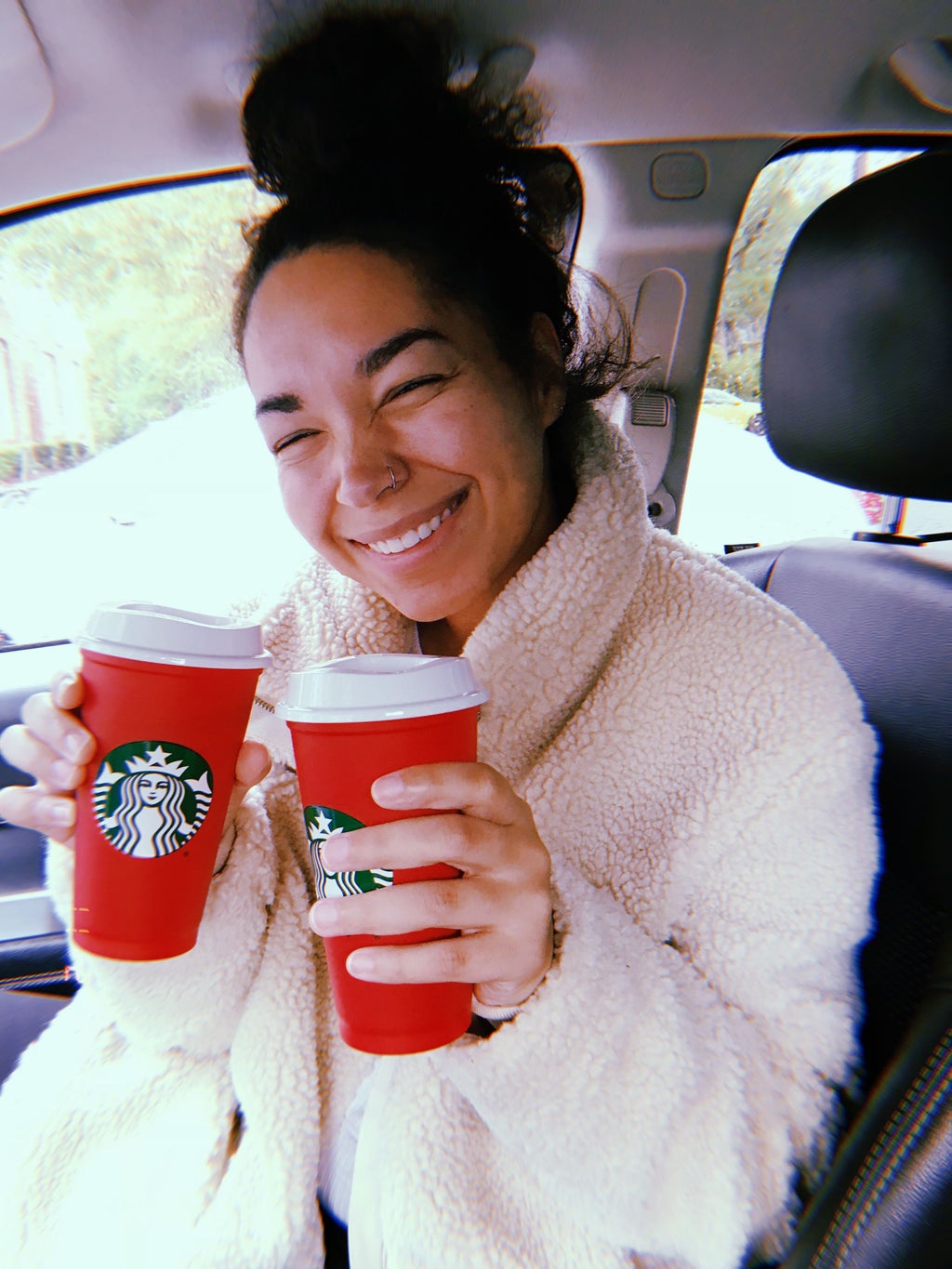 At the end of the day, I'll manage. And I'm happy that Starbucks is continuing their save-the-world kick by encouraging us to use reusable cups, and giving them out for free. They also had cups with straws that you could purchase if you're more of an iced beverage and straw kind of gal, but I'll save that for my next trip. Happy Starbucks Holiday Cup Szn, and remember to set an alarm for 2pm every day so you can train your body to need Starbucks at 2pm instead of 8am. You're welcome.