The legendary Harry Styles completed his sold out 15 night residency at Madison Square Garden last night on Wednesday, Sept. 21. Styles started his residency in New York City on Aug. 20, the month filled with Styles' iconic sequined outfits, wholesome fan interactions, colorful feather boas, and pure serotonin for all those who attended. 
Right before his encore, CBS Mornings co-host Gayle King came out onstage and presented Styles with a banner in honor of his 15-night MSG residency. The white and blue banner marks the milestone of Styles' sold out residency, and is a huge honor as Styles is now one of only three artists to have their own MSG flag (Styles' banner accompanies Billy Joel and Phish). 
As the banner slowly rolled up in front of him and the cheering crowd, Styles stood onstage, completely awestruck as tears welled in his eyes. He needed a few moments, placing a hand over his mouth and staring at the banner (TBH, my heart can't handle this), before expressing his gratitude to his fans. "I just want to say from the bottom of my heart to each and every single one of you who came tonight… That's insane," Styles said. "To all of you who bought a ticket, thank you so, so much for your support. Things like this don't happen to people like me very often... and I just want to thank you all. You've changed my life, each and every single one of you. Thank you so, so much."
Styles' rumored girlfriend and Don't Worry Darling co-star Olivia Wilde was also in attendance at the final MSG show. While watching Styles get presented with the banner, Wilde herself became emotional and was spotted wiping her eyes. 
While Styles had an emotional night, so did his fans. So Harries… How are we doing? Styles' milestone success just brought about *all* the feels, especially for those who have supported him since his One Direction days. A now-viral TikTok from @tpwktam_ shows a tweet from Styles in 2012, with the tweet featuring a photo of a One Direction live concert photo outside of MSG. Styles captioned the photo, "Can't believe we will be performing at MSG later this year!" Next to the tweet is the newly hung Harry Styles banner at MSG that reads, "Harry Styles 15 Consecutive Nights at The Garden." Oh, how times have changed. 
Fans also took to Twitter to both congratulate Styles and obsess over the groundbreaking moment, with one user writing, "pov: you're at home watching the video of harry styles crying as his banner is being raised at msg." Another fan wrote, "If you're crying right now over harry styles getting a banner at msg sorry to break it to you but you're in this forever." Honestly? I'm OK with that.
After Styles tearfully stared at the banner and thanked his fans, Styles told the crowd that he was going to "come back here when everyone's gone and just sit and look at that for a while." And that he did! Later, a photo emerged of Styles sitting on the floor next to the banner with the biggest smile on his face — OK, cue my tears of joy.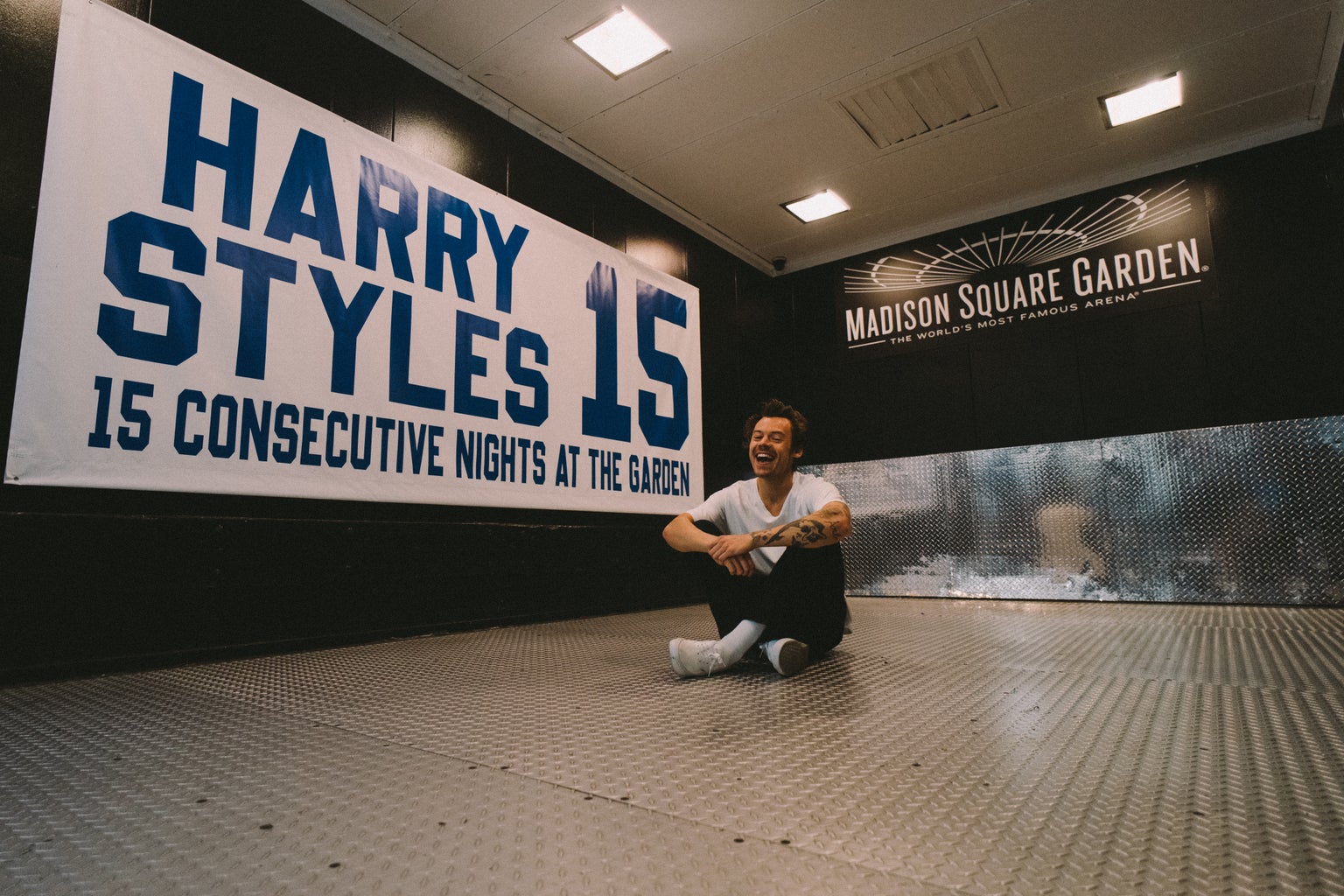 The whole MSG arena was decked out for Harry's House with postcards and feather boas on every seat in the house — and with it, colorful feathers strewn all over the floors of the venue. Styles even played "Ever Since New York," a song from his debut album Harry Styles, which he hasn't performed since 2018. As fans erupted in cheers, he introduced the song by saying, "We're gonna sing one more song before we go off… It's a bit of an oldie." Styles is now off to continue Love On Tour at other cities across the country for multiple nights, including Los Angeles, Chicago, and Austin — and fans can't wait to see what other surprises he has in store (insert major FOMO here).