Due to the rampant spreading of COVID-19 in the United States, a significant number of college commencement ceremonies have been completely canceled for the safety of the public. Students across the country, including myself, are absolutely heartbroken. 
When I learned that my college graduation was canceled because of the pandemic, I spent the entire day wiping away tears. On social media, I saw comments from people telling the class of 2020 to forget about their commencement ceremonies because a graduation ceremony will mean nothing in a few years. Most of the people around me greeted me with empty apologies and condescending comments like at least you got an education, didn't you? It hurt a lot. But what hurt even more was that it seemed no one around me understood why graduation getting canceled was so heartbreaking to me. I felt so alone.
Walking across that stage in my carefully decorated cap and gown wasn't just supposed to be about completing my degree — it was about the completion of my American Dream.
I still remember that car ride home. "Nos vamos para Estado Unidos, Grace." We're moving to the United States. I wasn't really sure how to feel. I had spent the last 15 years in a rural town in Costa Rica, living on my parent's coffee plantation. I attended a tiny Catholic school where my biggest worries were my teachers calling me out for too-tight pants, or for wearing a sweater that wasn't approved by the administration. I remember coming home every day, turning on our little television and watching reruns of shows and movies on MTV and Disney Channel, only to get lost in my daydreams of going to college in the U.S. 
My family had faith in me. My grandma used to say "algun dia, vas a ver," or one day, you will see.  My abuelo and abuela, my tios and tias, and all my cousins believed in me. They believed with their whole hearts that I could have my American Dream — that I could be one of the first in my family to get a college degree. If those kids in the movies could do it, why couldn't I? At the time I didn't realize all odds were against me. 

It sounds crazy, but moving to a new country, managing a new language, meeting new people, and making new friends was easy for me. The hard part came when I shared my dream with the world. My teachers back home told me I would never make it. My friends resented me for leaving them. Most of my teachers in California didn't believe in me either. My counselor told me I would never make it into a four-year college. Don't waste your time applying to those schools, your choice is unrealistic — I heard it all. It often felt like it was the world against my family, and our support system was thousands of miles away, missing us as much as we missed them. My family was cheering us on anxiously waiting for our dreams to come true. 
The day I got into CU Boulder I honestly couldn't believe it. I was getting ready to go to school early in the morning, and I decided to open my laptop to check my email when I saw the admissions decision sitting in my inbox. I braved myself for yet another rejection letter, opened it—but there it was, the opportunity that changed my life. I had faced rejection letter after rejection letter, and finally someone had decided to take a shot on me. I wasn't going to let that opportunity slip away. My mom and I jumped around our tiny apartment kitchen feeling like we were on top of the world. I thought the hard part was over. Well… I was wrong, again.
The school portion of college? Easy. I was acing my classes, and I was on track to graduate a whole year early — but the rest of my life was falling apart. I battled odds that fourteen-year-old me never expected. I worked 40-hour weeks while being a full-time student. I went through heartbreak, lost friendships, and lost family. My mom and I experienced homelessness for a year while bills piled up. My scholarships began to dry up. My mental health spiraled. The world around me was crumbling, and it felt like the universe was making every single effort to make sure I didn't graduate. This is the plight of so many first-generation students. My family back home, however, was waiting for me to keep fighting for my dream. To me, graduating college quickly became so much more. It wasn't just about getting an education anymore. It was about not letting myself down, and not giving up on the dream my younger self had pieced together.
Walking across the stage was not just for me, but for those back home that waited for me to achieve what generations of people were not able to achieve for themselves.
I felt so alone knowing I could never give my family what they'd been longing for. I felt like a disappointment, like everything I went through to get this education was worth nothing. Don't get me wrong — I know that's not true — but it doesn't feel like it. My college graduation was supposed to be an unforgettable moment, and now it's not even forgettable. It's simply nonexistent.
To all of my fellow first generation Latinx students, I am so sorry. I hope from the bottom of my heart that you find comfort in knowing you are not alone. Don't let anyone tell you your tears are worthless, or that you're overreacting, or ungrateful. You have a right to be upset. You have the right to cry. Just know that you have made your community and your families proud, even if this commencement ceremony is not happening. It doesn't take away the significance of your achievement.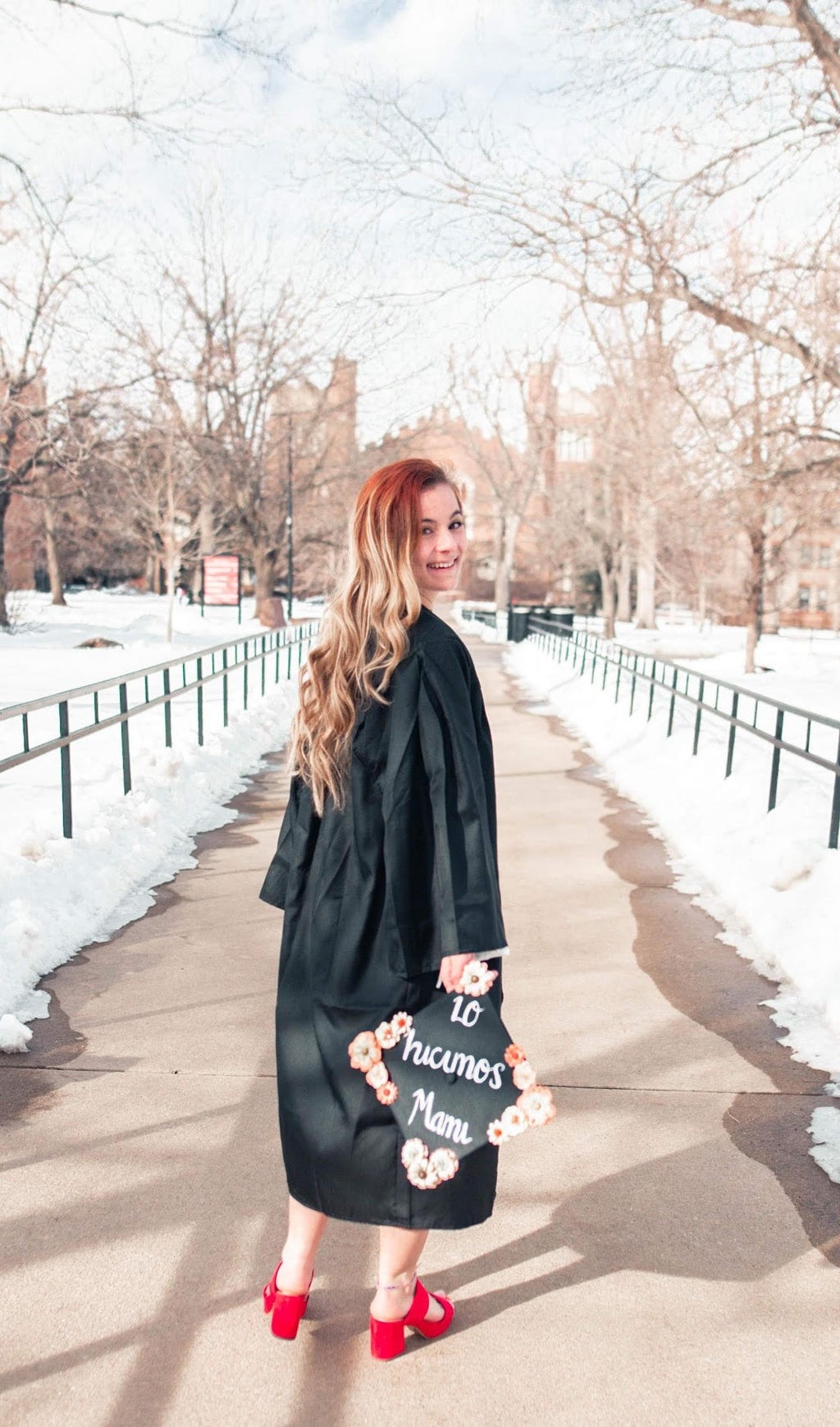 Cheers, class of 2020. Lo hicimos. We did it.