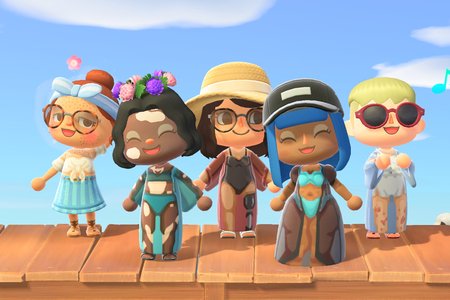 Avatar designs by Nicole Cuddihy for Gillette Venus / Nintendo
The Representation – or Lack Thereof – in Gaming: Where Do We Go from Here?
The opinions expressed in this article are the author's own and do not reflect the views of Her Campus.
Quarantine saw an unusual spike in gaming. The Nintendo Switch console is still sold out at multiple locations, with keen buyers waiting patiently to get their hands on one. With gaming on the rise, Gillette Venus saw an opportunity to start a new inclusive campaign involving the popular Nintendo game Animal Crossing, in order to promote skin diversity.
To celebrate National Beach Day, Venus partnered with influencers like Maitreyi Ramakrishnan, Linh Truong and designer Nicole Cuddihy to bring an inclusive summer clothing line to Animal Crossing: New Horizons. The event took place on August 31st on Truong's virtual 5-star island, where influencers were scattered all over the scenic vista, sporting incredibly diverse and inclusive clothing skins. Cuddihy's motivation for these designs was to create more realistic avatars, where players could flaunt their skin dissimilarities instead of hiding them. Some of the most notable designs included burn scars, surgery scars, cellulite and skin conditions like Vitiligo. "I wanted players to feel confident in their own skin, to stop feeling insecure," emphasized Cuddihy.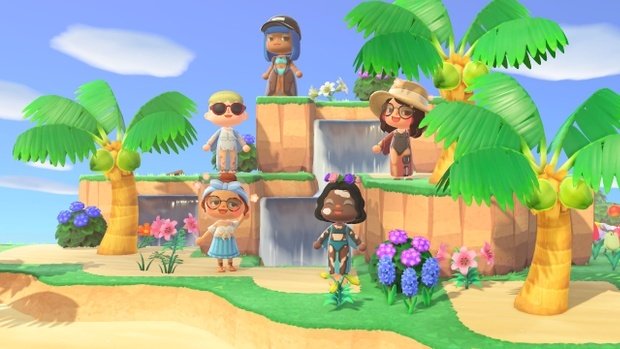 Avatar designs by Nicole Cuddihy for Gillette Venus / Nintendo
With the push for diversity being highlighted by big companies like Gillette, I was interested to see if this notion of lack of representation translated into other video games. In my personal opinion, there's been a positive shift over the past few years in regard to representation in gaming. Assassins Creed: Syndicate, Resident Evil 3 and Tomb Raider all feature strong female protagonists, and move past the cliche of treating female characters as scantily clad sidekicks. Simulation games like The Sims have made customizing avatars easier, and recent versions of the game also highlight several types of different skin tones. With The Sims 4, you can even customize your avatar to be non-binary or transgender.
Sims 4 isn't the only game to include transgender characters in their gaming universe. The new release of Tell Me Why shook the gaming world by basing their entire storyline on the journey of a transgender character. The story follows various different themes including transphobia, violence, stereotypes and mental health. The game received a lot of positive accolades, even receiving several nods from the transgender community. "The good thing about the game, I think, is that it strikes a nice balance of not shying away from the fact that Tyler is trans and showing the way in which it affects him, and mostly that relates to how other people react to him," said Nick Adams, director of transgender representation at GLAAD, as reported by the LA Times. Dontnod Entertainment, the creators of the game, also made sure to publish an extensive list of questions and answers on how they went about portraying their transgender lead. The idea was to create the most accurate representation of Tyler without upsetting any players. "There's a legacy of bad representation of all the marginalized characters in the game. People can be very mistrustful, maybe a little less optimistic that the portrayals are going to be empathic. So that FAQ was making clear, 'Look, here's where we're going to go. If the story is going to go into a place you don't want to go, here's your off-ramp," said Clay Carmouche, narrative director with Xbox Publishing to the LA Times. 
With all these positive changes, it seems like video game creators are actually a step ahead of television and movie creators when it comes to representation. Twitch streamer Cristina Aguirre agrees. "Games like Rainbow Six Seige are particularly great for showcasing people around the world. There's more women than men, and they come in all shapes and sizes. You've got characters like Melusi from South Africa, Dokkaebi who is from South Korea, and Amaru who is from Peru," says Aguirre. Being a weekly Twitch streamer and having played games like Fortnite, Overwatch and indie games like Darkstalkers, she's never felt uncomfortable or excluded from the gaming world. In fact, the diversity she saw in gaming is what initially "drew her in." 
Aguirre doesn't stand alone. Nishant Tripathi is an avid gamer with a special love for superhero-themed games and the Legend of Zelda series. He believes that when it comes to superhero style games, the gender or ethnicity of a character is not of much import. This is simply because the story doesn't revolve around their cultural or gender identity. He also thinks there's been a big shift with cultural games hitting the gaming landscape. One of his favorite newcomers is Raji, which he describes as being "an ancient epic that portrays Indian history and culture intriguingly." On further research about this new action-adventure game, I was also happy to see that the main protagonist is female, and the graphics of the game hold true to scenes of castles and temples from ancient India. Tripathi hopes that Raji will elicit a cultural shift in the gaming world and that more games will focus on displaying Indian geography and history in the future. 
But even with these positive shifts, some players seem skeptical. Katie Wingel, a lover of all things sports, was excited to see that NBA 2K20 was the first version of the popular game to showcase WNBA players. She noted this was a huge jump, especially from seeing how other popular games like Grand Theft Auto always displayed female characters as highly sexualized beings and never strong protagonists players could actually relate to. Still, she thinks there's more room for change. "There should be more games that showcase female narratives and give young women positive role models to look up to," she emphasizes about where she thinks the gaming industry should head. 
With avatars getting more customizable and gaming creators spending more time researching different regions to set their virtual worlds in, it seems that the gaming industry is on an upwards trend to showcase more culture and gender diversity. With new non-traditional characters erupting in the gaming landscape and over 40% of gamers now being female, change can only be positive. Will we see more indie games from different parts of the world? Will transgender characters get lead roles more often? Will GTA finally get a female protagonist? Let's see where the gaming industry takes us in the next five years.