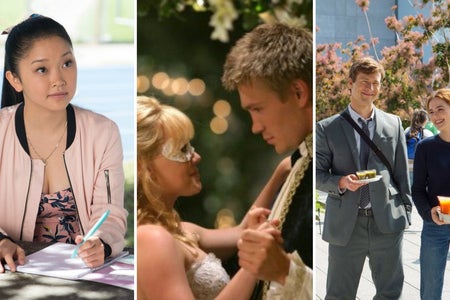 Netflix / Warner Bros. / Netflix
Just A Bunch of Romantic Comedies You Should Watch With Your BFF This Weekend
There's nothing better than a weekend. It's the time to unwind, relax and hang out with our best girlfriends. Plus, weekends are the best time to watch some of our favorite romantic comedies. (Although, is there ever really a bad time to watch them?) Romantic comedies are like a warm hug — they make you feel good and are there for you when you need a good laugh or cry. And since there is nothing better than watching some of your fave rom-coms from the comfort of your own couch with your besties beside you (and snacks galore!), here are some of the best rom-coms you should watch with your BFFs this weekend.
To All the Boys I've Loved Before
This rom-com became a global hit, and it's easy to see why — because it is absolutely adorable. (And Noah Centineo isn't too bad, either.) The film is based on the YA novel by Jenny Han, and follows Lara Jean Covey (played by Lana Condor), a hopeless romantic whose world is literally turned upside down when the secret love letters that she wrote to her past crushes accidentally get into their hands. Yikes! The chemistry between Condor and Centineo (who plays Peter Kavinsky) is undeniable, and truly makes for a great rom-com.
Set It Up
A romantic comedy hit, Set It Up follows two overworked New Yorker assistants' (Zoey Deutch, Glen Powell) who decide to set up their unfathomably unreasonable bosses (Lucy Liu, Taye Diggsso) so they can finally have some peace in their lives. However, the two assistants end up finding out that they have a connection of their own. The film is fresh, fun, and the cast is hilarious.
Definitely, Maybe
Ryan Reynolds plays Will Hayes, a thirty-something Manhattanite who is in the middle of a divorce. His young daughter (played by Abigail Breslin) begins to ask him questions about how he met and fell in love with her mother. Flashing back to the early 1990s, Will recounts his romances with three women, one of which is her mother, but changes the names so his daughter must guess which woman became his wife.  
Silver Linings Playbook
Since Bradley Cooper has seen a lot of success off of his latest movie, A Star is Born, it's nice to see some of his previous work. Cooper plays a former teacher recovering from a mental breakdown after catching his wife in an affair. He meets Tiffany (played by Jennifer Lawrence), a young widow, who recruits him to be her dance partner for a dance competition. Tiffany breaks him out of his shell as he navigates living at home with his parents (Jacki Weaver, Robert DeNiro). The one-of-a-kind chemistry between Lawrence and Cooper in Silver Linings Playbook are part of what makes this movie a great film.
Ibiza
This rom-com is perfect for getting us into the summer mood. Ibiza follows Harper (played by Gillian Jacobs), whose friends encourage her to follow a dashing Scottish DJ (played by Game of Thrones star Richard Madden) that she met during a business trip in Barcelona. With her two best friends alongside her, she follows the DJ to a gig in Ibiza.
The Kissing Booth
Based on the novel by Beth Reekles, this movie follows a high school student (played by Joey King) who comes face-to-face with her long-term crush, the cutest guy at school, when she signs up to run a kissing booth at the school's spring carnival. However, her crush happens to be her best friend's brother, and her romance just may end up risking her relationship with her best friend.
Sierra Burgess is a Loser
In case you couldn't get enough of Noah Centineo in To All the Boys I've Loved Before, this film is definitely worth watching. A case of mistaken identity leads to an unexpected friendship between an unpopular teen (Shannon Purser) and the most popular girl in school (Kristine Froseth). The two unlikely friends team up to win over their crushes.
Sixteen Candles
Honestly, there is nothing better than a classic 80s rom-com. In John Hughes' arguably most famous film, Sixteen Candles set the bar for ever teenage rom-com to come after it. The film follows newly 16-year-old Samantha (played by Molly Ringwald) who is just having the worst time ever. Her parents forgetting her birthday because of her sister's upcoming wedding and she is crushing hard on the most popular guy at school, Jake Ryan (played by Michael Schoeffling). Sixteen Candles is definitely a classic, and the ending is pure teenage romantic comedy gold.
A Cinderella Story
When it comes to the numerous retellings of Cinderella, there is none better than A Cinderella Story. The film follows Sam (played by Hilary Duff), a California teenager who is forced to work as a janitor at her stepmother's diner that once belonged to her father. After a cell phone mix-up, Sam begins an anonymous texting and email relationship with a boy. When they agree to meet at a school dance, Sam finds out that her secret pen pal is none other than the most popular boy at school, Austin Ames (played by Chad Michael Murray).
So there you have it! Grabs some snacks, put on your comfy sweatpants and invite your BFFs over for a rom-com movie night!