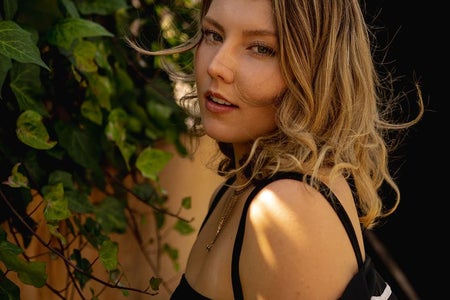 Belmont University Student & Rising Singer-Songwriter DASHA on Her Breakout into the Music Industry & Her Upcoming EP
California-born and Nashville-based, DASHA is a 21-year-old singer-songwriter shaking up the Pop and R&B world. But DASHA isn't simply aiming to make a name for herself in the music industry; she's also a college student at Belmont University in Nashville, Tennessee. When she isn't taking classes or studying, she's been focused on creating music for her debut EP, which is dropping soon.  
While DASHA did consider skipping an undergraduate education, her ultimate choice in university was carefully calculated, becoming key to her ability to balance a college education and her music endeavours. "I thought why, [and] why not?" she says. "Nashville is a new experience. It would give me an excuse to go out there, give me some stability. I like being super busy, and so I think being super busy with classes [and] making new friends at a new college made me work harder and more proficiently." But the best part about Belmont? She was able to major in songwriting. "Belmont, thankfully, is very supportive of music and artists," she says. "I definitely spend more time on music and networking and going to shows than math homework." 
Finding her own musical voice
When it comes to DASHA's music, before even looking at her public playlist on Spotify – filled with her favorite songs – all it takes is one listen to one of her tracks to hear her influences. Her R&B vocal style is reminiscent of SZA and Kehlani, and her pop-indie instrumentals seem to draw from the likes of Jeremy Zucker and Dominic Fike. DASHA also writes semi-autobiographical lyrics not unlike a Taylor Swift fan-favorite jam, creating a perfect blend of pop, indie and R&B.
But, it took time for DASHA to curate her sound. She recalls one of her favorite live performances in Ojai, CA, where she opened for LISSIE with a country set at thirteen. "I remember getting off stage, kind of going out the side door to sit and watch the show, and there was a line of people wanting my autograph on the CDs. And I was like, 'Wait, what??'"
Though she was in disbelief at her early success, DASHA was always drawn to the spotlight. She began dancing and partaking in musical theater when she was just three-years-old, and went on to learn how to play guitar and piano at ten. Shortly after she began to write poetry, which eventually led to her songwriting, and seeing a mentor in her hometown to help her with her music aspirations. "I think I've always known it in the back of my mind that there's no other option for me in this life," she says. "I cannot imagine doing anything else." When she first realized that songwriting was a total career, she says "[she] was like, 'Yup, that's the one. I pick it.'"
Fast forward to today, where DASHA's music career is taking off
In the spring of 2020, within the first few months of the pandemic hitting the US, DASHA signed with Quadio Records partnered with SONY Disruptor and began working on her debut EP. While some have struggled with productivity during this time, DASHA used this period to her advantage, channeling her feelings back into her work. "It's given me an incubation period, kind of, where I've been able to just sit at home and do tons of writes over Zoom and just really figure out what I want for my music and my sound and my visuals and branding and everything like that and not have this pressure to go on tour and play shows," she says.  
DASHA went on to shed some light on her creative process for her upcoming album. "The EP is just a collection of songs I've written over the past year, year and a half. And a lot of them just came from random different sessions," she says. She wrote, or at least co-wrote, all of the songs on it, and thanks to quarantine, she got into her own vocal production as well. In fact, she was responsible for the vocal production of both of her recent releases "Better Than She Did" and "None Of My Business." "It's been great, kind of getting into the background of the song rather than just the artistry and the creativeness of it," she says.  
As for inspiration, DASHA looks to visuals and color schemes and precise, picturesque moments in time, like a drive in your car on a beautiful day with the windows down. While she likes to draw inspiration from her personal life to create her craft, DASHA isn't always the only one holding the pen, which can sometimes prove challenging for her. "I just need to get inside their head, so I'll have them talk to me about the story and while they're talking I'll just be writing little things down or words I like that they used," she says.  
Her talent for writing catchy hooks coupled with her sultry vocals is evident on her most recent singles. "Better Than She Did," co-written with Alex Veronneau, indulges the very human conditions of insecurity and comparison. "I didn't really know what I wanted the lyrics to sound like or say or anything, but I was getting over this boy, of course, and I don't know I was just really in this jealous mood," she says. "And yeah, the song is basically a very real story for me, and it just came very naturally in the co-write, which is awesome." 
And up next, the music video. "It's going to be basically a hip-hop dance video – it's gonna be super sick! We're going to shoot it at a local hotel," she says. "I've been doing dance for a really long time, so I got some of my best friends to dance in it with me." 
Staying connected
Everything about DASHA's approach to achieving her dream of becoming a successful singer-songwriter feels homegrown and honest. She cites pop and R&B artists as her influences, but a lot of her friends in the music industry also serve as big inspirations. In particular, she lists her brother Bardo Novotny, an LA-based producer, songwriter, and member of the band Beauty School Dropout, who also co-wrote DASHA's track "Don't Mean a Thing." She includes her brother's band in the lineup for her dream live show, where she'd ideally perform at the Ascend Amphitheater or Bridgestone Arena in Nashville. "It would be kind of fun to have my brother's band there, just so it's a family event – Beauty School Dropout; that'd be sick," she says. "I would honestly just do a line-up of homies, like all my homies doing music. My best friend Amelia Moore is fire. She's gonna pop off real soon, and it'd be fun to have her on the lineup. Just a ton of my friends who are doing music who are really dope." 
It's also plain to see how vital a community can be in supporting and strengthening someone's artistry. "We did these things called 'Pop-hangs,' just because there's not a lot of pop writers in Nashville right now," she says. "And we would just get all the pop writers around Nashville and they'd come and we'd show a verse-chorus." They'd have food and drinks while listening to everything that they were working on. "We did those like once a month or something. So fun." 
For anyone looking to follow a similar path, the most important thing is to be genuine and authentic to yourself 100% of the time. "If something doesn't feel right to you, don't do it," she says. "That being said, be nice to everyone, always. There's never a time to not be nice and caring, and put other people first."
DASHA's music is available to stream on Apple Music and Spotify – with her debut EP dropping on March 19th – and you can follow her musical journey on Instagram and Twitter.