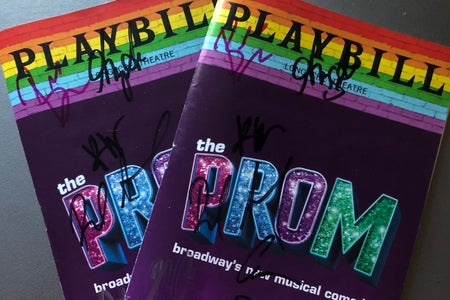 Psst, Here's How You Can Score $50 Tickets to a Broadway Show
When planning a trip to New York City, helpful friends and countless travel guides are going to have commentary on the things you absolutely have to see while in town. One of the most common pushes is for Broadway, which makes sense—seeing a show in Manhattan is like the quintessential New York experience, but many tickets require careful scrimping and planning. I myself splurged a few hundred for a "premium" seat - a seat which the theater considers to be among the best of the best, usually including the first so many rows in the center orchestra - to the final performance of The Cher Show, but even rear orchestra seats can go for close to $200 depending on the performance. So how do you make Broadway accessible to yourself when you already consider your Sunday brunch or your daily Starbucks run a splurge?
You could spend the morning in line at the TKTS booth (where you can get same-day tickets up to 50% off) and hope your show is still on the board when you get to the window (if it even made it to the board in the first place), you could enter the lottery for the bigger shows or stand in the cancellation line with your fingers crossed, but if you're just visiting, you probably don't have hours to risk wasting (and if you live there, let's be honest — you probably avoid Times Square at all costs). If you're dead set on a single show, then you should take a chance on one of those options, but if you're up for anything there's a better solution. 
Enter Broadway Roulette, stage left; the dream of my little musical theater loving heart's life.
Broadway Roulette offers tickets at $49 and $59 (weeknights and weekends, respectively) before fees and add-ons. Even my partial view box seats at Come From Away cost more than that! The catch here is that you won't know what show you're seeing until the morning of, or where you'll be sitting (but it is guaranteed that it won't be partial view!), because they spin the ~virtual wheel~ on the day of your show. 
What. A. Rush.
It doesn't matter if you're a last-minute decision maker or need to plan your trip to a T, because you can choose between the very next day up to four months in advance when booking your spin. I was in town for a work event (Her Conference, whaddup), so my roommate and I decided to give it a go. For the cost of the ticket, plus the $9 per ticket fee, you can eliminate up to 5 shows from the list. For $10 more per ticket, you can eliminate up to 2 more shows. There were a few specific shows we were crossing our fingers for, so we took advantage of the full 6 eliminations we could get for our musical-only preference and crossed out Wicked (which we'd just seen four times), Hamilton, King Kong, Ain't Too Proud, Regina Spektor on Broadway and The Cher Show (which I am obsessed with, but my fave Stephanie J. Block, starring as one of the Chers, was on vacation). So for a total value of $156 dollars, we had five days to wait to find out which show the two of us would be seeing, fleetingly throwing hopes for The Prom, Hadestown or Beetlejuice into the universe but more than ready for whatever we won.
Lucky us, I woke up to the text that we'd managed to nab tickets to The Prom. Our ticket pickup was super easy, waiting under my name at the box office (though some shows may require you to meet up with a Broadway Roulette rep in the area). Our seats were in row D in the left orchestra and let me just tell you guys how much we loved the whole damn experience. We didn't know much more about The Prom beyond the most basic of plotlines and the Tony's performance, and we were utterly blown away. This was a show on our list, but with how soon it's closing I'm not sure we would have seen it otherwise. And you know what? We loved it so much, we're going back again in a couple of weeks. Diving into how incredibly poignant this timely show is would require a whole other post, but between the powerful story, the powerhouse company, the costuming, choreography, music and more, there was no way we couldn't make the time to catch it again.
The Prom was brilliant, and it feels so wrong to think I might not have even seen it the once.  
Us, watching from the audience. 
Heading in with a definitive plan is great, don't get me wrong, and you can get good deals on decent tickets to a show you want to see if you know where to look, but there's just something about heading into the day knowing you could be seeing anything. We had a slight chance of seeing a show we loved again, but there was a whole slew of new possibilities in front of us, some of which we wouldn't have necessarily picked for ourselves as a first choice, but would have been excited to see nonetheless. Plus, beyond standing room tickets, you are not going to beat this price. 
We can't wait to spin the wheel again — we'll be able to use our eliminations to make sure we don't get shows we've seen outside of the roulette, and they'll remember the shows we have seen through them, so we'll always be seeing something new. And, we'll be able to squeeze, at minimum, three shows in through the roulette for the price of what we'd normally spend on one.
Treat. Yo. Self!