Social distancing during COVID-19, while having positive benefits to stopping viral spread, unfortunately contributes to a greater sense of loneliness. In order to combat this feeling, three students have started a letter-writing project to document loneliness during the pandemic. 
The project, launched on June 22, is called Dear Loneliness. Seeking to break the Guinness World Record for the longest letter with a crowd-sourced art exhibit, it "double(s) as a memorial to 2020, the COVID-19 quarantine, racial injustice" and anything else that may occur during the year.
The team behind Dear Loneliness – Carissa Chen (Harvard '21) and sisters Jessica (Harvard '23) and Sarah Lao (a high school senior) – are all National Gold Medal winners in critical essay, poetry and visual art categories in the Scholastic Art and Writing Awards.
Chen first came up with the idea of pen pals in January, inspired by her mother to connect lonely people through a pen pal system and gather statistics on loneliness in the process. "My mom is pretty sick, and she's an immigrant so she doesn't get to talk to a lot of people," Chen said. "I really wanted her to be able to talk to people, so I thought maybe she could write letters."
In May, the Lao sisters started a literary magazine called EX/POST, hoping to create a kind of camaraderie, but found the exclusive nature of the medium wasn't working for them. "We wanted to create community out of that, but then we realized we were rejecting people and it (didn't) seem like it was inclusive enough, especially for this time period, so we wanted to do something extra," Sarah Lao said. 
With Chen's idea and the support of the EX/POST team, they moved past the limitations of the magazine and created a more "artsy" pursuit in Dear Loneliness. The trio was inspired by similar COVID-related documentation, like the bitter melon Stay Home Diary. The project also received support from various partnerships, ranging from campus Active Minds chapters to the global mental health advocacy group Made of Millions to the Harvard Economics Review. And though Dear Loneliness was built on letter writing, art and music submissions are accepted as well.
Initially, the trio thought the easiest way to express yourself was within a long letter, but they learned that art submissions seem to resonate the most. "Something that's really fascinating to me is the intersection of art and writing and how words themselves can become art in a sense, especially with something that's digitally crowd-sourced like this," Jessica Lao said. "It's an intersection that could only be possible in today's world, with the technology we have."
People from ages 14 to 72 have sent submissions to Dear Loneliness so far, with the bulk of them coming from young adults. However, the co-founders want to place emphasis on loneliness as a universal feeling. Despite their presence on Instagram, they're doing everything they can to fight against the bias of responses focusing overwhelmingly on young people. 
The project has also reached across national borders, with several international submissions from India, Japan, and countries across Europe, sometimes written in different languages. Some of the submissions are centered around COVID, though many of them just deal with themes of general loneliness, particularly from India, where there have been several suicides of high profile figures recently and a heightened mental health conversation.
While she still wants the project to grow, Jessica Lao is motivated by the impact Dear Loneliness has already had on people in just a few months. "I've found through running our Instagram account that people are so happy when you just respond to their DMs or repost their story," Lao said. "They're so happy just to be acknowledged in that sense."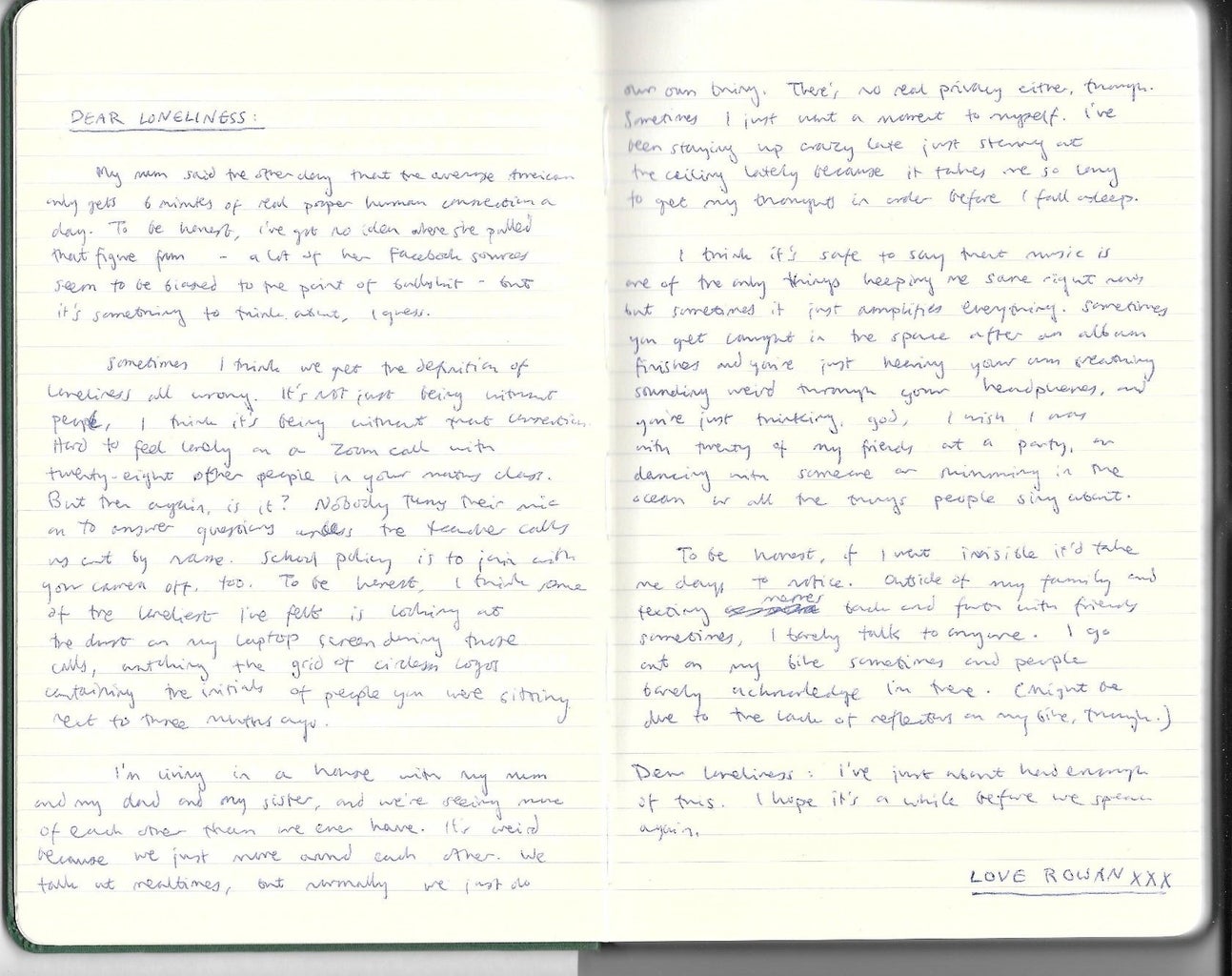 While the phenomenon of loneliness has been researched and causes have been pinpointed, the Dear Loneliness team is focused on creating a cultural shift in its acceptance. It's more difficult to think of policy and medical solutions to loneliness, so they try to eliminate the misunderstandings surrounding the feeling. The team wants the project to go viral, and in particular wants to reach the general populace, beyond fellow artists and mental health advocates. 
"I feel like it's important that the cultural shift reaches people who it otherwise wouldn't," Chen said. "Everyone has different proximity to how comfortable they feel talking about their loneliness, or how vulnerable they are. The people who need the help the most are those who can't accept or aren't able to vocalize the fact that they're lonely. So I think seeing other people talking about their own loneliness and seeing that this is something that other people feel would be great."
Chen also brought up how, following this increased awareness, it would be best for some government officials to work on policies regarding loneliness. "The United States doesn't really have anything that is trying to actively address loneliness when it's honestly also like a public health issue," Chen said. "I think it'd be really important moving forward for someone in the policy world to start thinking about what exactly can be done on a local, state or national level regarding loneliness."

To submit to the project, you can go to dearloneliness.com and visit the "Submit" tab. You can also email the project at dearlonelinessproject@gmail.com, or reach out to them on Facebook, Twitter or Instagram.