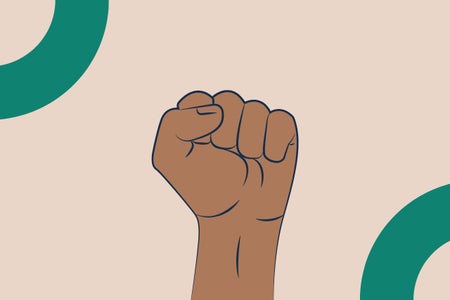 Original Illustration by Gina Escandon for Her Campus Media
These Brands are Offering Interactive Ways to Help You Celebrate & Honor Black History Month – From Meditations to Scholarships & More
Black History Month is the annual observance and celebration of the achievements and contributions of Black Americans, throughout history and at present. It's a time for honoring and recognizing these accomplishments and Black excellence, as well as a time to champion education, support and the critically relevant conversations pertinent to our world no matter what month it is. 
In honor of Black History Month, brands and companies across all platforms are offering a variety of programs, events and specially dedicated spotlights to highlight Black-owned businesses, creators and provide space for support, education and healing. 
Advocating for equality, diversity and equal access to quality education
In celebration of Black History Month, the philanthropy-based scholarship platform Bold.org is continuing its Year of Giving Campaign and announcing two $10,000 scholarships with NASCAR driver Bubba Wallace and Pittsburgh Steelers wide receiver JuJu Smith-Schuster. 
Bold.org's mission is to fight student debt through philanthropy by collaborating with impact-focused figures and organizations. With its Year of Giving Campaign, the platform will announce $10,000 scholarships every month throughout 2021, and in December, Bold.org will reward a $100,000 scholarship as its largest scholarship yet. 
This month Bold.org is partnering with Bubba Wallace and JuJu Smith-Schuster, two remarkable and record-breaking athletes who have been instrumental in advocating for equality, diversity and access to education, for the Bubba Wallace Live to Be Different Scholarship and the JuJu Foundation Scholarship. 
Both are heavily involved and committed to their philanthropic efforts concerning diversity, inclusion and empowering underserved youths. The Live To Be Different Scholarship is an adjunct to Bubba Wallace's non-profit organization and in order to be considered for the scholarship, undergraduates and high school students will be asked to share an experience of overcoming adversity. The JuJu Foundation was launched in 2019, and this scholarship is aimed at helping two undergraduate or high school students facing financial burdens by awarding $5,000 each to put toward their education. 
Raise awareness and support to heal generational trauma 
SameSide is a platform dedicated to connecting purposeful events and campaigns to a cause. For Black History Month, SameSide is highlighting The Loveland Foundation Therapy Fund to raise awareness and support the organization's ongoing efforts to provide financial assistance nationwide to Black women and girls seeking therapy. 
Celebrating Black History Month is also about recognizing the certain mental health challenges the Black community faces unique to generational trauma from slavery and civil rights that still prevail today. What perpetuates these issues is the ongoing stigma surrounding mental health and seeking support, which in turn hinders progress and healing.
To get involved, you can use SameSide's platform to organize and host a virtual wellness event to join a campaign of events across the country with the shared goal of raising awareness and funds for The Loveland Foundation. This can be anything from a mindfulness session, yoga, a fun virtual group paint night, or anything you'd like for your sorority chapter, local community, and organizations and clubs.  
SameSide will provide your guests with all the necessary resources and information about The Loveland Foundation as well as collect and direct donations to them. With SameSide, your guests can easily RSVP and be apart of a community of wellness leaders utilizing their platforms for the greater good and making strides to shine a light on important issues. 
Additionally, SameSide has compiled a list of over 100 Black-owned businesses of all sorts, from beauty and fashion to home and literature, to show your support to.  
Heal and meditate with HealthyMinds
In order to further breakdown the stigma surrounding mental health with a focus on healing intergenerational trauma, Rev. Dr. Ronné Wingate Sims is hosting a special meditation available for free on the HealthyMinds Program App. 
Healthy Minds Program combines neuroscience, contemplative traditions and skill-based learning methods to help and guide users to develop skills and techniques for a healthy mind. With this special meditation practice, Rev. Dr. Ronné Wingate Sims discusses how people can be impacted by historical and intergenerational trauma and helps make space for these strong emotions through insight and gratitude. 
Celebrate Black voices 
Engaging with Black creators and voices whether through art, music, or stories is an important component of empowerment as well as encouraging inclusivity and education. 
The female-run podcast network Wonder Media Network has a list of shows on their roster that have an emphasis on focusing and celebrating Black women throughout history. 
Brown Girls Guide to Politics focuses on amplifying and bringing attention to the voices of women who are often underrepresented and forgotten in most media coverage. The host A'shanti Gholar created a space in the BGG to Politics blog for women of color to learn about and interact with the current state of women in politics, to support others making their way into the political sphere and celebrate those making a change across the country. In the podcast, Gholar discusses current issues such as the first 100 days for the Biden and Harris administration, COVID, healthcare and education.
Encyclopedia Wommanica is a podcast series of five-minute episodes that dive into stories behind women listeners may or may not be familiar with, but definitely need to be. Listeners get to explore the trials, tragedies and triumphs of groundbreaking women throughout history who have had significant impacts in shaping the world around us. This season will focus on female storytellers such as Daisy Bates, Harriet Jacobs, Lorraine Hansberry, Buchi Emecheta, Jessie Redmon Fauset, and Bessie Head. 
Women Belong in the House, hosted by Jenny Kaplan, focuses on gaining an understanding of gender representation in political office and takes an inquisitive approach to how Congress would change if reflected and looked more like the people it represents and serves. The show will be partnering with Emerge for a four-episode season that will follow the course of Kamala Harris' career. 
Celebrate Black culture, Black music and Black excellence with Spotify 
Spotify, one of the largest dominating streaming platforms, is launching a full slate of guest-curated takeovers, new podcasts, playlists and more to celebrate Black culture, Black music and Black excellence. In addition to leading podcasts including Jemele Hill's Unbothered and The Michelle Obama Podcast, Spotify is releasing new podcasts and hosting special guest episodes with Black creators whose voices are key in guiding and promoting these important conversations. 
Some of these new podcasts include Higher Learning with Van Lathan and Rachel Lindsay where the hosts dissect the biggest issues and topics in Black culture, politics and sports, and Black Girl Songbook, hosted by Danyel Smith to celebrate and uplift Black women in the industry.  
Spotify has also released a plethora of new playlists and brought on the likes of Keke Palmer, Amaarre and Ari Lennox as special guests for their playlist takeovers, all available in the Black History is Now hub.