Sex Education fans, this one's for you. The Barbie movie made headlines for its absolutely stacked cast, but a few names are popping up as fan favorites now that the movie's officially out in theaters. The Barbie movie is almost like a mini-reunion for the Sex Education cast, because stars Emma Mackey, Ncuti Gatwa, and Connor Swindells all make appearances in the film. If you can't wait until Sex Education's fourth and final season graces your Netflix screen, all you have to do now is go buy a ticket to see Barbie! You're welcome. Spoiler warning: Spoilers for Barbie follow.
Jokes aside, fans are so proud of the three actors, especially because Mackey and Gatwa get a fair few scenes as one of the Barbie and Ken duos. Mackey plays a version of Barbie that has a Nobel prize in physics, while Gatwa is… IDK, another Ken? Like Ryan Gosling's Ken, his job is probably just "beach." (Not lifeguard — don't get it twisted.) Swindells, on the other hand, has a role in the real world as Aaron Dinkins, a Mattel employee who sounds the alarm to Mattel's CEO and the rest of the suits that Barbie has made her way into the real world. He's not a bad guy, though — he's just like an intern or something, as it reads on his Barbie poster.
Of course, we knew that these three would make appearances in Barbie after all of the character posters were dropped on Warner Bros.' social media channels, but it's entirely another thing to see them sharing the big screen.
Every Barbie has a Ken, and Gatwa is Mackey's — after the Kens learn about the patriarchy and begin brainwashing the Barbies to dote on them and bring them beers, Mackey's Barbie is deprogrammed by Gloria (America Ferrera) and the others who are working to undo the Kens' damage when Gloria tells them how dangerous the patriarchy makes being a woman.
At the end of the film, after the Barbies save their constitution from being amended by the Kens, all the Barbies and Kens are figuring out their own happy endings in a Barbieland that doesn't put either Barbies or Kens on a pedestal. Gatwa has a really cute moment where he says he simply wants to be friend with his Barbie, and Mackey is right there to reassure him that they'll remain besties.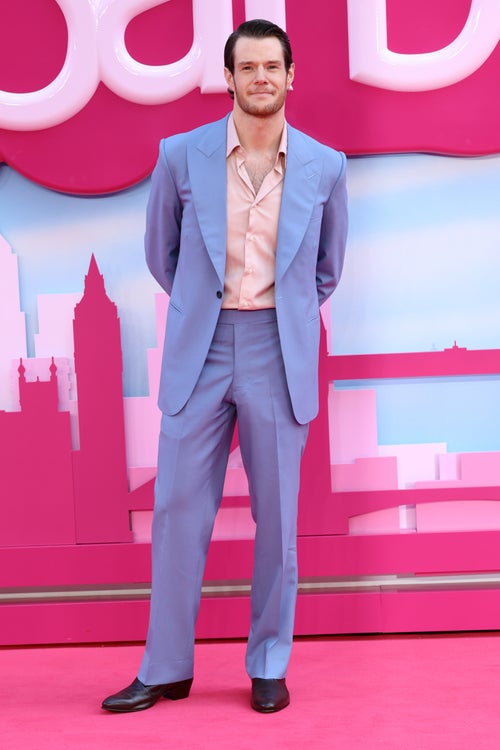 Swindells has a bit less to do here since he's separated from Barbieland for most of the film. He and the Mattel executives do eventually make it to Barbieland in an effort to keep Margot Robbie's Barbie from messing things up in the real world. However, it turns out their interference isn't really needed since the Barbies are solving problems on their own. Aaron Dinkins has a generally nervous demeanor and is clearly just trying to do his job, even though his boss (Will Ferrell) doesn't know his name. Here's hoping he and Gloria get promotions.
Sex Education fans immediately took to Twitter to share their thoughts on seeing one of their favorite casts on the big screen.
Here's what fans had to say
Some of them just want to be living Mackey and Gatwa's Barbie and Ken lifestyle
Many fans agree that the comedy of Sex Education was a perfect fit for the Barbie movie. In Greta Gerwig we trust.