"Even if I can just help one or two people, I've hit my goal. And that's just the most important thing to me," 20-year-old lifestyle/ beauty YouTuber Ava Jules told me over the phone. She was explaining why she intentionally posts more than just pretty Instagram pictures and curated YouTube videos. Based on the beautiful island of O'ahu, Hawaii, Ava shares her life online with more than 1.3 million subscribers, and has 100 million views on her main YouTube channel and 321 thousand subscribers on her vlog channel.
When you click through Ava's main channel, you'll see videos like "Getting Personal: acne struggles, self-acceptance, & body confidence" or "10 Healthy Habits to Start in 2021". At the same time, Ava balances work as a photographer, a fashion designer and a college student, pursuing a degree in Digital Marketing. Ava has built a platform on which she promotes feeling good and grateful in your skin, environmental activism, and overall positivity.



Photo by Ava Jules


Figuring out priorities
Balancing YouTube, college, eco-activism, photography, and fashion design sounds like a challenge, but Ava handles it easily. To manage it all, she sets priorities, and uses time batching in her planner. For her, YouTube is something that she doesn't see herself stopping in the foreseeable future, but she also found the value in getting an education. "I think you can do multiple things without being too burnt out. I try to incorporate balance into my life. I'm able to do everything by planning things out. My planner is my best friend – I would not function without it," Ava says. "I think when you're really passionate about something, you'll make time for it."
The multi-hyphenate life isn't just for those who are as skilled as Ava in taking on multiple roles. People who want to incorporate new activities into their lives absolutely can. Ava recommends implementing things slowly, so you don't get overwhelmed or discouraged. Depending on your goal, you can try implementing new activities once a week or once a day until you get into the groove.
That said, make sure you're taking care of yourself and not overworking yourself. Hustle culture is predominant in today's society, and social media can have us thinking that we need to be working 24/7 to be productive, but Ava wants everyone to know that that's not true. "I think relaxing is just as productive as being productive. If you don't give yourself time to relax, that is how burnout happens. For me, I try to set aside at least one day a week where I don't do things revolving around social media, and that really helps. Even just one hour a night where you do self-care things for yourself that have nothing to do with work or school really helps prevent burnout," she says.
Setting realistic goals
Like most of us, Ava has big plans for 2021, but when she wrote down the things she hopes to accomplish this year, she approached her list from a realistic standpoint. Instead of writing down a long list of unreachable goals, Ava set specific, intentional goals. "One of my goals for this year was to read two books every month. I could have put down 'read more books, ' which is kind of ambiguous. I think getting really specific is the most helpful so you can work toward your goals," she says. Ava's also a fan of visual goal setting, or making your goals into mood boards and vision boards. If you've been on TikTok at all, you've seen this trend. For her, creating visual representations of goals that can be set as a laptop screensaver or wallpaper is the best way to constantly remember what she's working toward.
Feeling good and grateful in your skin
Once COVID hit, Ava felt inspired to make body confidence content based on her feelings toward her own body. Staying at home meant a lot of us were snacking more and moving around less. It also meant we had a lot more time to judge ourselves, and Ava felt this, too. She realized that if she was feeling this way, other people probably were, also. "The biggest tip I have and that I've implemented is just being nicer to yourself," Ava says. "Treat yourself how you would treat a dear friend. You look at your best friend with no judgment, but when you look at yourself, you just think all these negative things. I think the most important thing is, tell yourself nice things even if you don't believe it, because the brain subconsciously believes what you tell it. You'll believe it someday, even if you don't believe it at the moment."
Across all her platforms, Ava sends a message of body confidence and honoring the body that you have. When social media can create highly posed or stylized images around what your body "should" look like, Ava reminds her followers that your body is lovely as is and that your body isn't the most important thing about you.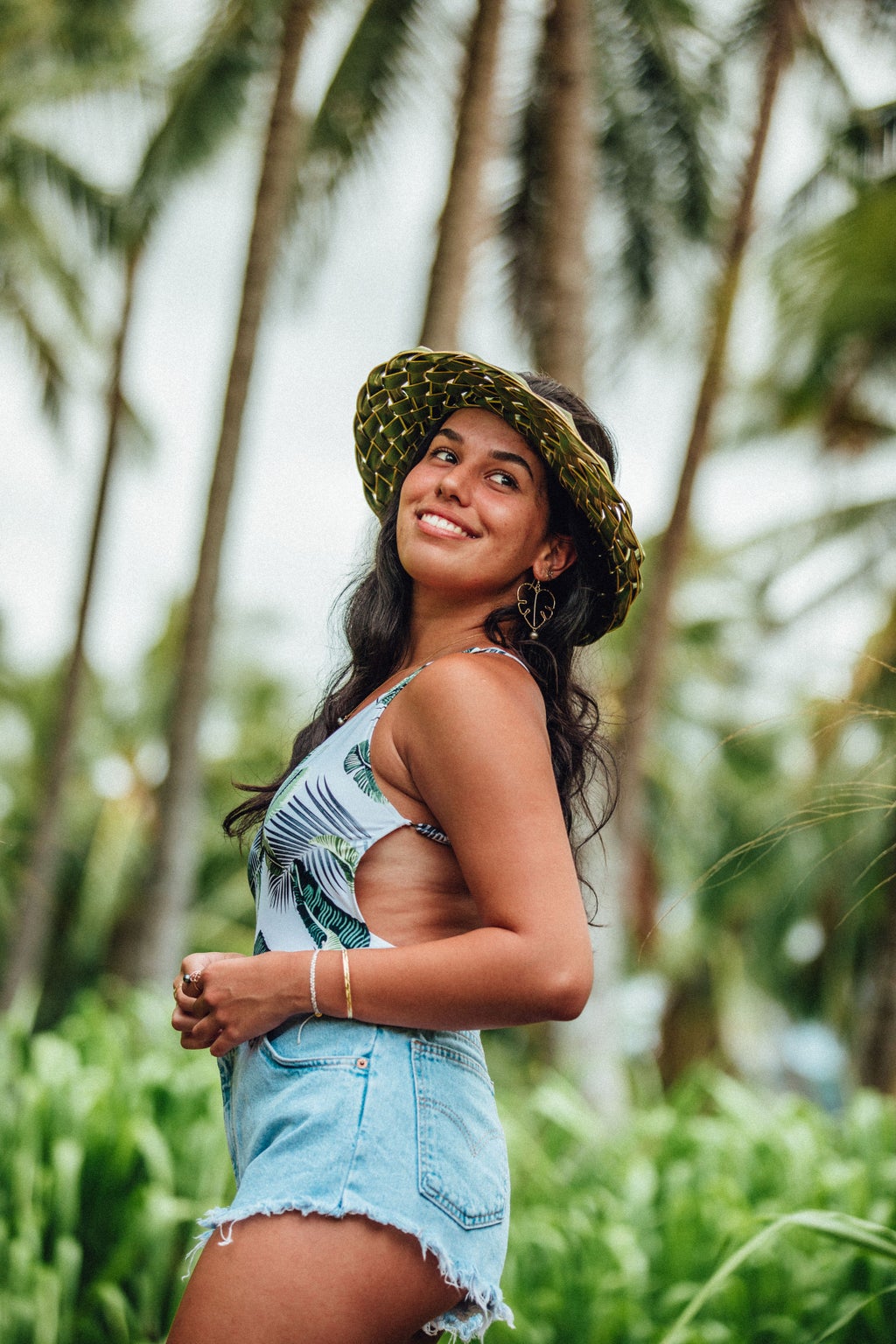 Designing sustainable merch
Before she found confidence in her style, Ava used to feel a bit nervous about wearing cool outfits outside the house. If you look at Ava's Instagram or her TikTok, they're full of cute, beachy looks, spring outfit ideas and groovy Converse stylings. Recently she's turned to TikTok for outfit ideas, finding inspiration in the looks designed by smaller creators that encourage her to branch out. As she says, "Life is too short to not wear cool outfits."
If you're feeling a little nervous about your outfits, though, Ava has a tip: put on a fashion show for yourself in your room! No, seriously. Put on your favorite music, try on the outfits that you're too nervous to wear in public, look at yourself in the mirror and feel confident about it! Even if you don't end up wearing the outfit out, it's a serious confidence boost.
Ava plans to release her own sustainably-designed merch in the near future. The sustainability aspect was super important to her, and it's part of why she's taken her time creating the merch. Ava hopes to inspire other creators to make sustainable merch, too, and also hopes that through her intentional designs, she can encourage people to make small changes to take care of the environment and be aware of what's happening with the planet. She wanted to make merch that connects her with her followers, highlighting sayings from her videos that resonated with people. She also wanted to create an Aloha collection tied to Hawaii, her home.
In fact, on February 16th, Ava launched a collaborative Hawaii-inspired jewelry collection as part of Hannah Meloche's 'Starlite Village' accessories line!
Adapting eco-activism, even in little ways
"One of the biggest practices growing up here [in Hawaii] is to take care of the land/ocean, and it'll take care of you," Ava says. Once she graduated high school, she started to educate herself and her followers about issues like plastic pollution and coral reefs dying. But, taking care of the planet doesn't have to mean going zero-waste or drastically changing your lifestyle. Ava says, when you think that you have to go zero-waste or do something extreme like that, it's hard to maintain and scary to approach. You can start with small changes because they add up, especially if multiple people make these changes.
If you're looking to make small changes, Ava suggests trying things like switching to reef-safe sunscreen, especially if you're going to be swimming in the ocean. In terms of plastic pollution, you can switch from makeup wipes to washable cotton-rounds, carrying reusable water bottles, or taking reusable grocery sacks with you when you do your shopping.
To educate herself about what's going on, Ava turns to local organizations and charities. One of her favorite sources is the Surfrider Foundation to learn about ocean safety. She recommends people turn to local sources to find out what's going on in their area.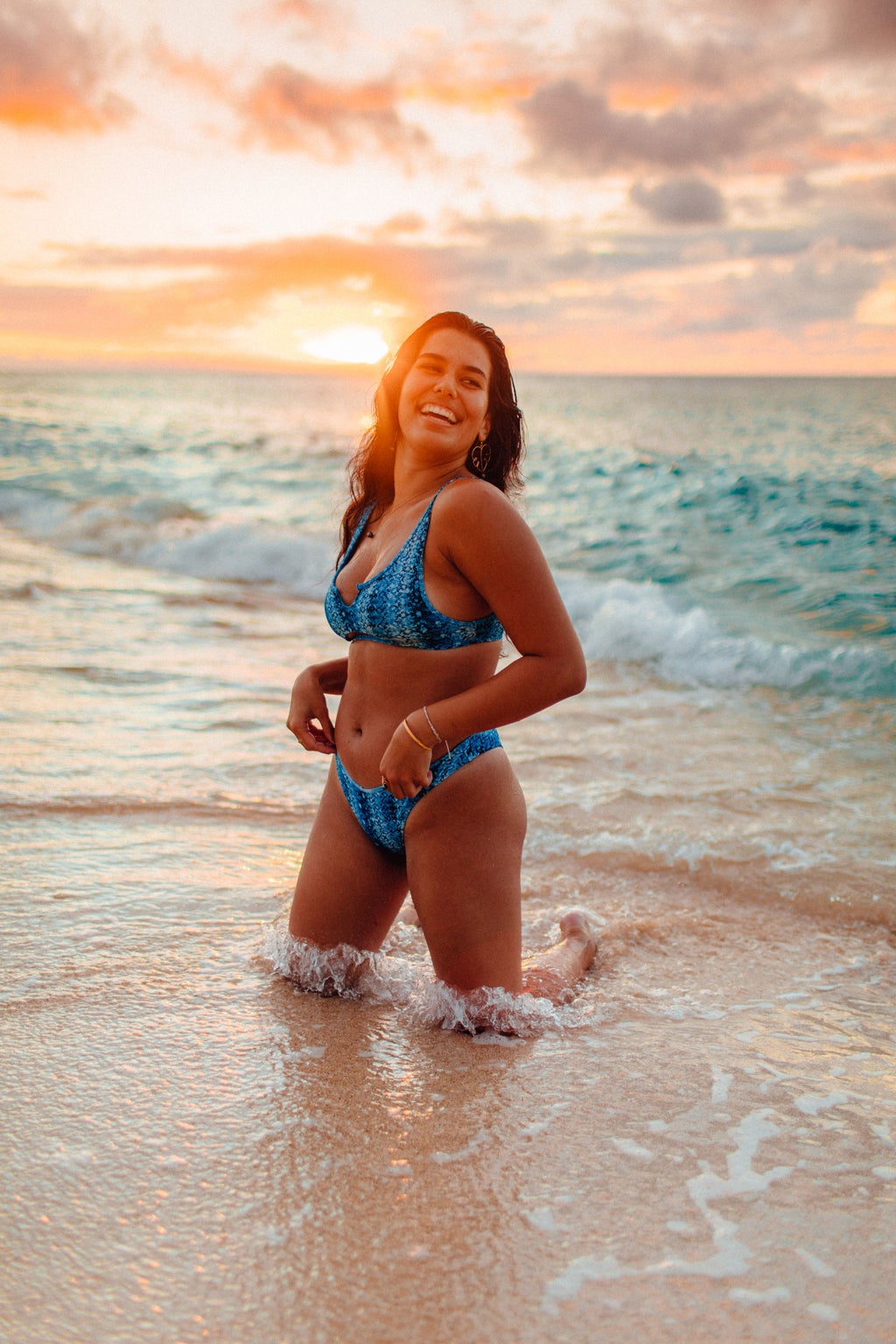 Ultimately, when you tune into Ava's channel, see her posts on Instagram, or watch her videos on TikTok, the goal is for you to find some positivity and inspiration. Ava hopes people feel a breath of fresh air when they see her content. "Sometimes…social media feels suffocating in a way, and there are certain people that just make it a brighter place," she says. "I hope I'm one of those people for someone."
Ava's other Social Channels: Twitter, Snapchat, Facebook
Follow Camille on Instagram