After what feels like forever (but also five minutes — time is weird), Emily In Paris Season 3 premiered on Netflix on Dec. 21. Spoiler warning: Spoilers for Emily In Paris Season 3 follow. This season, fans got another dose of culture, fashion, and major drama. But out of all of the fights and breakups and firings and job offers, there was one storyline this season that I just can't stop thinking about: Emily and Alfie's relationship. After Alfie learned about Emily's history with Gabriel in the finale, he breaks up with her, confirming he's seen for himself what Camille says out loud: that Emily and Gabriel have been in love since they first met each other. So with their relationship seemingly over, does this mean Alfie won't be in Season 4 of Emily In Paris?
Alfie was a mainstay in Season 3. Though there was a plan for him in the first episode to move back to London for work, and a potential breakup on the line for him and Emily, Alfie ends up making an impression on Antoine, who offered him a job as his new CFO in Paris. He and Emily are able to work through the rough patch in their relationship, and they seem to be running pretty smooth and steady through the whole season. That is, until the finale.
During Camille and Gabriel's impromptu wedding ceremony, Camille stops in the middle of saying her vows. She tells Gabriel, "You and Emily have been in love with each other since the moment you met. I can see it in your eyes. The way she looks at you. The way you look at her. Anyone can see it." After she leaves the chapel, Alfie confronts Emily, telling her he knew there was something going on. He says, "I'm nobody's second choice, Cooper. Now go get your man." When Emily protests and says Alfie's her man, he tells her, "No, I'm not. I don't think I ever really was."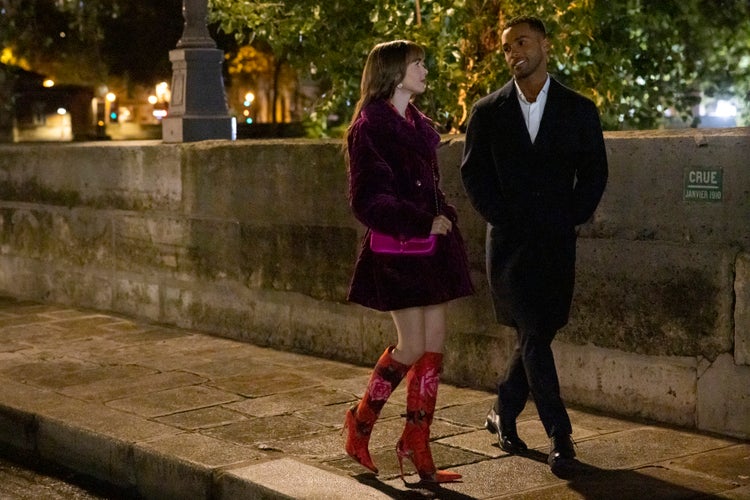 That's the last fans see of Alfie in Season 3 of Emily In Paris. The season ends a few minutes later, after Gabriel tells Emily that Camille is pregnant. (!) So, will viewers see Alfie again in Season 4? Will there be any communication between Emily and Alfie after the wedding? Will Emily end up with Gabriel, or will she fight once more for her relationship with Alfie? Fans will have to wait until Season 4 to find out.
As for what we know about Season 4 so far — it's already been given the green light by Netflix. While a release date hasn't been confirmed, the previous three seasons all dropped on Netflix in the fall/early winter, so it's safe to assume Season 4 could be coming by December 2023. Emily herself — aka Lily Collins — is obviously expected to return, as are Lucas Bravo (Gabriel), Ashley Park (Mindy), and Philippine Leroy-Beaulieu (Sylvie). Lucien Laviscount, the actor who plays Alfie, hasn't confirmed or denied his involvement in the next season just yet.
Personally, I think fans can expect to see Alfie in Season 4. Even if his relationship with Emily is over, Alfie is still involved with Antoine. In Season 3, Alfie was working with Gabriel on his restaurant, getting him stake in the business. Fans can only hope there's more Alfie in the future of Emily In Paris, whether that's romantically with Emily or professionally with Gabriel.