With the Internet at our fingertips, basically everyone has some sort of online presence nowadays (including your grandmother, for better or worse). We're constantly posting parts of our lives on Facebook, Instagram or personal blogs, so why not share our accomplishments too?
Online portfolios are a great way to show off your achievements, regardless of your field. While journalists and photographers are known for having them, musicians, artists and entrepreneurs can also benefit from having stellar online portfolios. Not sure where to start? Luckily for you, we'll break it down for you and show you how to make one that looks impressive. Here's why you should make an online portfolio ASAP. 
Organize your accomplishments in one place
Blog featured by Beauty Life Geek
You have a PDF for your writing samples, a personal blog where you post your photography and an Etsy shop for your handmade jewelry. Whenever someone asks to see your work, you're sending multiple web links and attachments, which can get annoying and confusing. Instead, an online portfolio makes it easier for the people interested in your achievements (and yourself!) by keeping everything in one spot.
We personally love Squarespace, a website creation service that can take your old blog into something sleek and professional. You can choose from a wide-variety of portfolio templates, so you can show off your work and personality. Plus, getting started is easy because all you have to do is drag and drop web elements onto your webpage—no coding required! But in the rare case you do get stuck, you can always chat with 24-hour support services, and they'll fix the problem right away. Now you can have all your accomplishment in one place, from slideshows for displaying your artwork to an online store for selling your products. But if you do want to have multiple sites to highlight different accomplishments, it's only $8 a month for a domain!  That's basically two caramel iced coffees you were going to buy anyway. Be sure to take advantage of the student discount—that's 50 percent off your first year of Squarespace. Good deal! 
Stand out to employers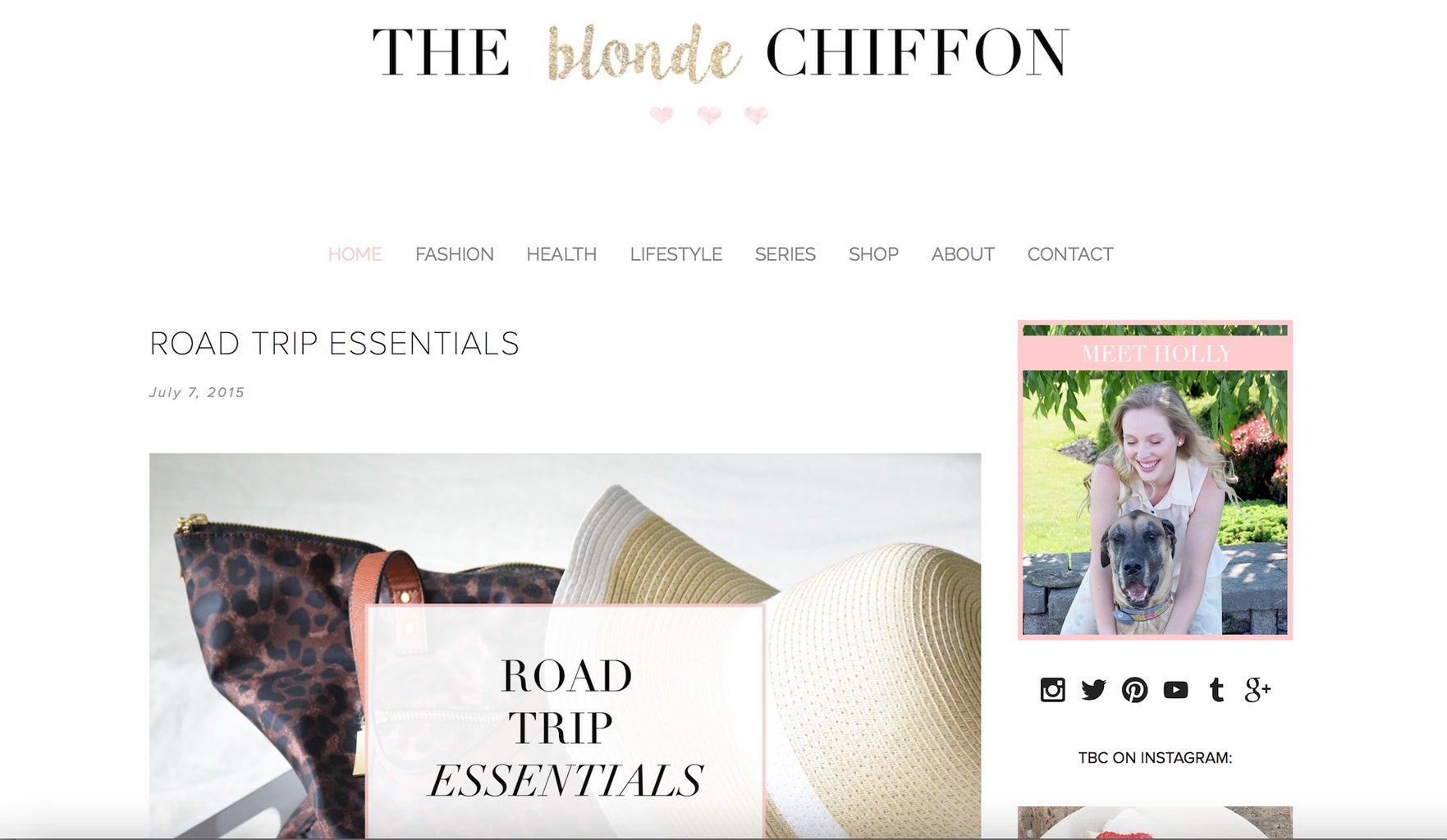 Blog featured by The Blonde Chiffon
You've revamped your resume and updated your LinkedIn, but you're still struggling to stand out to employers. Studies show that recruiters only spend six seconds reviewing your resume. Talk about speed-reading. Since you have such limited time to impress employers, might as well make those six seconds count with a beautiful and professional portfolio. 
The great thing about Squarespace websites is that they look good on any device. So whether a recruiter is absorbed in your writing samples in the office or scrolling through your music samples on his or her phone, your work will impress them. Plus, there's a portfolio app so you can update your website or share easily on the go whenever you want! It's perfect for networking events or career fairs when you need to make a first impression fast. Want to go even further above and beyond? Create a personal logo to share on your website. You'll be getting internship and job offers in no time. 
Network with others in your field
When you have an online portfolio, it's a chance for employers and people in your network to see your personality as well as your accomplishments. It also allows you to connect with others with similar interests, which is always a good thing!
With a customizable domain name from Squarespace, you can make it really easy for employers and others to find your portfolio with a simple Google search. If you're easy to find on the Internet, you can reach more people, and you never know who might stumble upon your work. Additionally, you can add social media ‪interfaces to your portfolio, making it super convenient to share your work as well as connect with others. Not only can you use your portfolio to network, it allows others to reach out to you as well. Sounds like a win-win to us! 
Our generation is accustomed to the digital and mobile world, so having an online portfolio is a no-brainer. Plus, they're super easy to make, look professional and are a great way to show off all your accomplishments!