Some Honeys like on-campus content creation best, some favor networking in their college town, and others prefer partnership building with local businesses. No matter what a Honey is passionate about or what interests them the most, the one thing they all have in common is that they joined Bumble Honey to make big moves on their campus, and set them up for professional success.
Bumble Honey is an ambassadorship program created to empower college students. It helps to build their resumes, learn how to network within their communities, and develop and perfect their skills for their future careers. From negotiating partnerships to hosting events, the program opens up so many opportunities to help them grow both professionally and creatively.

Want to know more about the valuable experiences you can have if you apply to become a part of the Bumble Honey ambassadorship? Read on to hear from three individuals who have been – and still are – Bumble Honeys!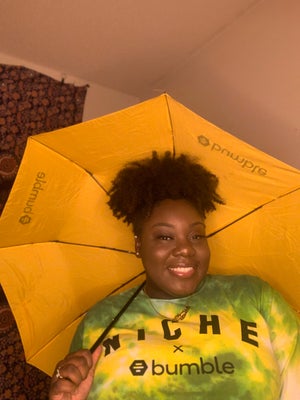 Bumble Honey Alumni Ambassador, Jade Walters, is a 2021 Howard University graduate and is now working in sales at a tech company. Because Jade explained that she feels it's important to have hobbies that allow her to explore her creative mind outside of work, she also spends time on TikTok as a micro-influencer and content creator. On her platform, Jade provides career advice. She highlights job postings and helps to guide Gen Z and recent grads in their early careers – similar to all of the support she received while as a Bumble Honey.
"The Bumble Honey program was one of the most empowering environments that I've ever been a part of," Jade said. "I was able to learn so much about marketing, communications, graphic design, and community building."
Jade explained that she was also able to learn and explore what it meant to be a leader, and even gained experience as a Bumble Honey Campus Director on campus, which she knows is still successful thanks to the work she did while in school. She also fondly reflects on how Bumble Honey allowed her to become "part of a community of women who constantly encourage and inspire each other."
"Even though I've graduated, I'm still connected with women from the program across the nation," Jade said. "Watching them achieve their goals on and off-campus has been super inspiring and it makes me so happy to see them make the first move in all of their endeavors."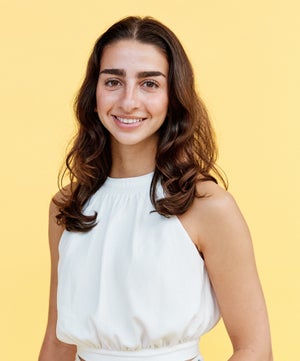 Fellow Bumble Honey Alumni Ambassador, Sofia Vicinelli is someone who was making first moves while on-campus. Now that she's a 2021 graduate from Bucknell University, she's achieving her goals off-campus with a dream position at Bumble as a Community Marketing Coordinator. She feels that joining Bumble Honey was a decision that truly changed her life and led her to where she is now.
"Bumble Honey provided me a direct path to my first job out of college, something I will always feel so lucky and grateful for," Sofia said. "But, besides this opportunity, my mentors and fellow ambassadors provided me with so much support, advice, and valuable insight throughout the entirety of my senior year."
Sofia further explained that both the experiences and skills she gained made her a more competitive job candidate.
"Being a part of Bumble Honey expanded my network and ultimate reach. Not only was I able to form close, personal relationships with fellow ambassadors, but I was also able to facilitate the development of strong, mutually beneficial professional relationships with local businesses and philanthropic partners, ultimately extending the social impact we are making on campuses."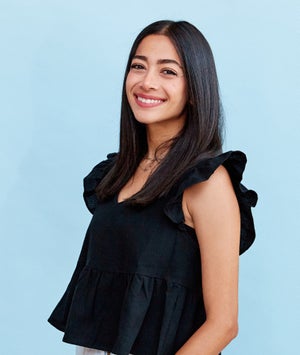 Current Bumble Honey member and graduate student of the class of 2022 at San Diego State University, Naseem Shafaei, has similar experiences to the two alumni ambassadors.
"I don't really know who I'd be today if it wasn't for the Bumble Honey program," Naseem said, explaining that it's already served as a big sister to her since she first joined as an ambassador in 2018.
"I've learned from impeccable leaders in the field, gained unique marketing experiences, traveled around the country, organized community events, partnered with other brands and influencers, and so much more. I've also learned valuable professional skills that help me every day as a grad student like time-management, proper email etiquette, platform operations, attention-to-detail, and public speaking," Naseem said.
She continued to explain that Bumble Honey has also given her the professional tools to succeed in her career, as well as a support group of individuals who lift her up every day.
"I wholeheartedly believe that the people in this program helped transform me into a better version of myself," Naseem said.
Jade, Sofia, and Naseem are just three out of the hundreds of former and current Bumble Honey ambassadors who are being taken to new heights and are quite the buzz on and off-campus, all thanks to joining Bumble Honey and connecting with like-minded people in the program.
If you're looking to get involved on your campus and gain valuable lessons and experiences to help set you up for professional success, then head to apply to the Bumble Honey program before they close on December 20! Get ready to build your professional community and achieve your career dreams!