Your 24-Hour Skincare Guide: What You Need Each Step of the Day For Gorgeous Skin
This is a sponsored feature. All opinions are 100% our own.
So you thought skin problems would end after high school, but, in college, stressful classes, sweaty gyms and greasy late-night food can quickly get the best of your complexion. We're right there with you, girl! That's why we've put together a guide to ***flawless skin each step of the day.
Morning
We're sure you know the feeling: It's 8 a.m. and your alarm clock is forcing you out of bed to get ready for class. It's imperative you prep your skin for the rest of the long day ahead! Start your day on the right note with a gel cleanser that will remove impurities so you have a fresh slate. We love Clean & Clear Morning Burst Facial Cleanser ($4.79 at Target). This awesome face wash is the perfect way to feel refreshed and ready to take on the world. It's even got vitamin C and ginseng to help wake you up for your early morning chemistry lab. Plus, it smells delicious!
After you wash your face and apply moisturizer, you'll want to go with a primer to keep your makeup last longer (if you wear makeup on campus). Neutrogena Shine Control Primer ($11.99 at Target) is your solution for oil-free primer that won't leave your forehead looking greasy. It will help your makeup last longer, while minimizing the appearance of pores and controlling shine for up to eight hours. It's a total must-have!
In Between Classes
It's not easy to keep your cool in a stuffy classroom. Freshen up after your 9 a.m. lecture with Neutrogena Shine Control Powder ($11.99 at Target). This miracle powder keeps your skin shine-free without drying it out!
Post-Gym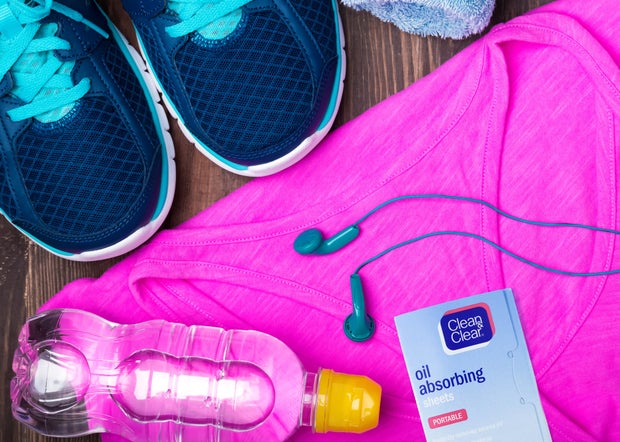 So you went straight to your yoga class with a full face of makeup, and now your skin feels sticky. Unless you want to bring your entire skincare regimen to the campus gym, we strongly recommend bringing an easily-portable way to get oily skin under control. We like Clean & Clear Oil Absorbing Sheets ($4.49 at Target)! These gentle sheets will clear your skin of all dirt and oil while keeping your makeup intact so that you get only the best out of your workout.
Pre-Going Out
Your skin has been through a lot by the time you're ready to party. So how can you primp for your night out without risking a breakout? It's actually super simple, with Neutrogena Skin Clearing Oil-Free Makeup ($5.25 at Target). This foundation doubles as a blemish treatment, so you don't have to worry about a random pimple popping up while you're talking to that cutie at the bar!
Before Bed
How you treat your skin before bed is crucial to waking up fresh-faced and as gorgeous as ever. Your mom was right: Going to bed with a face of makeup is a total no-no if you want to avoid dull, acne-ridden skin. Get even the most stubborn makeup off with these Neutrogena Makeup Remover Cleansing Towelettes ($4.49 at Target).
After you've removed your mascara and foundation, if you've got acne, you're going to want to finish your nighttime skincare routine with Neutrogena's Oil-Free Acne Wash Pink Grapefruit Foaming Scrub ($7.99 at Target). The smell is divine and the gentle microbeads help refresh your skin without over-drying or irritating your skin—and the salicylic acid helps tame your acne! Finish with your night with a thick moisturizer and a giant glass of water—great skin is built from within, too!
College can be rough on your skin, to say the least. But with these super versatile (and affordable!) products, shiny skin and impromptu breakouts will be the least of your worries this year. Plus, you can find all of them at Target, so you can pick them up while you're shopping for your dorm! Back-to-school just got a little more beautiful. Sign me up!