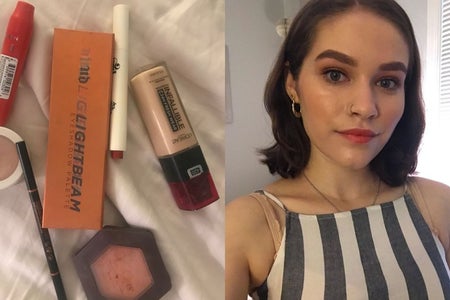 I Love This Summer Makeup Look So Much, I'm Literally Wearing It Into Fall
Without the pressure of rushing to early-morning classes after a late night study sesh, I've had the time and mental clarity to really focus on actually doing my makeup in the morning. As the summer season is winding down, I feel like I've finally nailed my beauty routine: casual yet put together, and glowy yet not too glowy. My everyday look is just peachy enough to be on-trend for summer, but wearable and basic enough that it will look seasonally appropriate all year round. And, most importantly, it's easy to pare down when I'm in a rush, which is really inspiring me to actually do my makeup during the school year when I have 9 a.m. classes.
Here are some of the standout products I've tried this summer and will keep using into fall.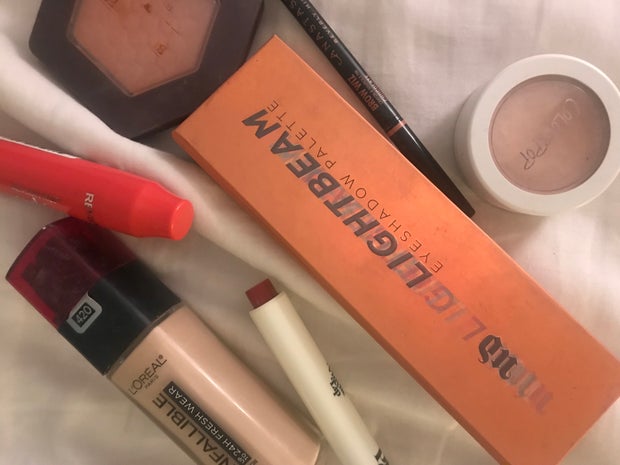 L'Oreal Infallible Fresh Wear Foundation
L'Oreal, ulta.com, $15; shop now
I love the look of flawless skin, minus the heavy-makeup feel. So I've been reaching for lightweight, liquid-y foundations to achieve coverage, without feeling like I have a mask on my face. My current go-to is this one from L'Oreal because it has high-medium coverage, but the formula is super thin, so it's quick to blend and does not look thick on my skin at all. It dries to a satin finish, it stays on well throughout the day, and when it does wear down, it doesn't look blotchy. This foundation gives a skin-like, natural finish, which is exactly what I go for all year round. 
Burt's Bees 100% Natural Blush With Vitamin E - Toasted Cinnamon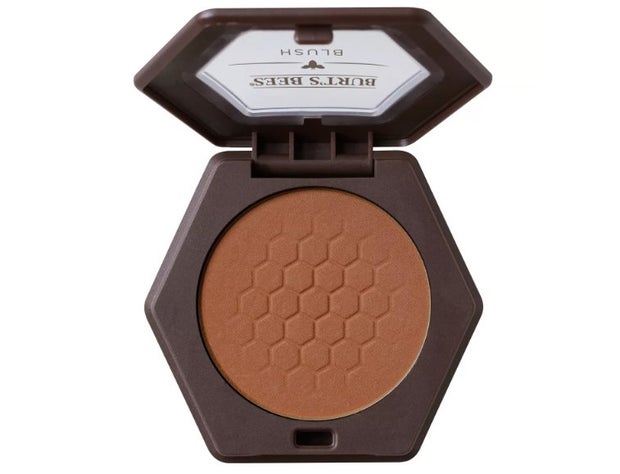 Burt's Bees, target.com, $9.49; shop now
To add some more life and color to my face (which will be even more necessary during the fall and winter when whatever tan I have completely fades), I love this blush from Burt's Bees in the shade Toasted Cinnamon. It's a brownish, terra-cotta leaning peach, which means it gives the effect of both a blush and bronzer in one. It looks a lot more brown and bronzy in the pan than it actually is on the skin, so don't be too intimidated by it!
The key to using this shade of blush on fair skin tones like mine is to focus it towards the sides of the cheeks rather than the apples. I also love how neutral this shade is, because it will always match whatever eye look or lip color I decide to go for. It's the perfect staple shade that I can use as the seasons and beauty trends change.
Colourpop Super Shock Highlighter - Lunch Money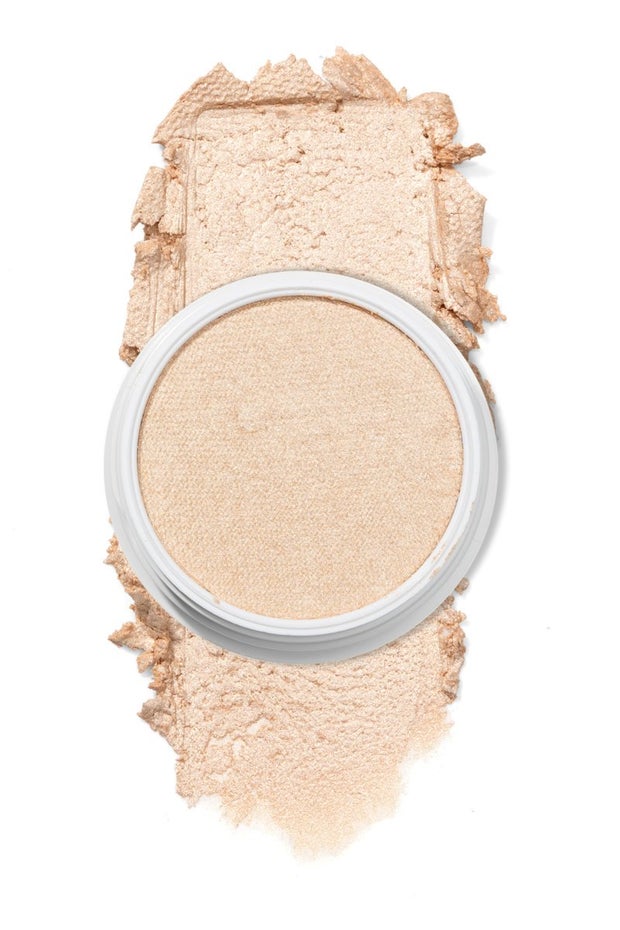 Colourpop, colourpop.com, $8; shop now
If you're like me and you need to set your face with powder, you know the struggle of trying to figure out the best ways to use cream complexion products. This Colourpop Super Shock Cheek Highlighter has an amazing cream-to-powder highlighter formula. Is creamy texture gives a smooth, glowy-from-within finish. But, it's not sticky like other cream highlights, so it doesn't lift up any powder underneath and blends out like a dream.
These are also super pigmented when applied with just my fingers, so I look like a goddess, but also like my skin is just naturally radiant without even trying. You get the pros of both cream and powder highlights, but none of the cons of either, so this is a permanent go-to for me. 
Anastasia Beverly Hills Brow Wiz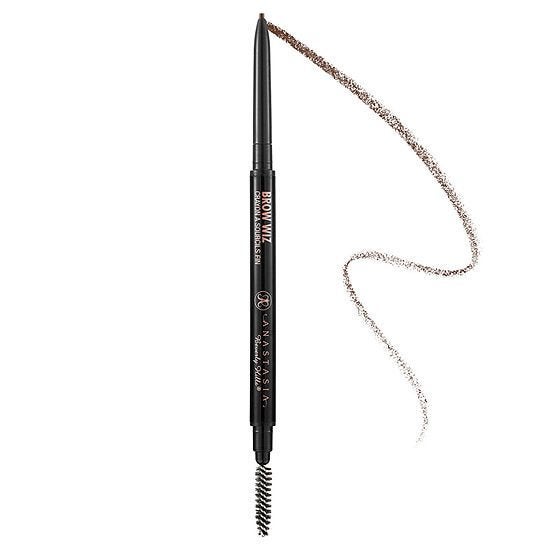 Anastasia Beverly Hills, sephora.com, $21; shop now
I love a natural and structured brow where you can still see those individual hairs, but the arches are clean and defined. That's why I've been reaching for Anastasia Brow Wiz — the small pencil tip keeps your brows from looking too blocky, and if your brows are sparse, you can literally draw on those hair-like strokes.
This brow pencil is pigmented, but not too soft of creamy, so it applies evenly and doesn't add any excess product or goopiness. Sometimes I like my brows to look super structure, and sometimes I just want to add a little color, but this product is the perfect middle ground that allows me to achieve any look. (For the sake of transparency, I will warn that the packaging feels flimsy at first, but the product itself is great).
Urban Decay Lightbeam Palette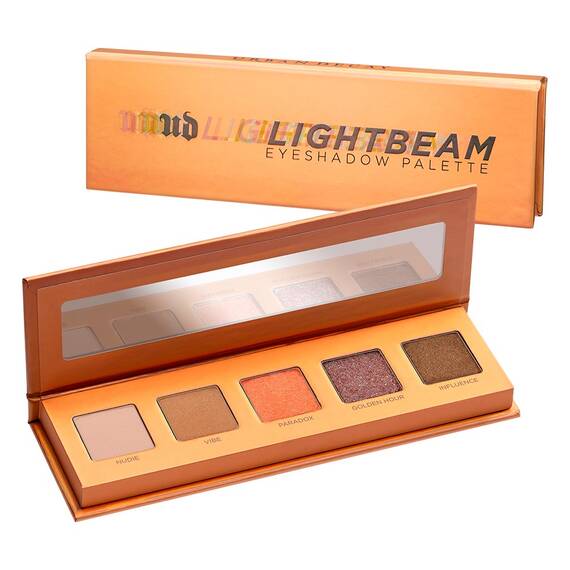 Urban Decay, macys.com, $24; shop now
I love a small eyeshadow palette, because it's less overwhelming when I'm trying to create quick, easy eye looks. This Lightbeam palette by Urban Decay looks like your typical peachy, sunset summer eye palette, but minus the coral shade called "paradox," the browns are pretty neutral. I love the shade selection, and this formula blends out nicely. I like applying the lighter brown shade "vibe"  all over the lid and in the crease for a natural look, but if I have more time or want some more definition, I will blend "influence" into the crease. And "nudie" is a classic matte cream shade that functions as a brow bone and inner corner highlight. With three foolproof neutral shades and two pops of color, this compact palette can go a long way.
Non-Gloss Lip Products
Revlon, ulta.com, $10; shop now
Glossier, glossier.com, $16; shop now
I've been reaching for glossy lip creams all season long and have determined that this is the ultimate universal lip formula. These types of products pack on color, shine, and, depending on the formula, a lasting stain. I've recently been into the Revlon Kiss Cushion Lip Tint in the shade "high-end coral" and the Glossier Play Vinylic Lip in the shade "disco". Both offer a flattering wash of color that's relatively sheer but not streaky, and can be built up. Another huge plus for me is that they aren't sticky at all and feel very comfortable on the lips. The Revlon one has truly impressive staying power and actually leaves a stain with a blotted finish, so I don't need to reapply throughout the day. But, the Glossier one wins out in terms of packaging because the sponge tip is smaller and less product comes out at a time, so it's far easier to apply, even without a mirror. 
I love testing new beauty products and trying out different trends. But there's nothing like having a handful of universal beauty staples that you can always turn back to, no matter the season. 
What summer beauty faves are you def making space in your dorm for this fall? 
Sound off in my Instagram DMs!