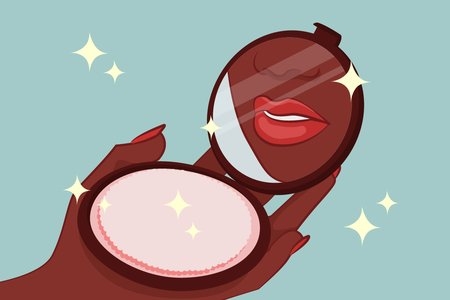 Adebusola Abujade / Her Campus Media
6 Beauty Trends That Will Be Everywhere After Quarantine
Being stuck inside during quarantine is definitely a bummer, but it's also a great time to practice that one makeup look that you've been seeing all over Instagram. Just because we're inside, doesn't mean we can't have a little fun with some colorful palettes and all the skincare. 
These makeup trends are going to be huge after quarantine, so take notes. Whether you're bored at home or just need a break from scrolling through social media, try out some of these super popular, trending makeup looks on your own.
Dewy Skin
Honestly, can dewy skin ever go out of style? Everyone wants that coveted glow, and this trend takes it to the next level. Tons of products have come out recently to help achieve this model-off-duty look, so don't stress if your skin looks far from it naturally. Apply your product liberally, and soon you'll be glistening.
Graphic Liner
Graphic eyeliner is a tricky thing to get the hang of, but once you do, the compliments will be pouring in. The best thing about it? You can be as creative as you want and it will still look bomb. Play around with different techniques to see what looks best with your eye shape.
Neon
We may be stuck inside, but that doesn't mean we have to check bright colors at the door. Luckily, neon is in style like it hasn't been in ages. Neon lips, neon eyeshadows, neon eyeliners—you name it! Definitely don't be afraid to embrace some bright colors. Use this time inside to see what you can do with some neon makeup.
Gem Stones 
Who doesn't love a little sparkle? This one is super easy because all you need is some gemstones from a craft store and eyelash glue. Then, just get creative! You can use them to embellish an eye look, place them where you would normally place highlight, or really anywhere. 
Pastel Eyeshadows 
Just like neon is having a moment, so are pastel eyeshadows. This one takes inspiration from earlier iconic decades, but with a modern twist. Opaque, blended pastels look great on any eye color. A bright pop of color might be a big statement, but the soft pastel tones balance it out.
Bushy Brows 
Another super easy makeup trend that will be huge after quarantine: big bushy brows. Brows are a statement on their own and these brows are no exception. Lucky for us, they're really easy to achieve. Just brush up your brows with a clear mascara or brow gel (or even soap, if you want to try out the soap brow trend). Don't have naturally thick brows? Try out a brow pen to help fill in the gaps!