How to Look Glowy AF When You Need to Leave The House, Like, RN
We've all been there — promising your BFFs you'll go out for G.N.O. tonight, accidentally taking a 3-hour nap, then waking up with literally 10 minutes to spare until the pregame. You're dazed AF, wondering how you managed to fall asleep for so long, and starting to realize that you now have like, 5 minutes to do your whole night-out face beat. Yikes. 
Even if you promise yourself you'll never lay down on your bed to just "rest your eyes" again, we both know it'll probably happen again this weekend. Lucky for you, I've got a 5-minute routine down pat to get yourself absolutely glowing and ready for anything that night may hold. Here's how to glow to the gods when you really really need to order a Lyft in the next few minutes.
First things first: start off with a dewy base
If there's one thing people know about me and my beauty routine, it's how much I stan Glamglow's Glowstarter Mega Illuminating Moisturizer in the shade Nude Glow. I take a decent amount of my fingers and start around my the dryest parts of my face, so around my nose and forehead, working it all around for an even base. This automatically gives a ~radiant dew~ to my skin that shines through my tinted moisturizer or foundation. When you've only got 5 minutes to get your sh*t together, this is a good way to guarantee a good amount of glow no matter what. 
Next, add a little *somethin' somethin'* to your foundation
Underrated product alert: this liquid illuminator from NYX in the shade Sunbeam retails for about $7.50 and is honestly one of the best beauty products in my arsenal. Seriously, so good for getting that glow. I mix this in with my tinted moisturizer just for added sheen and dimension. Plus, it's super easy to mix in and buff into the skin when you're in a rush.
Now time to strobe
Focusing on the high points of my face, I add quick streaks (with little precision, TBH) of my Flesh Touch Highlighting Balm in the shade Startle, a perfect pearlescent accent that draws just the right amount of attention to my cheekbones, bridge of my nose, and cupid's bow on my lips.
Dust a little extra on top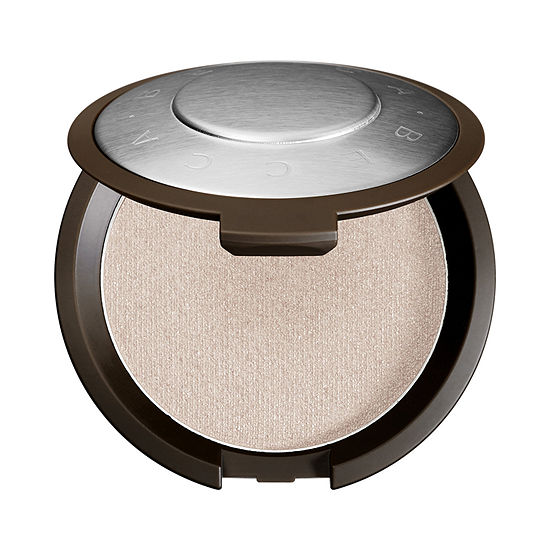 The highlight balm creates a bit of a tacky surface, perfect for layering and setting another highlight on top (never enough highlight, amirite?). I use the Becca Shimmering Skin Perfector®  in the shade Moonstone for a pearlescent finish with hints of gold. This adds extra dimension to the high points of my face and literally takes about 5 seconds to sweep across my cheekbones and nose.
Last but not least, the star of the show
Let me clarify that I only layer this highlighter on top for special occasions (or when I'm really feeling myself). Colourpop's Super Shock Cheek Highlighters are next level, y'all. The strength of this highlighter is unmatched by any highlighter I've ever used before and should be used with caution. I'm a huge fan of the shade Stole the Show, a beautifully radiant silver-gold shade. It's like a swipe of sunshine on your cheek — perfect for a day in the sun or a night with plenty of flash photography.
Okay, so even though you'll "never wake up late for the pregame again", let's be honest with ourselves — it's nice to have a go-to 5-minute plan for when you're in a pinch but absolutely need to stunt. My advice? When in doubt, glow hard or go home.
Want more quick hacks for getting ready in a hurry? Check out our new IGTV series Be There in 5.  Each week, the Her Campus team will show you quick hacks that will turn that "be there in 5" text from a lie to the truth.