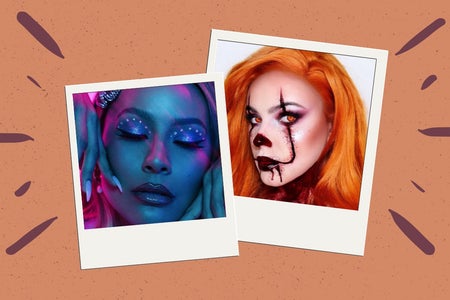 @desiperkins, @makeupbymaylen via Instagram
5 Halloween Makeup Looks I Just Saved on Instagram
Spooky Szn is upon us already, which means more makeup, costumes, and a variety of fun, new costume ideas to change the Halloween 2020 game. The possibilities are endless when it comes to creepy, creative makeup looks for Halloween this year. As much as I am terrified by how realistic and actually scary these looks can be, I'm only more and more impressed by the talent that these makeup artists having. They're all serving some ~seriously haunted~ looks.
If I'm being honest here, I hate clowns. And if you compare the Pennywise from 1990 compared to this new, revamped version, the new one definitely scares the bejeezus out of me way more. @Makeupbymaylen on Instagram shows us her version of femme Pennywise where glam meets gore. I'm shaking in my yellow rain jacket already. 

While I haven't seen Euphoria yet, I've seen hundreds of interpretations of Euphoria inspired makeup. Last year, Desi Perkins (queen) posted this tutorial on her YouTube channel and the internet was here for it. This crystal glam trend is all over because of this show, so if you're looking for a trendy but not scary Halloween look, this is the one for you.

3.

Wednesday Addams from The Addams Family

The Addams Family and The Addams Family Values are two classic spooky szn movies that everyone needs to watch this month specifically. Whether you watch the new animated version or the classic live action ones, it's a great Halloween story with so many characters to draw Halloween inspo from. The most iconic is Wednesday Addams, the morbid daughter of Morticia and Gomez who is always fascinated with death.

Makeup artist Lex from Madeyewlook has a wide array of amazing Halloween looks, including this one of Wednesday Addams. 

4.

7 Rings by Ariana Grande

Ariana Grande obvs has some of the best music of all time, so if you're looking to recreate a pop icon look, look no further. This look could honestly work for any glam night out, but with a few accessories and a whole lot of glitter, the look is Ari-approved.

5.

Alice Angel from Bendy and the Ink Machine

This last one is for all my fellow gaming geeks out there. Bendy and the Ink Machine was a huge PC game with a crazy and creepy storyline about an animator visiting his old animation studio greeted by the creation of creatures that were featured in an animation he created. Basically, it's the screwed up story or "reimagined spin off" based on the history of Disney. Nonetheless, it features some insane characters including the creepy Alice Angel. Madeyewlook has done it again. 
Halloween this year should be a fun one with so many different looks from pop culture to choose from. Even if you're not a makeup artist, it definitely doesn't hurt to try these out and find your own interpretation of these characters. Halloween is the holiday where you can get as creative as you want, so let your creativity and imagination run wild. Just don't spook anyone too intensely while you're at it. Happy Halloween!