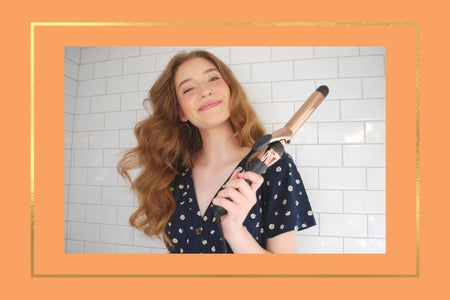 Photo by Madeleine Bokan for Her Campus Media
This Curling Iron Will Take You From Frizz To Flawless In 15-Minutes
This is a sponsored feature. All opinions are 100% our own.
There's nothing like achieving a big milestone — be it graduation, your first day on a new job, or even your birthday. As exciting as these moments are, they can feel a little stressful, especially when you want everything to be flawless. Well here are two things you can check off your list: Your hair and makeup. Thanks to Conair's InfinitiPRO Rose Gold Titanium 1" Curling Iron and Vibrating Beauty Blender, getting ready has never been easier and, dare I say, fun. Below, I'm sharing how I use both products and will never go back to my old ways. 
1.

Wash, brush and eliminate frizz

Photo by Madeleine Bokan for Her Campus Media

This Conair product's rose gold titanium barrel will reduce frizz and increase shine in no time, and I have the pics to prove it. After washing your hair and letting it air dry, simply brush your locks, add a heat protectant, and curl. With a 30-second heat-up and a max of 400F high heat, these curls took less than 15-minutes from start to finish.

With this one curling iron, you can get several different styles, depending on your mood. For loose waves, wrap your hair vertically around the barrel. This style is great for when you want to look professional and pulled together, like interviews and meetings. For glam waves (pictured above), wrap your hair horizontally. This will create defined curls that can be brushed out for a more voluminous look, perfect for celebrations of all kinds, like graduations and birthdays. Bonus: You can always use this curling iron like you would a wand. Simply wrap hair around the barrel, hold and release for a perfect in-between.   

3.

Predict how your hair sets

Use smaller sections of hair for more curl definition and use large sections of hair for more uniform waves. It may sound obvious, but this tip makes a huge difference in how your curls set, aka whether they stay bouncy or fall to softer waves. 

4.

Make a flawless finish

Photo by Madeleine Bokan for Her Campus Media

Once you've gotten curl-ready, it's makeup time. After applying a moisturizer or primer, start with your foundation or CC cream. This battery-operated vibrating beauty blender helps you achieve even application of your makeup with every use. The rounded edges are perfect for application to large areas, and the pointed tip is great for added precision, making it the perfect multi-tool. You can also use this with cream blush or even concealer, too. (Psst the battery compartment is removable for an easy wash.)
I hope these tips help you get ready for upcoming milestones in your life — whether they're virtual or IRL you'll look flawless and feel confident. Congrats!
Model: Isabella Bokan