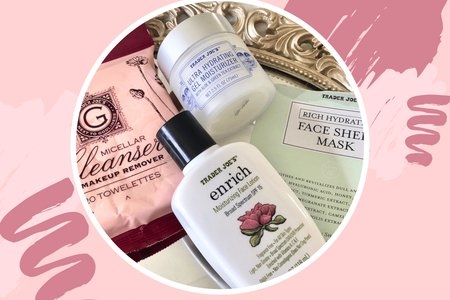 I'm Becoming a Trader Joe's Skincare Person, & I'm Not Even a Little Bit Sorry About It
If I had a dating profile, it would definitely include "likes long walks inside Trader Joe's." I had never been to a Trader Joe's before starting college, but I think college is actually the best time to start going. The employees are like the friendliest, most helpful people, and the groceries themselves let your bank account breathe a little. 
My favorite red shopping cart is usually full of blueberry lavender almond milk and cauliflower gnocchi, but recently I decided to finally try Trader Joe's beauty products. Beauty on a college budget can be a real struggle, especially when it comes to finding quality skincare products. If you're looking for some beauty staples next time you go grocery shopping, these are the ones actually worth your money.
 
1.

Ultra Hydrating Gel Moisturizer ($9) 

My skin is seriously dry, so I honestly didn't know if a gel-cream moisturizer would work for me. I'm used to blending in the thickest of heavy-duty creams because I take moisturizing very seriously. I don't know if it's the unique packaging or green tea and aloe combination that drew me in, but I'm so glad I tried this.

Going to school in Florida means a lot of heat and humidity, which this moisturizer is perfect for. I wear this under my makeup with SPF (which you should be using every single day, btw) and it's the dewy moisturizer I've been missing. Since this cream is lightweight, it works so well with warm weather, and it really makes my makeup settle perfectly. Too, aloe and green tea are some of my favorite ingredients for soothing irritated skin, so this moisturizer was well worth the $9. Bonus, this moisturizer is rumored to be an intended dupe of a La Mer product!

2.

Enrich Moisturizing Face Lotion Broad Spectrum SPF 15 ($4)

Remember how I said you should wear SPF every single day? Boom, here you go. $4 for a lightweight, soothing, Olay-duping moisturizer with SPF. It's fragrance-free, which my sensitive skin loves. If a product has too much fragrance, my skin instantly burns. This broad-spectrum moisturizer contains vitamins A, C and E, making it such a hydrating treat. Plus, it's easy to avoid an annoying sunburn by applying (and reapplying!) enough SPF every single day.

One thing: Trader Joe's, I love you, but your creative team could do a little bit more for the packaging. The pink flower was a really beautiful touch, but it has so much more potential, considering how amazing of a product it is.

3.

Micellar Cleanser & Makeup Remover Towelettes ($4)

Not sure if the word "towelette" actually means anything different than "wipe," but it just makes me feel fancy. Points to the Trader Joe's team on the packaging for this one, I'm obsessed with the two-tone pink and the minimal flower detail. I feel like these wipes were just made for me, and I'm here for that. 

If you wear a full face of makeup, these wipes might not be enough for you, but they do a great job of removing my skin tint, concealer, blush, highlighter, eyeshadow and mascara. I love how hydrated my skin feels after using this wipe since others tend to leave my skin feeling really tight. The seal on the package is small and really strong — other wipes don't have a good seal, making them dry out while my money goes down the drain. I follow up with a favorite cleanser to make sure all the dirt, sweat and build-up from the day is all gone!

4.

Rich Hydrating Face Sheet Mask ($2)

I'm always down to try a new face mask, especially when it's only $2. My only problem with this mask is the added cucumber fragrance. One of the top ingredients is "natural cucumber fragrance," but I don't trust that the way I trust La Croix's "natural" flavor. Thankfully, this only tingled a little around my mouth and was totally bearable. If your skin is okay with the cucumber fragrance, then this mask is a super refreshing, pre-makeup treat. I only leave it on for five minutes, pat in the leftover liquid, and treat it as a hydrating serum. 
There are so many affordable (and worth the splurge) skincare products for college women, but being able to pick them up while grocery shopping is always a pro. If you have any Trader Joe's snack and skincare favorites, definitely let me know!
 
The Her Campus National Editors write about products we love and think you'll love too. Her Campus has affiliate partnerships, so we get a share of the revenue from your purchase.