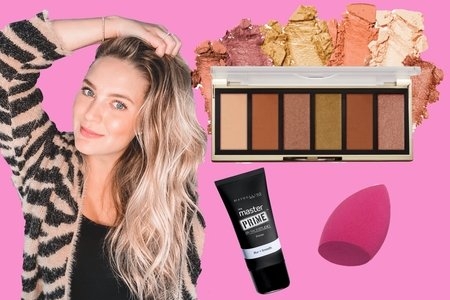 11 Drugstore Makeup Products Under $10 That Changed My Makeup Routine
If you didn't know that drugstore beauty products could change your life and makeup routine, buckle up. These 10/10 products are all $10 and under, and they are so. damn. good. Don't believe me? Watch how to use them here, and read on on for why I love these affordable and accessible products.
1.

Maybelline Master Prime Blur + Smooth, $8

I am very particular over what primer I will use, so trust me when I say this $8 Maybelline product is extremely worthy. Shop now

2.

E.L.F. Total Face Sponge, $5

3.

Covergirl Clean Liquid Foundation, $5

This affordable clean foundation is super lightweight and even feels like it's moisturizing my skin, not just covering it up. For $5, it's water-based and non-comedogenic. Yes please, to makeup that lets your skin breathe. Shop now

4.

E.L.F Camo Concealer, $5

Creamy and perfect are the only words I could use to describe this concealer. I loathe a concealer that dries you out, and this $5 gem does no such thing. Shop now

5.

Milani Most Wanted Eyeshadow Palette, $9

6.

Maybelline The Falsies, $10

About six months ago this mascara changed my life, and it will take a lot of convincing to get me to switch to anything else. As someone who wore lash extensions for seven years (!!), I can confirm that this $10 mascara is the next best thing. Shop now

7.

Maybelline Superstay Full Coverage Powder Foundation, $9

They are not joking when they say Full Coverage. The first time I used this, I was almost startled at how flawless my complexion looked. For $9, do not sleep on this powder. Shop now

8.

Maybelline Fit Me Blush, $5

This $6 blush is so good. Like, stays on when my mask comes off and doesn't fade after a sweaty walk to get your iced coffee, good. Shop now

9.

Maybelline SuperStay Matte Ink, $8

Matte gloss that doesn't make your lips also feel like they are going to turn to rock and fall off your face? Yes, that's this, and it's perfect. Shop now

10.

Revlon Super Lustrous The Gloss, $6

Trust me when I say buy this and keep it with you wherever you are. It's the perfect makeup pick-me-up, and definitely Zoom-call approved. Shop now

11.

Maybelline Lasting Fix Setting Spray, $8

Ever look in the mirrror at the end of the day and think, where did your makeup go? Same. This prevents that from happening. Shop Now
The Her Campus National Editors write about products we love and think you'll love too. Her Campus has affiliate partnerships, so we get a share of the revenue from your purchase.