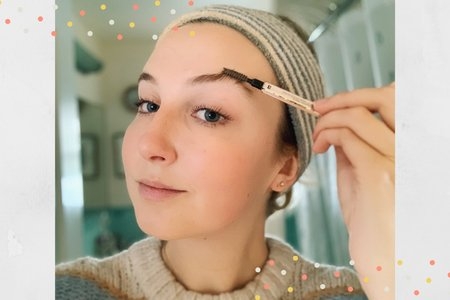 A Beginner's Guide to Filling In & Shaping Your Eyebrows
I am no brow expert, that's for sure. A couple of years ago I wouldn't be able to tell you the difference between a brow pencil or a brow gel, let alone what to use for my own brows. However, over time I've learned a thing or two, both through research and experience, about eyebrows and how shape them and fill them in.
If you're a beginner when it comes to filling in and shaping brows, have no fear. I was in your shoes not too long ago. It can be intimidating to figure out what products to use as well as what shade will match best, depending on your eyebrow shape, texture and color. The whole thing can feel overwhelming, especially when you see beauty influencers with perfectly shaped eyebrows and think, "mine will never look that good." Well, I'm here to tell you that they can, and spill all the details of just how to get the eyebrows of your dreams.
Shade Match
The first step to embark on your eyebrow journey is to find your correct shade. This doesn't necessarily mean holding up products next to your eyebrows and eyeing them to see if the color's right. You should actively be trying different swatches of color on your brows to see what you prefer most. Byrdie Beauty suggests going for a lighter shade than you would expect, because if it's too dark your brows will look unnatural. They also list shades for a diverse range of hair colors that you can check out if you're having trouble. Once you find the right shade, you're one step closer to perfecting your brows!
Brow Tools & Methods
The next step is to decide for yourself what your ideal shape and texture is. Are you into the fluffy, au naturale Glossier girl look? Or maybe you prefer clearly outlined, filled-in brows? Either way, there's a brow product out there for you. To make things simpler, let's narrow it down to the three kinds of brow tools that I prefer: eyebrow pencils, eyebrow gels, and eyebrow markers.
Eyebrow Pencils
Eyebrow pencils are the key to adding soft and natural definition to your eyebrows. They're best to use if you have sparse brow hairs or patchy areas that need direct filling in (take my right eyebrow for example, which has a perpetual bald spot that drives me crazy). When using a pencil, it's best not to start at the beginning of your brows (the hairs starting above the inner corners of your eyes). This is because pencils are pretty pigmented, and when you first begin filling in your brow you tend to be heavy-handed rather than gentle. Therefore, starting in your sparse areas instead will help create a more natural look. If you prefer the look of clearly outlined and even brows, pencils are the way to go because you can literally draw an outline around your brow, then fill it in.
above: eyebrow pencil
Eyebrow Gels
Eyebrow gels are one of the quickest and easiest ways to add subtle color, long-lasting hold, and volume to the brow. Practically any style or shade of eyebrow can benefit from a brow gel, especially if you prefer the feathery, wispy look. With gels, it helps to backcomb against the direction your hair grows first, which envelops more product around each brow hair. Then go along with the direction your hair grows, using soft strokes to shape and smooth everything out. I also suggest taking most of the product off the spoolie before applying, otherwise you might end up applying more product than you want.
above: eyebrow gel
Eyebrow Markers
Eyebrow markers have changed the game for me. These are tools that look awfully similar to a liquid eyeliner or a felt tip marker. The tapered end allows you to create tiny strokes that mimic actual brow hairs, almost like you're sketching them into your brows. This is probably the most natural looking effect you can get with an eyebrow tool, which is why it's become one of my go-tos. It's perfect for lightly filling in any bald spots or sparse areas, or just giving your brows a fuller look without having to add too much pigment. This tool is best for defining the shape your brow already has.
above: eyebrow marker
My Personal Favorites
Now that you're more familiar with different kinds of brow tools and methods, I'll leave you with a few specific brow tools that I personally love to use and would highly recommend starting with—these are my secret weapons.
1. For the fluffy, wispy look using an eyebrow gel: Boy Brow 
Glossier, $16, Shop Now
2. For the natural, filled in look using an eyebrow marker: Brow Flick
Glossier, $18, Shop Now
3. For a more defined look using an eyebrow pencil: Precisely My Brow Pencil
Benefit, Ulta Beauty & Sephora, $24, Shop Now
Beginning your eyebrow shaping journey involves figuring out what products to use to fill in your unique shape, and it can be an overwhelming task at first, especially if you don't have perfectly shaped or evenly-textured brows (which, let's be honest, barely anyone has). It just takes time to figure out what works for you. Finding the right foundation, for instance, can take a long time. Sometimes you go through 10 different foundation shades and brands before you find one you'll stick with. Eyebrow shades and tools are no different, so just keep trying them until you're satisfied. Be patient with your technique; like any makeup, it takes practice to perfect something. I'm always working on improving my eyebrow routine, so you're not alone!
Follow Lorraine Padgett on Instagram.