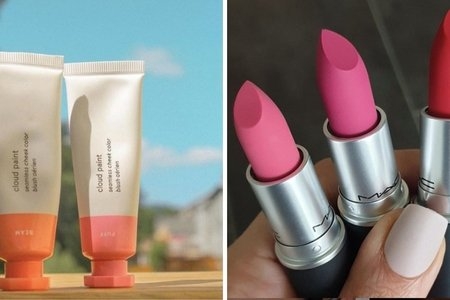 All the Cult Favorite Products NYC Cool Girls Can't Get Enough Of
While LA make-up lovers embrace the bronzed, highlighted and dewy makeup look, in New York, everyday people and influencers are rocking the clean, fresh, and bold look. It's less flashy and the bare-face trend is definitely a big hit. I mean, it seems like everyone is on the run 24/7—even in the summer— and no one likes a melted makeup face. So the less makeup, it seems, the better. But, a vibe that is undeniably East Coast is the classic red lip with a glossy lid and winged eyeliner. It's a bold statement that can look amazing in the office and at after-work cocktails. Here are 3 cult-favorite products to achieve a fresh-faced New Yorker look that are not only influencer-approved but beloved by the masses. 
Glossier has pretty much become everyone's go-to makeup products, but especially in New York City. The startup makeup and skincare brand was founded by Emily Weiss in 2010 and has since gained a worldwide cult following from millennials. The brand was originally an offshoot company of Weiss's blog "Into the Gloss." But why has this product reached Insta-cult status?

To me, blush has always been that boring and frequently forgotten step within my makeup routine. When cloud paint came along, it honestly brought back the fun in blush because it allowed you to finger paint makeup on. It's soft, gel-cream formula is sheer and buildable, so you can create a natural look while in the New York offices or create a more dramatic look for a night out. The product is easy to apply (especially if you're in a rush), and it looks good on practically any skin tone. Consider this the secret weapon to a more healthy and flushed glow. 

Digital Beauty Editor for Marie Claire, Maya Allen, told Byrdie that Glossier's newest shade's Storm and Dawn were here absolute favorites. "I love that all it takes is a tap of my finger to apply and seamlessly blend this right onto my skin. It's also lightweight enough to layer on top of powder or foundation without that cakey look," she said. "Dawn has a warm, golden effect on my skin that catches the light so beautifully. Storm is a cherry tone that gives my cheeks this nice flush. I'll gladly be flicking it up while wearing this blush all summer—you've been warned." 

It's easy-breezy and gives you that no-makeup makeup look. No wonder why so many people love it! 

Shop now: $18, glossier.com

 M.A.C is the symbol of luxury products and one of the leading makeup brands in the world.  But, no matter what their matte lipsticks have always remained a must-have. There are so many shades to choose from that you are bound to find at least one shade that will be your go-to. 

Founder of TheBlondeMisfit.com, Jamé Jackson, loves the shade "Chili" (brown-tinged red lipstick) as both a lip liner and lipstick to create an everyday look. It's long-lasting while still being comfortable on the lips, according to the website. 

My personal favorite has to be their shades of red (specifically "Red Rock" and "Lady Danger") because they never seem to be patchy or lack pigment. It gives you that vivid and vibrant color that we ask for when completing our New York look. 

Shop now: $18.50, maccosmetrics.com

Rihanna's makeup line Fenty Beauty has quickly become a fan-favorite and massive empire. And the Flyliner has easily become a staple for any winged liquid liner look. Its name honors Rihanna's epic 2011 Twitter clapback, according to The Cut. So you already know it's going to be amazing. 

According to multiple reviews, the liner is perfect for beginners and allows the user to create sharp and clean lines. It's incredibly pigmented and long-lasting. Many reviews said that the vibrant and vivid color didn't fade throughout the day. Despite, it's reportedly easy to remove. Not only do you get a sharp wing, but after a long day in the city, you don't have to tug and scrub hard to remove it. 

According to Beauty Writer at The Cut, Erica Smith, the Fenty liner's "tip is extra pointy and extra juicy. The triangular shape of the pen makes it very easy to grip and hold steady so I always get a perfect line in one stroke—no retracing, no Q-tip touch-ups necessary." 

That sounds like a win to me!

Shop now: $20, fentybeauty.com 
There are so many other products that are staple cool girl products to use, but these are by far the best of the best. No matter if you're looking for a casual daytime look or a glam night look, these products are sure to work out in your favor.