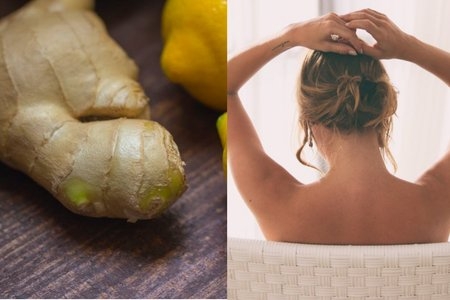 8 Ways to Incorporate More Ginger Into Your Beauty Routine
Ginger is primarily thought of as a delicious and tangy spice typically associated with Indian and East Asian cuisine, but there are so many amazing uses for ginger in your beauty routine. There is no doubt that ginger can be used for many health purposes, and now people are starting to incorporate it into their daily beauty routines as well!
Ginger for your skin
One of the most well-known uses for ginger in skincare is to improve the skin's overall tone and clarity. Ginger is full of antioxidants, which means that it does wonders helping with hypopigmentation (the lightening of the skin). Antioxidants work by stimulating blood flow to the skin, which in turn help to break up old and damaged cells – but that's just a fancy way to say that ginger makes your skin look new and healthy. FORMULA 10.0.6's Turn Up The Heat Self-Heating Clay Mask works wonders by heating up, and therefore ~opening up~, your pores to clean out the gunk.
Ginger also helps improve skin's radiance for a brightened and youthful glow, which is basically priority number one atm. 
Ginger for your hair
Ginger is also a great ingredient to add to your hair care routine, especially if your goal is to grow out your length. Because ginger is excellent at improving blood circulation to a targeted area, the increased blood flow to your scalp will help nourish hair follicles, encouraging growth of strong, healthy hair.
Ginger also can help reduce the amount of dandruff your scalp produces – and there are all kinds of shampoos on the market geared towards this specifically. Ginger's antimicrobial properties help to kill any fungus or inflammation that may cause dandruff to form on your head. I recommend using the Body Shop's Ginger Scalp Care Shampoo to help with any itchy or dry scalp issues.
Ginger for your diet
Typically when we talk about beauty, we focus on different products we can use on our hair and skin, but rarely do we talk about beauty from the inside out. Not only is ginger an excellent additive to your topical beauty routine, but it is great to incorporate to your diet as well!
Ginger helps to improve your immune system when ingested, and keeps its anti-inflammatory properties, meaning it can potentially help prevent acne flare-up before they even occur. Ginger is a great ingredient in many meals but can also be ingested in a capsule form if you don't love the taste.
DIY Ginger
Ginger is an ingredient that is a little bit harder to find in beauty products, particularly if you're on a budget. If you're having trouble getting your hands on it, there's always the option of DIYing it! I love doing beauty from home because it's sooo much cheaper and easier to customize it to your personal needs. There are a million DIY recipes online for using ginger as a beauty product, but these are some of my favorites.
Ginger face scrub
2 Tbsp. olive oil
4 Tbsp. brown sugar
1 Tbsp. of ground ginger
Simply combine these ingredients together and gently scrub damp skin in small circular motions.
Ginger shampoo
1 part Ginger
3 Parts shampoo
Add ginger to your shampoo to add a shot of moisture and help remove the build up of dandruff and dead skin cells.
Ginger for scars
Place a small sliver of fresh ginger to any areas where skin is lighter than normal, and let it sit for 10 minutes every day. 
Turmeric Ginger Mango Lassie
1 1/2 cups non-fat yogurt
3/4 cup frozen mango
1/2 tsp dried turmeric
1/2 tsp dried ginger
Squeeze of lemon
Pinch of sea salt
3 turns freshly ground black pepper
1 tsp raw honey (optional)
Blend all of the above ingredients together in a blender to get a delicious yogurt based smoothie!
Ginger offers so many benefits, whether used as a topical agent for hair and skin or taken orally, that it's impossible to not add it to your daily routine!
Fun Fact: Ginger is actually a rhizome, not a root. A rhizome is an underground stem.