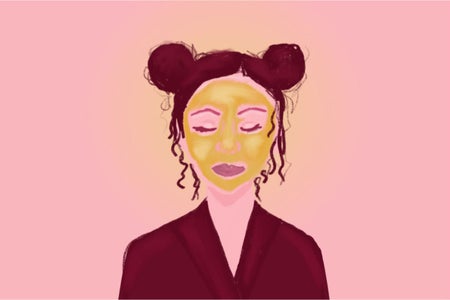 Her Campus / Megan Charles
6 Skincare Treatments That Are Worth the Price Tag
It's 2018 and skincare is officially hot. We're in the midst of a cultural shift that prioritizes taking care of our bodies and the skin that covers it instead of keeping up with our bad skincare habits: relishing unprotected sun, chemical-filled cosmetics, and drinking benders that end *without* makeup remover. There are plenty of skincare products that cater to college students' budgets, but sometimes we just need to shell out a little extra cash and indulge in treatments that will benefit us now and later. Enter: these six luxe skincare treatments that will have you feeling your glowiest.
1. Light Therapy Masks
If you're a follower of what's trending in beauty, you've probably seen these intergalactic masks all over Instagram – and for good reason. These masks, which use red and blue LED light technology, are said to shrink your pores, zap acne, reduce inflammation, and fight the early signs of aging. Neutrogena's Light Therapy Acne Mask––a cult favorite––retails for only $35, but some, like Dr. Dennis Gross's DRx SpectraLite Faceware Pro cost more than $400. It all depends on just how serious your skincare woes are, and how many benefits of LED you want to reap.
2. Microdermabrasion
If you suffered from acne when you were younger and have the scars to prove it, give serious consideration to microdermabrasion. This procedure, performed by your dermatologist, uses an electric abrasive applicator to remove the outer layer of your skin. By sloughing that off, it rejuvenates your skin (hello, increased collagen production), and can improve the appearance of acne scars, sun damage, wrinkles and melasma. The microdermabrasion treatment can cost from $75 to more than $200 per session, so be sure to chat with your derm so they can evaluate your skin and tell you if you really need it.
3. Acupuncture
Acupuncture has long been touted as a tension-relieving, calming treatment, and its benefits run the gamut from stress reduction to headache and nausea relief. But it's also a skincare superhero. The tiny needles that puncture the skin create "abrasions," which stimulate our skin cells to produce more collagen and elastin. These two proteins are what keeps our skin youthful, bouncy, and glowing. Because of this collagen and elastin boost, your acupuncture treatment can reduce fine lines and wrinkles (never too early for anti-aging skincare, ladies) and create an all-around bright complexion. The procedure usually costs between $50 to $80, depending on where you go.
4. A Workout from FaceGym
Even if you're exercise-adverse, this is a workout you should really consider. FaceGym, which hails from England and recently opened its U.S. flagship in NYC, is known for its non-invasive facial "workouts." Their website reads: "We use high-energy kneading movements and cutting edge technology to tone and tighten the 40 forgotten muscles in the face." Some of the workouts use the FaceGym Pro electrical device, while others are hands-on. Expect dermarollers, serums, and yes, even exercise balls, when you show up for your appointment. They range from $70 to $275 depending on just how intense of a workout your face needs. Cue us putting FaceGym on our bucket list the next time we visit the Big Apple.
5. Vitamin C Serum
If you haven't jumped on the serum train yet, now is the time. Vitamin C isn't just for immune defense, but skin defense, too. Dozens of skincare companies have created bottled vitamin C elixirs that fight sun damage, hyperpigmentation, and premature aging. Look for a serum that has 15 to 30 percent vitamin C, like SkinCeuticals C E Ferulic serum ($166), which also comes jam packed with vitamin E and ferulic acid (a free radical fighting antioxidant). Use your serum day and night for a powerful treatment that will keep your skin healthy all year round.
6. Microneedling
Similar to acupuncture, this treatment uses microneedles (usually between 0.5 and 2.5 millimeters in diameter) to puncture the skin and rejuvenate it. Sound painful? No worries, the needles only go skin deep and feel like tiny pin pricks. Some dermatologists use a microneedling dermaroller (more cost-effective), while others use an electrical device. This procedure boosts collagen and elastin, which leads to more youthful skin and also reduced acne scars and dark spots. The cost varies depending on your needs, so talk to your derm before setting anything in stone. If it doesn't fit your budget, you can also DIY with a microneedler (like this one for $30)––just limit your rolling sessions to once per month, at the risk of broken capillaries.
These six skincare treatments don't belong in your everyday routine, but once in a while, it's totally worth it to spend some extra cash for them. Not only will these treatments give you glowing skin for the long haul, but they'll likely boost your confidence, too. And if you're still hesitant to put your paycheck towards a derm sesh, there's always your Christmas list!