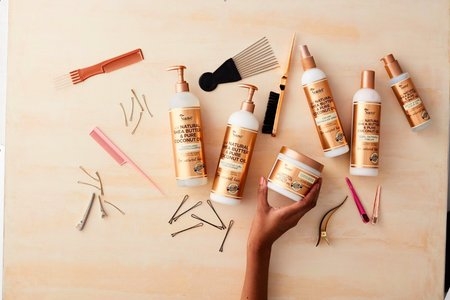 The 6 Must-Have Products for Natural Hair
This is a sponsored feature. All opinions are 100% our own.
Real talk—styling my natural hair hasn't always been easy. Some mornings, I'd find myself sitting on the edge of my tub looking at a half-damp unsuccessful twist out, discouraged by the fact that I have to be at work or class in 20 minutes. I wouldn't have time to try again, but I'd still want my natural hair to look how I envisioned it. Enter Suave Professionals for Natural Hair, a collection that was co-created with the help of 5,000 naturalistas, and my natural hair savior. 
Available at Walmart, Target and other major retailers, the collection features products made with raw shea butter and pure coconut oil, and it was made specifically for women with wavy, coily, curly natural hair, who want quality but don't necessarily want to splurge on the price. Costing only $5 per product, the line proves that even if styling my natural hair is time consuming, it certainly doesn't have to break the bank. Here are the six products part of the collection, which I'd recommend to make wash day and styling easier, while on a college student budget.
For Wash Day
Sulfate Free Cleansing Shampoo

Time and time again, the natural hair community on YouTube has reminded us that any shampoo with sulfates in it is a major hair faux pas. Although shampoo's primary purpose is to scrub away dirt and oils from your hair, it should never leave your hair completely stripped. Suave's Sulfate Free Cleansing Shampoo gently cleanses and moisturizes your natural hair, leaving your curls feeling refreshed and looking bouncier after each use. 
Moisturizing Curl Conditioner

Trust: A good conditioner is the foundation to a good hair day. The Moisturizing Curl Conditioner is hydrating and adds life back into hair while replenishing what was washed away. The conditioner is gentle and makes the detangling process much easier for those with denser or tangle-prone natural hair. 
Cream Detangler Spray

This spray keeps in mind that hair care and proper treatment is vital for growth. The creamy liquid detangles wet hair, making brush strokes among your curly strands easier and gentler. Even better, it works on dry hair, too. Calming frizz on dry styled hair, this spray allows your hairstyle to be worn for a couple more days. It's made with raw shea butter and pure coconut so your hair will continue to smell great post-wash. 
When It's Time to Style
Nourish and Strengthen Leave-in Conditioner
It's finals week, you're in the midst of packing up your clothes up to go home for break, and you're running on two hours of sleep—you couldn't possibly have time for some self hair care, right? Wrong. If time for one product is you have, the incredibly versatility Suave's Nourish and Strengthen Leave-In Conditioner will help you get through these days while allowing your curls to stay nourished and soft at the touch without any product residue.  
Define and Shine Curl Serum Gel

Knowing that your natural hair can at times be fragile, picking a style is crucial to hair health. Many naturalistas tend to avoid anything that requires extensive amounts of heat or high manipulation, and all I have to say is no twist out, braid out or flexi rod set would be complete without a good gel to help. This Define and Shine Curl Serum comes in a petite package, but don't let the size fool you. This lightweight serum promotes bounce and shine (obviously), and is color safe and paraben free. Similar to the rest of the collection, the serum gel can help fight frizz and will leave your curls silky smooth thanks to that healthy helping of coconut oil and shea butter.
Finishing Off the Look
Curl Defining Cream

Mastering the art of the practical wash, style and go? With Suave's Curl Defining Cream, your low lift wash and go will be effortless and easy on your natural curls. Section in multiple parts and apply product on wet hair while brushing in or running your fingers through for amazing definition. And don't worry about the weather—Suave's ultra moisturizing cream will allow your curls to flourish in any temperature. The cream itself is airy and perfect if you want a simple on-the-go style. 
If you're a college-going naturalista who's low on time, always on the go, and wants flawless yet low maintenance hair, meet your new best friend. The products smell amazing, they're super accessible at superstores, and they were crafted with the help of real natural women to understand what truly works, what doesn't, what we want and what we don't. I promise you, your days of feeling dread at wash day are over thanks to Suave Professionals for Natural Hair.