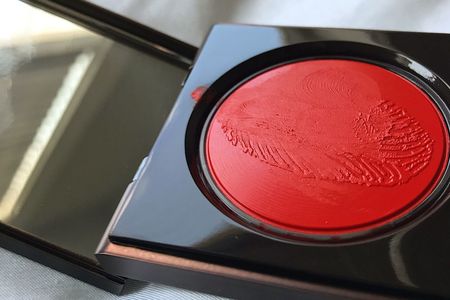 The 2019 Color Trends You Should Be Paying Attention To
When you think about color trends, your first instinct probably goes to outfits and style. But color plays an important role in every aesthetic aspect of life, especially in the beauty community.
Makeup trends ebb and flow, because Instagram inspo in 2019 moves at a super fast pace. But for the most part, I'm noticing that some of this year's prominent color trends are actually very cohesive, pairing minimal vibes and softness together. 
Read on for tthe color trends I'm seeing pop up on lips, eyes and cheeks everywhere. 
Coral
When Pantone released Living Coral as the color of the year, I knew that it would be taking center stage in the beauty blogger community. A vibrant shade, but wearable on everyone, coral is a classic color that is worth the investment.
Coral blush is a gorgeous way to incorporate this trend into your beauty routine, but still keep it casual and low-risk. Glossier's Cloud Paint in dawn offers a flush of dewy color that blends naturally into the skin. But if you're looking to wear this shade more boldly, pair blush with a coral lip, or even try a thin coral winged-eye for some drama. 
I also have to add that this color trend comes at the perfect time for spring, but can easily be transitioned between seasons.
Sunset Shades
Anyone who pays the slightest bit of attention to beauty trends knows that the sunset eyes were huge last year, and luckily this color combo isn't going away anytime soon.
If a full-color sunset eye isn't your thing, a simple wash of yellow or creamsicle orange can create a very pretty, dainty look. Colourpop Jelly Much shadows are perfect for creating a glossy sheen in sunset shades to keep you right on trend for spring.
Lilac
Pastel colors are a staple for spring, but we're going to be seeing the pastel trend carry over throughout this entire year. Lilac has gotten a lot of hype for its muted feel, but also for how it wears as a hair and nail color. Lilac-gray hair has become a huge trend that's going to be dominating beauty feeds in the upcoming months. Use LimeCrime's Unicorn Hair Cloud Tint in periwinkle blue to test out this gorgeous shade without the price tag.
Neutrals
Following along with the pastel theme of soft colors, neutrals seem to be coming back in a big way.
Beige, once an overlooked color because it was labeled as dull and boring, is leading the neutral trend for its warmth and versatility. If you find that neutrals are too subtle for you, try spicing up them up with a graphic liner. The LASplash Art-ki-tect is one of my favorite liners for precise, dark wings.
Cool Tones
The '70s are coming back whether we want them to or not, which means mustards, greens, and blues everywhere. While blues and greens are typically associated with bad beauty of the '70s and '80s, an all-over hue can be updated and modernized for a bold, daring look.
If you find yourself wanting to try out this trend, but are too scared of the results, try going small by putting a pop of color in the inner corner of your eye, lining just your waterline, or adding a graphic liquid liner.  Zoella just recently launched a collab with Colourpop to help you jump on this trend, and also just released a line of colorful liners if you're wanting to stick to something more subtle.
2019 is a year dedicated to very minimalistic, sustainable colors, revolving around the idea that less is more. From the warmth of corals and sunset tones, to the updated looks of cool blues, greens and purples, this year is a soft stand to timeless and classic, providing us a real reason to reinvest in our forever faves this year.