Don't let the lack of skirts and tank tops fool you: summer vacation is sooner than you think. As you start daydreaming about summer, you may realize that you desperately need a new set of heels for the quickly-approaching sunny days and cool nights. Enter Kohl's Flash Sale.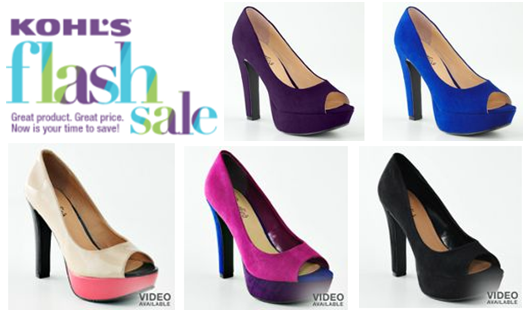 (Photo Source)
Today, you can purchase Candie's Sunny Peep-Toe High Heels (originally $59.99) for more than 50% off (a.k.a. $19.99).  Can we say "OMG"? I know what you're thinking: "Why isn't there a Kohl's closer to campus? My heart is  literally breaking because I can't use and abuse this opportunity." Thankfully, this sale is Facebook-exclusive. As if you didn't have an online shopping problem already…
With a variety of colors, these heels are perfect for college parties, barbecues, and your ah-maz-ing summer internship (depending on the dress code, obviously).
The clock is ticking- this flash sale ends at 7 PM CST.
So what are you waiting for?  Shop away, fashionistas (and don't forget to tell me about your new pair of heels)!
HCXO
You Might Also Like...