You know those times during the semester when you're just too tired to actually pay attention in class?  You want to care, but you just can't.  I find that this is most obviously the case during midterms.  If I don't have a test within the next 48 hours in the class I am sitting in, I am mentally checked out of there.  Here are a few ways to become the most diligent student, when in reality, you're just checking Facebook: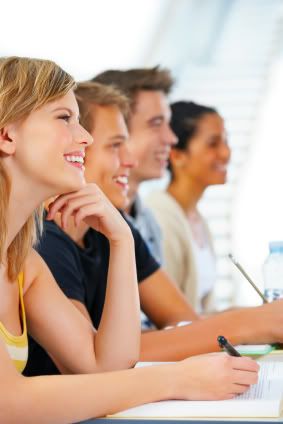 1. Nod every so often to what your professor says.  This makes you sound like you're actively listening and digesting the information, but in fact, you're dozing off or checking your email.
2. Make a confused face when they do one of the following:
a. Mention a complicated word/phrase/topic.  You seem like you were listening, but the professor jumped ahead in the lesson.  This will make them either explain it more, or realize that you're trying, but not exactly on top of things.  
b. Ask a question: This will avoid being called on.  You're thinking "deep" (from the professor's perspective) but if he or she calls on you now, they'll disrupt your thinking or they know you can't answer the question at this time.
3. If you're on the computer, look up (at the Powerpoint if there are any), nod right as the professor is looking in your general direction.  As scary as this is, eye contact can really help here.  The professor will think you're paying attention.  The key here is to type stuff down as they are looking in your direction so it looks like you're taking note of what they're saying.
You Might Also Like...