Introduction to Cosmology
 
When a science course is held in LC aka English department headquarters, you know something's strange.  Intro to Cosmology (ASTR 170) is a Humanities class with a tinge of science, but when I say science think colorful pictures and names of different stars. The requirements aren't too bad: 4 problem sets (as opposed to the usual 8-10), 3 open note/book tests, and a final paper on anything related to stars.  This is a non-science major's haven.  -Hanna
 
English 120
When I first arrived on campus, I made it a point to ask every upperclassman I met what his or her favorite class at Yale was. There was one class that seemed to come out of everyone's mouth: English 120.  Despite the many positive reviews, I remained a bit skeptical that this one class could have more or less changed the lives of so many people. That is, until I took the course myself.
I found out that the key to English 120's success was its universality.  Each student is given the freedom with every essay to basically write about whatever they want to explore.  The only tools provided are the six biweekly themes, essays, or excerpts from well-known writers that exemplify the chosen theme in their writings, and discussions in class.  Yet, each essay always turns out to be as unique as the author who wrote them.
Even the process in which the essays are written is designed for every student to take an active role.  For every theme, during the rough draft week a few students volunteer to have their pieces "work shopped" or reviewed by their peers.  More often than not, this work shopping process helps the people reviewing just as much as it helps the writers by exposing them to different styles and ideas.
Most of all, English 120 gives students that feeling of pure accomplishment when they leave.  Through the six different themes or styles of writing for each essay, every student is pushed out of his or her comfort zone at some point along the way.  It's the feeling of I just wrote about something in a completely different way than I ever thought I could that I think makes so many people eagerly recommend this class.  And it's the reason why I am recommending it to you. -Marina
 
 
Great Hoaxes & Fantasies in Archaeology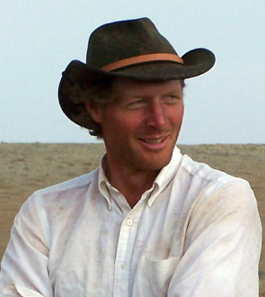 When William Honeychurch isn't busy excavating the material remains of Genghis Khan's ancestors on the steppes of Mongolia, he's in New Haven, CT teaching Great Hoaxes and Fantasies in Archaeology to an array of bright-eyed students.  Besides the fact that Professor Honeychurch is a total babe and is slightly reminiscent of a young, scruffy Harrison Ford in Indiana Jones (see reference photo), I would argue he is the most enthusiastic professor at Yale.  Instead of mechanically reading notes in monotone from a PowerPoint  that was made three years ago, Honeychurch spends his class time running up and down the aisles of students, ranting about the Lost City of Atlantis and the cult theories behind the giant rock formations on Easter Island.  Honeychurch explores the fantasies behind strange and uncanny archeological discoveries and seeks to determine whether these discoveries were authentic or fake.  If you want to spend class time learning about how aliens created crop circles in Peru, or how a crystal skull excavated in Brazil is believed to have psychic powers, put add Hoaxes to your Yale bucket list.   -Anya
 
Italian Representations of Love
Imagine the joy and sheer shock that swept over the faces of fourteen unsuspecting scholars when, out of the pre-lecture, whisper-filled abyss, John Lennon's Love blasted through the speakers.  This biweekly combination of joy and shock is what makes Italian Representations of Love, taught by the lovely Angela Capodivacca and David Lummus, one-of-a-kind.  From learning about the poetic foundations of the modern understanding of love to "the filthiest expressions ever written in Latin" (it's Catullus, look them up), there's a little bit of something for all the little fishes swimming through the love-crazed sea of Yale.  -Maeve
 
 
Sex, Evolution & Human Nature
Although Professor Laurie Santos made it clear from day one that the class was "NOT ABOUT SEX," this did not deter the 484 undergraduates who crammed into the Yale University Art Gallery from returning for round two of Sex, Evolution & Human Nature on Thursday of shopping period. The infamous course has not been taught for three years, and it seems that Professor Santos' wit and charm is just as much a draw to PSYC 171 as the controversial subject material.  Santos is down-to-earth and humorous, cracking jokes about David Bowie songs, the 'Biebs,' hipster glasses, and James Franco's reproductive success.  She almost makes students forget we are learning about phenotypes, genotypes and evolution.  Beyond this, she is brilliant.  Santos is the DUS of the Psychology department, as well as the recipient of the 2012 American Psychological Association Distinguished Scientific Award for Early Career Contributions to Psychology in the area of animal learning and behavior. Wow, what a mouthful.  It seems to me the material is not the only reason the course is nicknamed "sexy psych." -Joanna
 
Attraction & Relationships
After a myriad of nightmarish, cutesy-sounding intro Psych classes, I decided to give it one last shot.  After all, how bad could a class on Attraction & Relationships really be?  With the hopes of learning much more than what the course title means in a psych lab, I hesitantly signed myself up for what turned out to be a crash course in everything I am doing wrong.  Although Professor Clarke acknowledges on her syllabus that "THIS IS NOT A SELF HELP COURSE," I beg to differ.  As if it isn't enough that the cover image of the assigned text is two passionate lovers mid-kiss, topics include Dysfunctional Communication and What to Do About It, Why Doesn't Romantic Love Last?, The Two Sides to Every Betrayal, and Getting Over It.   It's essentially educational Cosmo.  The course load is made up of four non-cumulative tests and a five-page (max!) paper, each weighted evenly.  Professor Clark adds her own entertaining flair to lectures on Tuesday and Thursday afternoons with anecdotes from Yale FML (be careful what you post) and live personal survey questions cast right there in class.  In other words, Attraction & Relationships is a gem.  Besides, class work is easy when it's really yourself you're working on.   -Jackie
You Might Also Like...