I can't believe it has been five years since I was sitting in my sophomore Psychology class at my high school when my teacher asked if we knew anyone who went to Virginia Tech. She told us there had been a shooting. We knew nothing else. Two girls left class to go call their families because all of their cousins went here. Since I'm from South Carolina, not nearly as many students knew people who went to Tech. However, I had already been looking around for colleges and knew that Tech was definitely one of my top five. I was startled, I was appalled, and I was confused. I couldn't believe it. The school that I couldn't wait to get to, the school that would get me out of South Carolina, the school that would make me love orange and maroon forever, was being torn apart. 
When I got home I began to fully understand the magnitude of this tragedy. 32 people were killed at the school that I one day might call home. I watched NBC with my mom as they aired disturbing, horrible, and downright creepy images of Sueng-Hui Cho and the students who were injured. I became enthralled with the coverage while the rest of my high school already seemed to have forgotten. I listened to Nikki Giovanni's speech and I watched the video of the night of April 17th when thousands of people gathered and chanted the familiar "LET'S GO….HOKIES."  What I saw in the days after the shooting changed my mind about the human spirit and the spirit of Virginia Tech forever. I knew that this tragedy would not change my mind about Virginia Tech. If anything, the sense of community that the school displayed only made me want to come here more.
Fast forward five years.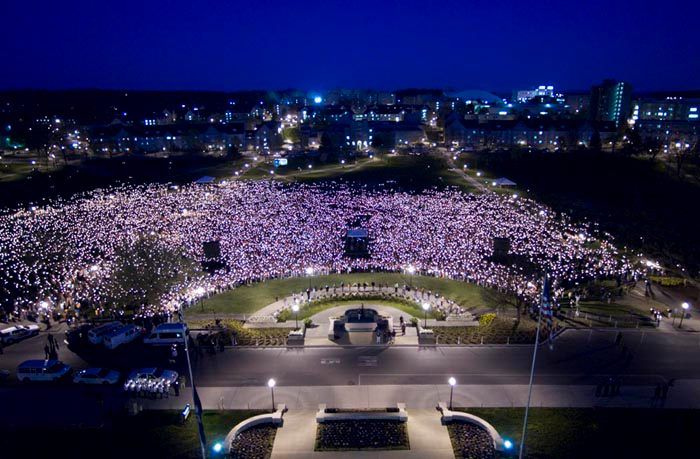 I'm not going to lie, I was surprised and upset when I found out we would have class on April 16th this year. I thought it would ruin the solemnity of the day. I thought people would go about their regular business and forget what today was. I thought it would be just another Monday. I realize why the university did it, because most of the students who were here in 2007 are gone now.
As I arrived at the candlelight vigil on the drillfield tonight, I realized I was all wrong. I was wrong to assume that our community would forget about 2007 just because we had to go to class. I walked onto the drillfield and got lost into a sea of maroon and orange and once again felt the sense of community that I've never felt anywhere else. As I looked up at Burruss – with blue skies and fluffy white clouds behind it – I took a deep breath and soaked up the moment. I soaked up the moment of togetherness and unity that some people never discover. But as Hokies, it seems like we have to pull together for those moments of unity far too often.
When I say I go to Virginia Tech people always say "Isn't that the school where tons of people got shot?" No. Sometimes I feel as though no one understands. Sometimes, only a fellow Hokie understands. Only a fellow Hokie understands that we are a school that has an unbelievable amount of pride, honor, and service that just happens to be the victim of too much evil and terror. We are not defined by the tragedies we have endured. We are defined by what we make of the tragedies. It is up to this generation of Hokies to live for 32 and keep the tradition, honor, and respect alive. We have done just that. And tonight I was reminded, once again, that we are Virginia Tech. We will prevail. neVer forgeT.
 
 
 
You Might Also Like...