Name: Brent Pella
Major: Film & Media
Year: Senior
Hometown: Davis, CA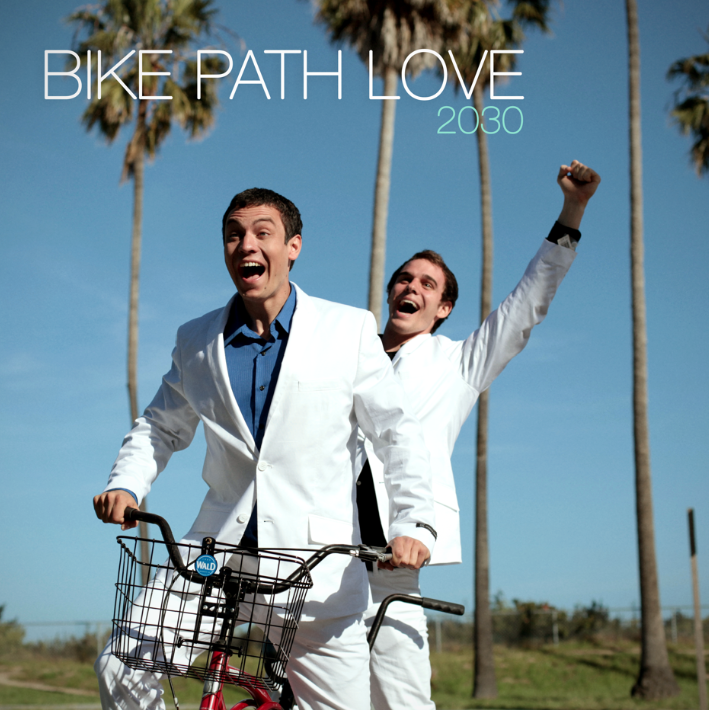 Her Campus: Tell us about your new song and music video.
Brent: I definitely wanted to do something that would make people laugh, either at the song and video or at me (or both), and I wanted to keep people entertained the whole time, so there was a lot put into it. We wanted it to have almost a serious look but for a funny concept, and I think that definitely shows in the video. I wrote the song last summer, then put it off for a while when school got started in the fall. A friend of mine made the beat during winter quarter, and my other friend who's a great singer was down to sing on it with me. We ended up recording the track in February and shooting the video over two days back in April, the whole crew of about 10 people was awesome and it was a really fun shoot. Hopefully people won't bike around campus anymore without falling in love.
HC: Where did the inspiration come from?
B: I guess I was inspired by seeing gorgeous girls pass by me on the bike path every time I went to class. But you can't really just cut off a girl at the round a bout and try to introduce yourself; at least that hasn't worked out for me yet. Plus, I've always wanted an excuse to wear a white suit at the beach, so now I can check that off the bucket list.
HC: How did you get involved in music?
B: My friends and I back home used to write and record together for fun, and I've always loved music, so when I got started in film production about a year ago it was cool to be able to combine the two into making music videos. I've also always loved to write, especially creative writing like poetry, short screenplays, short stories and anything else and turned to song writing over the years. Some stuff I write is more serious, some is more comedy, but I definitely wanted to do a funnier project before I graduated.
HC: Besides music, what are your other hobbies?
B: I enjoy walking aimlessly down Del Playa on the weekends and passing out shots on Bills Bus every Thursday. I also played basketball at UC Santa Cruz before I transferred down to UCSB so that'll definitely always be part of my life; basketball and sports are my first passion.
HC: Is the video directed toward the UCSB community or are you hoping to attract a wider audience?
B: Since it was shot all around UCSB I'm hoping people out here will like it, but if other people see it in other places, that would be awesome. In the end, if only ten people watch it and they all laugh, then I'd consider that a success.
HC: Do you have other songs or videos?
B: Yeah, my friend and I started a production company called "Thumbs Up Entertainment" last summer; we make everything from music videos to short films and promo videos. Everything is up at www.facebook.com/thumbsupentmnt (go like it!!) and we're building the website right now. I'm planning on recording a few more songs with videos for myself this summer, and I have a lot of other music videos I've made for other artists up online and at that Facebook page.
HC: What are your future plans? Does it include music?
B: If I somehow make it through graduation this June I'll likely be moving down to Los Angeles not long after. I'm definitely going to keep making music and working on films and music videos for as long as I can without going broke and starving to death. Writing, directing and performing are three things I want to keep focusing on when I get down there, and we'll be expanding the company this summer too so I'm excited to see where it leads. As of now I have no idea where that'll be, but I'm just happy my mom hasn't told me to get a real job yet.
HC: What is your favorite thing about UCSB?
B: Besides the skunks? There's really no place like it. Beautiful campus, beautiful people. I think a lot of the guys could be a little less of cocky bros all the time but besides that, it is by far the best college in America. I don't know of anywhere else where you're walking distance from the beach, class and Freebirds nachos all at the same time. Plus, it's the best place to fall in love on the bike path… 
You Might Also Like...