Her Campus: I know you recently created the video interview with Hyper Crush when they performed at UCSB a few weeks ago. How did you get involved in this project?
Wyatt: It's really funny. I got a call from a buddy of mine who was asked to do it but had to back out at the last second. I guess I was reccommended because I could put together the whole project, but I honestly didn't know what I was getting myself into (I hadn't even heard of the band). I showed up with a buddy to be an assistant, with virtually no extra lighting and a couple of cameras. I was really stoked with the results we got considering the lighting and sound constraints. It was all good practice, though, and a sick experience all together. I actually really like Hyper Crush's music and play it whenever I'm trying to get my friends hyper and "werk" it.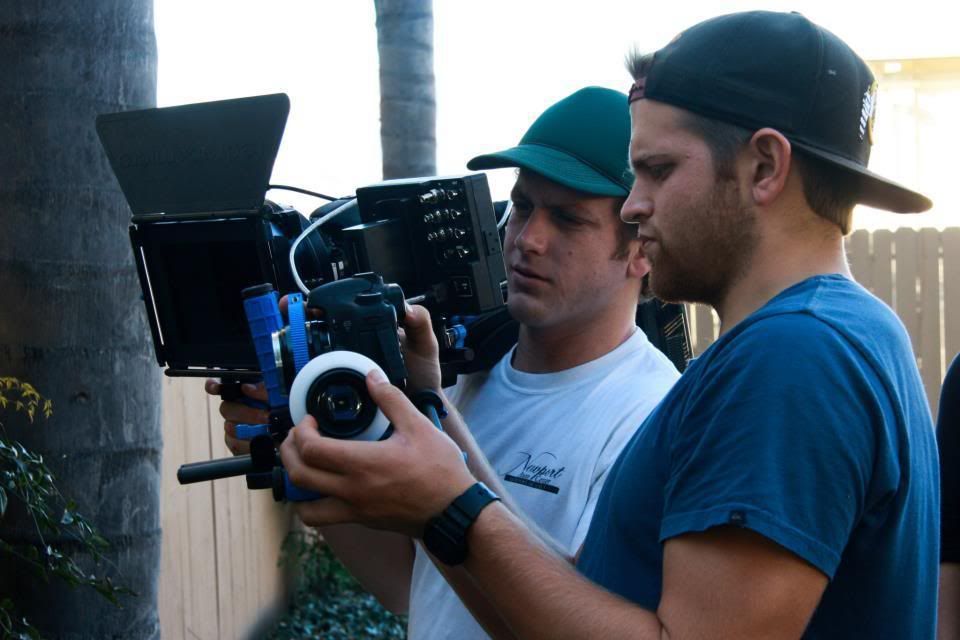 HC: What inspired you to declare a major in Film and Media Studies? Has film always been a passion of yours or did you discover this interest recently?
W: I've always been enthralled by movies. I wanted to be Steve Martin and then Jim Carrey as a little kid. I always loved telling stories too, and I felt I understood how they needed to be constructed. So I can't say that I was always one of those kids with a camera, documenting everything and doing videos when I was growing up, but I do consider myself a creative person with original story ideas and a high standard of execution. So, when I came to school I was trying to put something together that would combine my interests, which were just about everything. I took all sorts of classes until I was accepted to UCLA's Institute in Creative Motion Picture Producing, which gave me really good insight into the business and how filmmaking is done professionally (from the business end). I realized then that I needed to follow my passion for film but also take coursework, so I would still be considered legitimate in case everything hit the fane (my parents are all lawyers). I decided on a double major in Film Studies and English. It works out, because I spent a lot of time referencing English texts in my Film Studies papers, and vice versa. They really deal with the same mode of interpretation, storytelling, literacy, even share the same theorists, but they are about two different mediums. So I'm happy with it.
HC: Tell us about the other film projects you have been involved in.
W: Check out Woodshed Film's Come Hell or High Water -www.youtube.com/watch?v=rOez2mFNk2s
http://www.youtube.com/watch?v=rOez2mFNk2s&feature=player_embedded
I was assistant editor to director Keith Malloy, a retired professional surfer and one of my childhood idols. It was truely the most incredible experience, both for my career and otherwise. I can't say enough about this movie other than you should get a copy and watch it. Incredible learning experience.
HC: What are your career plans after graduating from UCSB?
W: I will be moving up north after graduation to a small production company called High/Low films. They do a lot of small, artsy, travel pieces and have gained notority in the commmercial world, employed by companies like Nike for their uniquely artistic style. They're blowing up. I want to continue making movies with surfers and artists and people who are friendly, rather than trying to trudge away in an Agency mailroom or as a P.A. on a big studio lot. I feel you learn alot more of the whole process this way and have fun doing it, rather than becoming jaded by Hollywood filmmaking. I figure this way I'll be identifying myself and developing crucial skills that will hopefully lead me in an avenue to make money, because it's best to love your work and get paid for it. I would love to become the head of video marketing for something like Quicksilver or Red Bull.
HC: What are your favorite movie(s) and TV show(s)?
W: I love Terminator 2; it's my all time. But I really like action films, anything that makes you think complexly, and movies that make you laugh and you can steal the inside jokes. I love HBO and have been into MadMen for probably too long, but I love "high brow" (meaning high production value, complex storytelling, interesting characters and writing) television and would love to write on an episodic series like Breaking Bad, the League, and Wilfred. I like anything that puts creativity first and lets the process of filmmaking take a back seat. I think the guys from Workaholics have it down right - you can tell they are just a bunch of long time friends who finally sat down together and wrote out the funny shit they already do every day. If you watch the behind-the-scenes, you can tell that the director and camera operators can't keep from laughing. That's what I'm most drawn to - real emotions from filmmaking so that viewers can relate (in either a funny, serious, or profoundly personal way like a surf film) so that the process is just as fun as the experience of watching it.
HC: Whats on my DVR right now?
W: A combination of Kurt Russel, Arnold Swarzeneger, Surf Contests, and a few funny shows to get me through 45 minutes of free time. If you looked at my DVR right now you would probably see: Tango & Cash, Big Trouble in Little China, Inception, Terminator, Workaholics, Game of Thrones, and Tosh.0. 
You Might Also Like...